Linguist Receives Award for Research on Black Sign Language
Research by UC Davis linguistics professor Robert Bayley and colleagues on Black American Sign Language is now a Linguistics Society of America award winner.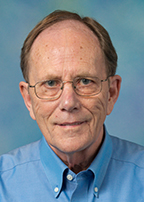 Bayley shares the society's 2022 Linguistics, Language and the Public Award, which recognizes work that increases public awareness and understanding of linguistics and language.
The award will be presented in January 2022 at the LSA annual meeting in Washington, D.C.
Co-recipients are Joseph Hill, an associate professor at Rochester Institute of Technology's National Technical Institute for the Deaf; and Carolyn McCaskill and Ceil Lucas, who are both professors at Gallaudet University.
Bayley and team conducted a six-year study of Black American Sign Language that resulted in the book The Hidden Treasure of Black ASL: Its History and Structure. Published by Gallaudet University Press in 2011, The Hidden Treasure of Black ASL was released in paperback in May 2020.
A recent documentary, Signing Black in America, highlights their research. Their findings were also cited in a January 2021 article in The New York Times on the growing visibility of Black Deaf signers.* (Reporter Allyson Waller, who wrote "Black, Deaf and Extremely Online" for the Times, was recently honored by the LSA with its 2021 Linguistics Journalism Award.)
In studying the language of about 100 Black Deaf signers in six Southern states, Bayley and colleagues found that Black ASL is more aligned with early American Sign Language than the white counterpart. They attribute that difference to segregation and a longtime emphasis in white Deaf schools on oralism — teaching Deaf students to speak and lip-read more than sign.
"The work effectively increases public awareness of language use in African American communities, and it inspires communities to work to continue to celebrate and maintain BASL," according to the award announcement on the LSA website. "That work inspires movement from awareness to action — the kind of impact linguistics should have in communities all over the world! In a word, it is an excellent example of work by linguists that informs the public."
— Kathleen Holder, content strategist in the UC Davis College of Letters and Science
Related story
"Sign of Pride: Linguist's Studies Raise Recognition for Black ASL"
*Deaf is capitalized in this story to refer to people who identify as culturally Deaf, as distinguished from "deaf" to describe audiological status.
Primary Category
Secondary Categories
Tags