Welcome!
Whatever your communications goals, we hope to empower you to find success. Below you'll find some of the best resources available to answer common communications and marketing questions we receive from units like yours.

If you have a question you don't see addressed, or need help on a communications and marketing issue, contact the College's Marketing and Communications team for more information.
Campus Editorial Style Guide
The central campus Office of Strategic Communications provides guidelines to bring your communications in line with consistent standards, including Associated Press (AP) Style. For any public-facing communications, please familiarize yourself with the guide.
---
The College can help you share important news and updates. We share:
Stories of student, staff and faculty success.

Win a national, international or otherwise prominent award, fellowship, scholarship, or recognition? We'll share your story. Submit your honor or award to lshonors@ucdavis.edu.

Examples of community or global engagement.
Research that illustrates Letters and Science leaders making the world better, innovating or contextualizing current events.

News about research and scholarship is most welcome! 

Alumni updates and news.

You're always an Aggie. Send us your news and updates so that we can share on social media, in emails and on university websites.

News of philanthropy or donors who are changing student lives.
Our team of content strategists can assist you in telling all these stories, amplifying research and promoting events. Their areas of focus are:
UC Davis News Service
The central campus publishes updates on campus news and events via the UC Davis News Service. We can help you share story ideas with them, and make sure they get to the right place. Email us to connect with the UC Davis News Service.
Media requests.

The College's Marketing and Communications team can help you decide where to take your news, or how to respond to a media request. Contact us for help with media. 
---
Social Media
Social media is a powerful tool you can use to share information with your key audiences. If you would like to have your own social media channel(s), you must comply with all UC and UC Davis guidelines around social media usage.
There are a variety of ways to grow your social media following and engage your audiences across many channels. Check out the campus guide to social media best practices. 
We're here to help! 
Contact us for social media questions
---
Posting video online is a great way to engage your audiences and share recordings of programming and classes, but there are things to take into account before uploading.
According to accessibility and inclusivity guidelines from the UC Office of the President and from UC Davis, all videos posted online must include captions. Captions make video viewing possible for individuals with disabilities, as well as others who benefit from an available script.

Caption services are available on campus.
Video hosting services vary.

Departments are encouraged to manage their own video hosting services, like AggieVideo, YouTube or Vimeo. (Please note: YouTube is not available in China, so alternate viewing arrangements should be made for China-located students within your departments.)

Departments who are unable to manage their own video hosting but require online-available videos for programming can contact the College to explore options. Contact us to learn more about video.
---

Logos
Canva Design Tool

Through the Marketing and Communications office, College units have access to a UC Davis discounted, subscription-based, graphic design web application: Canva.com.
The premium subscription to Canva Enterprise includes access to UC Davis branded templates for use in slide decks, social media posts, email marketing, website banners and more. Email us to sign up. 
Campus Color Palette
The primary UC Davis colors are Aggie Blue and Aggie Gold. They should be used emphatically in official communications. UC Davis has designated a palette of secondary colors to use online and in materials. Learn more about campus colors.

Design Elements
UC Davis regularly updates its set of approved design elements, like illustrations and branded Adobe brush strokes, for campuswide use. The last update occurred in December 2020 with a notification that use of Egghead art has been suspended pending a contract resolution. 
Download UC Davis design elements
Zoom Backgrounds
The College of Letters and Science provides Zoom backgrounds for any College student, staff or faculty to use during virtual presentations.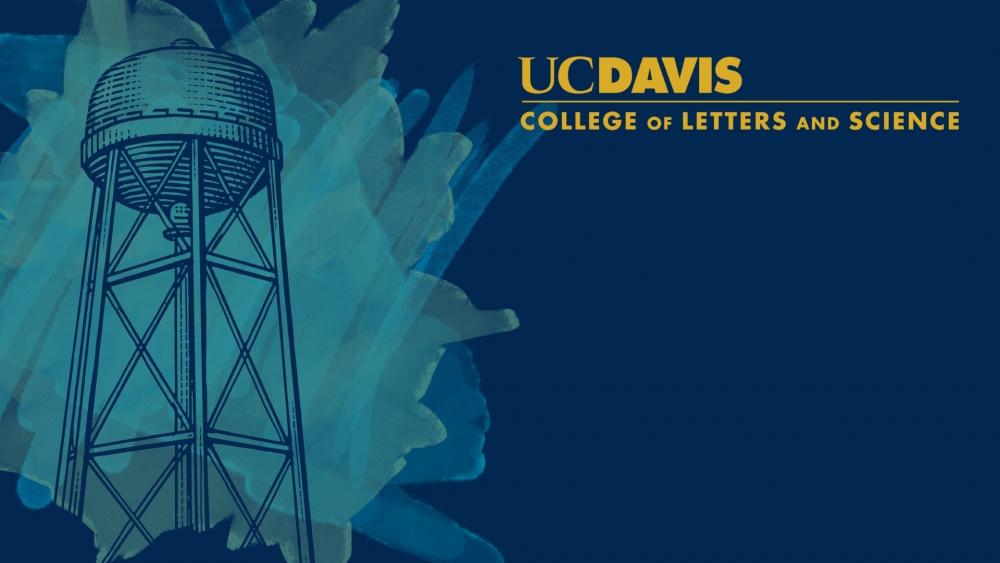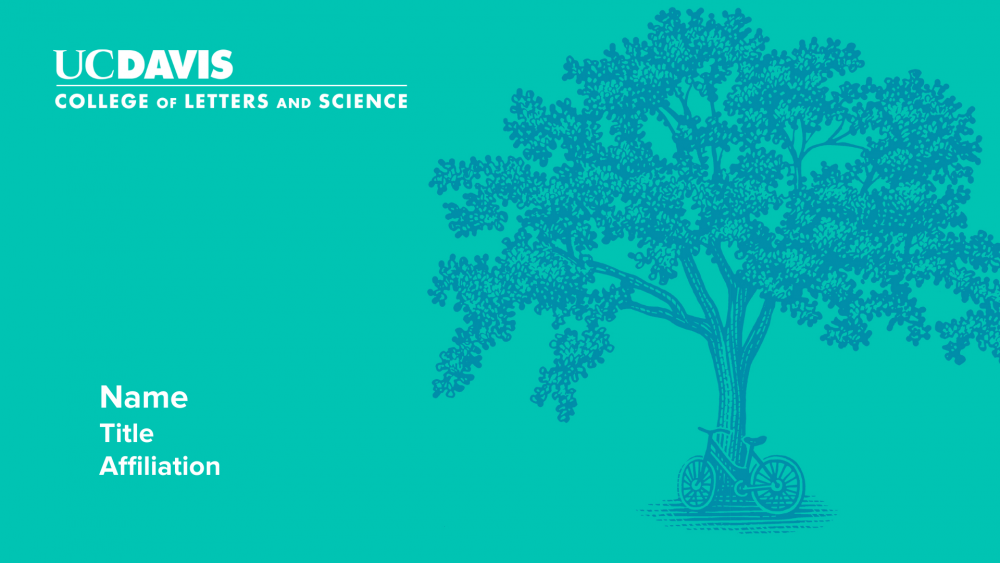 Letterhead
UC Davis letterhead, envelopes and business cards are available for ordering online through AggiePrint (formerly MyPrint) at Repro Graphics. Departments may use their department logo and address to customize letterhead orders. 
Download letterhead templates on Box

Email
---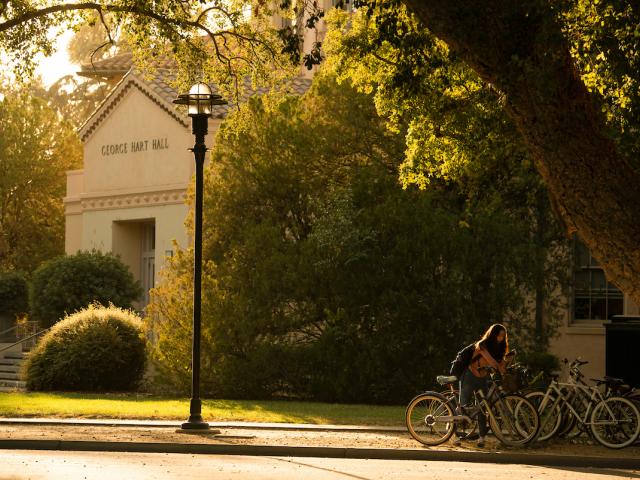 UC Davis Photos is the online campus photo collection. This versatile collection of campus stock photography is for general use by the campus community. Images include campus scenes, buildings, events, and classroom and laboratory environments. High-resolution images may be downloaded for free to use on the web or in publications, reports and presentations.
Learn more about UC Davis Photos
Alt Text
It is important that any photos published online through UC Davis be accessible. This includes ensuring that each photo has complete alt text, which is a data field enabling screen-reading technologies to describe images to sight-impaired viewers.
---
The College of Letters and Science maintains an events calendar where all students, staff and faculty can share information about upcoming public events. There are easy guidelines available to determine if your event should be submitted. 
For departments with questions about development events, please contact the College Relations and Development team.
A calendar of College late-drop deadlines is also available online.
Land Acknowledgment Statement
UC Davis pays homage to the Indigenous people and land on which the Davis campus is located. Following consultation with members of the Patwin native community, the campus is pleased to provide the following "Land Acknowledgement Statement" that can be used in oral or written form at events as deemed appropriate. The campus encourages those who are interested to use the following language, without edit:
We should take a moment to acknowledge the land on which we are gathered. For thousands of years, this land has been the home of Patwin people. Today, there are three federally recognized Patwin tribes: Cachil DeHe Band of Wintun Indians of the Colusa Indian Community, Kletsel Dehe Wintun Nation, and Yocha Dehe Wintun Nation.
The Patwin people have remained committed to the stewardship of this land over many centuries. It has been cherished and protected, as elders have instructed the young through generations. We are honored and grateful to be here today on their traditional lands. 
Learn more about land acknowledgments
---
SiteFarm is the Drupal-supported web content management system available to UC Davis units.
For beginner users, UC Davis offers a helpful introductory training that you can do at your own pace.
UC Davis IET provides SiteFarm support to all users of SiteFarm websites.
Email SiteFarm directly for support
---
You can reach the College's Marketing and Communications team directly with any questions.
---
Dean's Office Directory Updates
Submit listing updates for department chairs, Dean's Office leadership and others for the Dean's Office Directory.