Can Social Media Help Bridge Our Political Divide?
UC Davis professor receives a grant from Facebook to study ways to reduce hostility toward political opponents.
With the political divide growing wider and emotions running hotter, what can we do to help people to better understand each other and work together even when they don't see eye to eye?
Magdalena Wojcieszak is looking for answers. An associate professor of communication, Wojcieszak studies how media use and political talk influence perceptions, knowledge, prejudice and tolerance.
"Societies are becoming increasingly polarized, and it's much more difficult for people who have different views to understand one another and to work together. This leads to lower consensus and, potentially, obstructions in government" Wojcieszak said. "So, for an academic who is very committed to making the world a better place, the natural question to ask is how to make the situation better, what can help?"
International look at web browsing, influencers and attitudes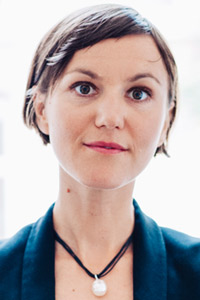 With a $100,000 grant from Facebook, she is launching a multinational study on whether people's attitudes and feelings toward their political opponents are influenced by the types of news they consume online and whether making people feel happy (among several other interventions) can reduce interparty hostility and other societal divides. This grant supplements a larger research project Wojcieszak is conducting with her team at the University of Amsterdam in the Netherlands with a $1.75 million, five-year grant from the European Research Council.
To address the question of how online exposure influences people's attitudes and feelings toward those who disagree with them on various political issues, Wojcieszak and colleagues at the University of Amsterdam (where the European grant is hosted) and American University in Washington, D.C., will ask more than 2,000 people in the United States, the Netherlands and Poland to share their web browsing data for one year and also to take surveys about their attitudes. The researchers will then examine if the specific websites people visit and the specific articles, blog posts, or Reddit comments they read impact how people see and feel toward their political opponents. With these data, Wojcieszak aims to identify the conditions in which exposure to different views makes people more tolerant and when it does the opposite and makes them more hateful toward the other side.
To examine how to minimize polarization, with some of the participants, the researchers will test  whether certain messages (e.g., making people believe that attending to diverse and dissimilar views is democratically beneficial) lead them to read news from across the partisan isle, and if consuming diverse information lessens or increases polarization.
Is there a relationship between happiness and tolerance?
Wojcieszak and her team are also planning to run a series of online experiments, which they call the "happiness project," which will test if asking people to focus on things that make them happy or whether showing them photos of kittens or puppies before answering survey questions about their political attitudes and feelings will minimize polarization and make people more open to their political opponents.
Wojcieszak, who joined UC Davis in fall 2017, was tapped last spring by the Social Sciences Research Council to serve on an advisory committee that reviews requests for data from Facebook from academic researchers studying disinformation. The collaboration is part of a new Facebook initiative to help provide independent, credible research about the role of social media in elections. She is also a fellow at the Digital Intelligence Laboratory at the Institute for the Future in Palo Alto.
Primary Category
Tags