Letters and Science Professor Appears in Peruvian Word Puzzle
UC Davis historian Charles Walker, an expert at searching for clues to Peru's past, was surprised to discover recently that he was a clue himself — in a crossword puzzle in a Peruvian newspaper.
A photo of Walker signing one of his books appeared in a "Mastergrama" puzzle in the Sept. 4 issue of La República, a newspaper in Peru's capital city of Lima.
Walker's photo rubbed shoulders with a Vincent Van Gogh self-portrait, among the other picture clues that appeared at the top of the puzzle. "Now I'm getting Van Gogh ear jokes," Walker said. "You don't want to hear them, no pun intended."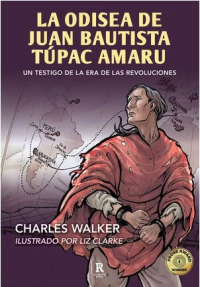 Walker visited Peru this summer for the release of the Spanish-language edition of his award-winning graphic history, Witness to the Age of Revolution: The Odyssey of Juan Bautista Tupac Amaru.
An inset photo in the crossword puzzle, however, featured his earlier award-winning history, The Tupac Amaru Rebellion. That book chronicles the largest rebellion in the history of Spain's American empire, started in 1780 by Juan Bautista Tupac Amaru's half-brother, José Gabriel Túpac Amaru.
Walker, back in California, learned about his crossword puzzle appearance from friends in Peru. "I found out when people teased me on WhatsApp and Facebook about my new fame," he said. "I had no idea about what they were talking about until someone took the picture and tagged me on Facebook."
— Kathleen Holder, content strategist in the UC Davis College of Letters and Science
Primary Category
Secondary Categories
Tags