Jain and South Asian Scholars Gather for Conference at UC Davis
Scholars from around the globe will gather at UC Davis for a major conference on the study of Jainism, one of the world's oldest religions, and other South Asian religions. The conference is organized through the recently established Mohini Jain Presidential Chair for Jain Studies in the Department of Religious Studies. It will be held Aug. 11–14.
Titled "Beyond Boundaries: A Celebration of the Work of John E. Cort," the conference honors Cort, a groundbreaking scholar of Jainism and professor emeritus at Denison University in Ohio.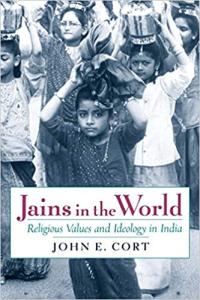 "John Cort is part of a generation of scholars in South Asian studies whose pioneering work helped develop the field of Jain studies as we know it today," said Lynna Dhanani, an assistant professor of religious studies who is leading the development of Jain studies at UC Davis. "He and a handful of others not only rescued the study of Jainism from the margins of Indology and Orientalism, but also developed the methodological tools necessary to bring it into conversation with the study of Indian religions more broadly." 
Cort is co-editor of Brill's Encyclopedia of Jainism and author of Framing the Jina: Narratives of Icons and Idols in Jain History and Jains in the World: Religious Values and Ideology in India.
32 international scholars discuss interdisciplinary approaches
Thirty-two scholars will take part in 10 panels during the conference organized by Dhanani with the assistance of scholars from other institutions, such as Professor Ana Bajzelj from UC Riverside. Dhanani and Bajzelj developed a virtual series entitled "The Emerging Scholars in Jain Studies" that gives a larger platform to emerging scholars working with Jain materials. The last two panels of the conference will showcase this series as well as a talk by the winner of the Mohini Jain Dissertation Prize.

There will also be individual talks and short reminiscences about Cort by his colleagues. Several scholars will present work directly connected to Cort's research. Others will talk about research influenced by Cort's pioneering interdisciplinary approach in fields outside of Jain studies proper, including art history, anthropology, ethnomusicology, philosophy, and gender and sexuality.
Those taking part are from Columbia University, the University of Toronto, Seoul National University, Ghent University, the University of Oxford, the University of Chicago and many other major schools.
"Many are coming with a tremendous sense of gratitude and awe for what Cort has done both for them personally and for the field," Dhanani said. "This is a moment that cannot be replicated again, and I am happy to share it with the UC Davis community."
About Jainism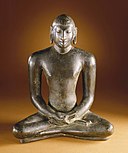 The founder of Jainism, Mahāvīra, was an older contemporary of Buddha and taught approximately 2,500 years ago in the northeastern region of India. In the early centuries C.E., the teachings spread to other regions of India and, more recently, to other parts of the world. Out of its 6 million adherents worldwide, 150,000 live in the United States, 35,000 in the United Kingdom and other parts of Europe, and 20,000 in East Africa.
At the heart of Jain ethical practices is the concern for the welfare of every living being and the belief that all sentient beings, as well as air and water, have souls and that each is of equal value. Jains are strict vegetarians and strive to live in ways that minimize the use of resources. Historically, they engaged with several intellectual traditions in India, and Jainism continues to exert influence in many areas of social and religious life in India.
(Mahāvīra statue, Los Angeles County Museum of Art)
UC Davis emerging as Jain studies leader
This is the largest Jain studies event on campus since the establishment of the Mohini Jain Presidential Chair in 2017 through a $1.5 million gift from Mohini Jain, a longtime supporter of UC Davis, retired teacher and longtime resident of Davis.
"Bringing together so many scholars from so many places and disciplines for this major conference shows the commitment we have made to Jain studies," said Estella Atekawana, dean of the College of Letters and Science. "We are grateful to Mohini Jain for her support in making UC Davis a leader in Jain studies and to those who have worked so hard to bring this conference to fruition."
The conference helps make UC Davis a hub for Jain studies.
"This conference shows that UC Davis is a serious center for the study of academic Jainism and helps to solidify not only our reputation in the field but also bolster and showcase our many developing relationships with other institutions interested in promoting Jain studies," Dhanani said.
The conference, taking place at the UC Davis Student Community Center, comes at a key moment for Jain studies.
"A number of senior scholars in the field are retiring and a new and larger generation is emerging, building upon their legacy and developing the field further," Dhanani said. "We are recognizing the ways in which Cort's pioneering efforts helped foster the more robust study of Jainism that we are now finally experiencing. His is an enormous accomplishment, and it is an honor to be able to celebrate his legacy in this way."
Visit the conference website to register and find more details about presenters and panels.
— Jeffrey Day, content strategist in the UC Davis College of Letters and Science
Primary Category
Tags