UC Davis Expands Study of South Asian Religions With Jainism
Although Jainism is one of the world's oldest religions and continues to have significant influence globally, it isn't widely known. Thanks to a $1.5 million gift from longtime UC Davis supporter Mohini Jain and the recent hire of Assistant Professor Lynna Dhanani in the Department of Religious Studies, UC Davis is helping to increase the visibility of Jainism through research, academic and public programming, and course offerings.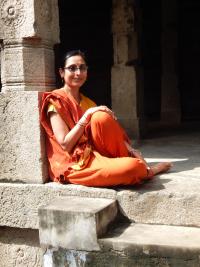 "Our goal is to develop the Jain studies curriculum and help people learn about Jainism, one of the most influential religious traditions from the Indian subcontinent," said Archana Venkatesan, chair of religious studies. "The relatively small number of Jains belies the religion's large impact through its practices of nonviolence and vegetarianism. We want to integrate it into other religious studies areas and other fields, such as the medical humanities."
Dhanani, who joined the department in the fall of 2020, will lead the development of Jain studies. She is a scholar of Jainism and other Indian religions, languages, cultural traditions and South Asian religious art forms. She lived and researched in India for several years and spent the 2019-20 academic year there examining the life and work of Muni Jambuvijaya, one of the most influential Jain monastic figures of the 20th century.
Sanctity of all life
The founder of Jainism, Mahāvīra, was a contemporary of Buddha and taught approximately 2,500 years ago in the northeastern region of India. In the early centuries C.E., the teachings spread to other regions of India and, more recently, to other parts of the world. Out of its 6 million adherents worldwide, 150,000 live in the United States, 35,000 in the United Kingdom and other parts of Europe, and 20,000 in East Africa.
At the heart of Jain ethical practices is the concern for the welfare of every living being and the belief that all sentient beings, as well as air and water, have souls and that each is of equal value. Jains are strict vegetarians and strive to live in ways that minimize the use of resources. Historically, they engaged with several intellectual traditions in India, and Jainism continues to exert influence in many areas of social and religious life in India.
Students Reflect on Jainism Class
A varied group of students enrolled in the first Jainism course, Introduction to Jainism, offered in the College of Letters and Science's Department of Religious Studies. "Students from different backgrounds bring interesting questions to the class," said Lynna Dhanani, assistant professor of religious studies. 
"I was pleasantly surprised that there was a class in Jainism being offered. I have learned about many different topics, my favorite being on the Jain cosmos and how pictures of the universe are depicted in the human body." — Janki Shah, first-year biochemistry and molecular biology major
 
"It surprised me how little I had actually heard of Jainism, despite having familial connections in India, so I wanted to become more educated and informed. Something that I like about the class is getting to explore so many different facets of such a complex and intriguing religion." — Kriti Iyer, first-year neurobiology, physiology and behavior major
 
"Being a Jain myself, I was excited and eager to know how this class is taught in the U.S. and at UC Davis. I wanted to learn how they tackle students that have no prior knowledge of Jainism and how they keep them interested." — Naman Sheth, second-year computer science major
Given the emphasis on nonviolence and the value of all life, Dhanani said, the study of Jainism intersects easily with many other disciplines, such as food ethics, environmental justice, and visual art and music.
"Creating a range of interdisciplinary courses is definitely worth exploring at UC Davis given the resources and foci of this institution," Dhanani said. "By offering such courses, a greater number of students from different parts of the university will have an opportunity to learn something about this tradition that is valuable to them."
An emerging field of study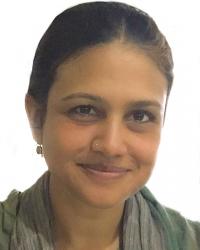 Jain studies in European and American colleges and universities, though nascent compared to its sibling traditions, is a rapidly developing field, Dhanani said. It has expanded from the work of a relatively small group of scholars to a new generation of scholars emerging from institutions in the U.S. and abroad.
"This is a field in which there is so much left to explore and write about," Dhanani said.
Dhanani and Venkatesan are working collaboratively to define the future of Jainism studies at UC Davis, and also to leverage the Mohini Jain Presidential Chair for Jain Studies as a larger effort to position UC Davis as a leader in the study of Indian religions and South Asia studies. The department is currently exploring the interdisciplinary impact Jainism could have on other fields.
"We want to come up with innovative and creative ways to use these funds, build something sustainable and make UC Davis a hub for Jainism studies specifically and South Asia more broadly," Venkatesan said.
Primary Category
Tags