New Chancellor Takes Part in Star Trek and Human Rights Talk
What does it mean to be human? UC Davis Chancellor Gary S. May and the director of Humans Rights Studies, Professor Keith Watenpaugh, sat down to explore this question together through an unusual lens: "Star Trek."
"To Boldy Go" was the first of a three-part Human Rights lecture series held on Dec. 4 at the Crocker Art Museum in Sacramento.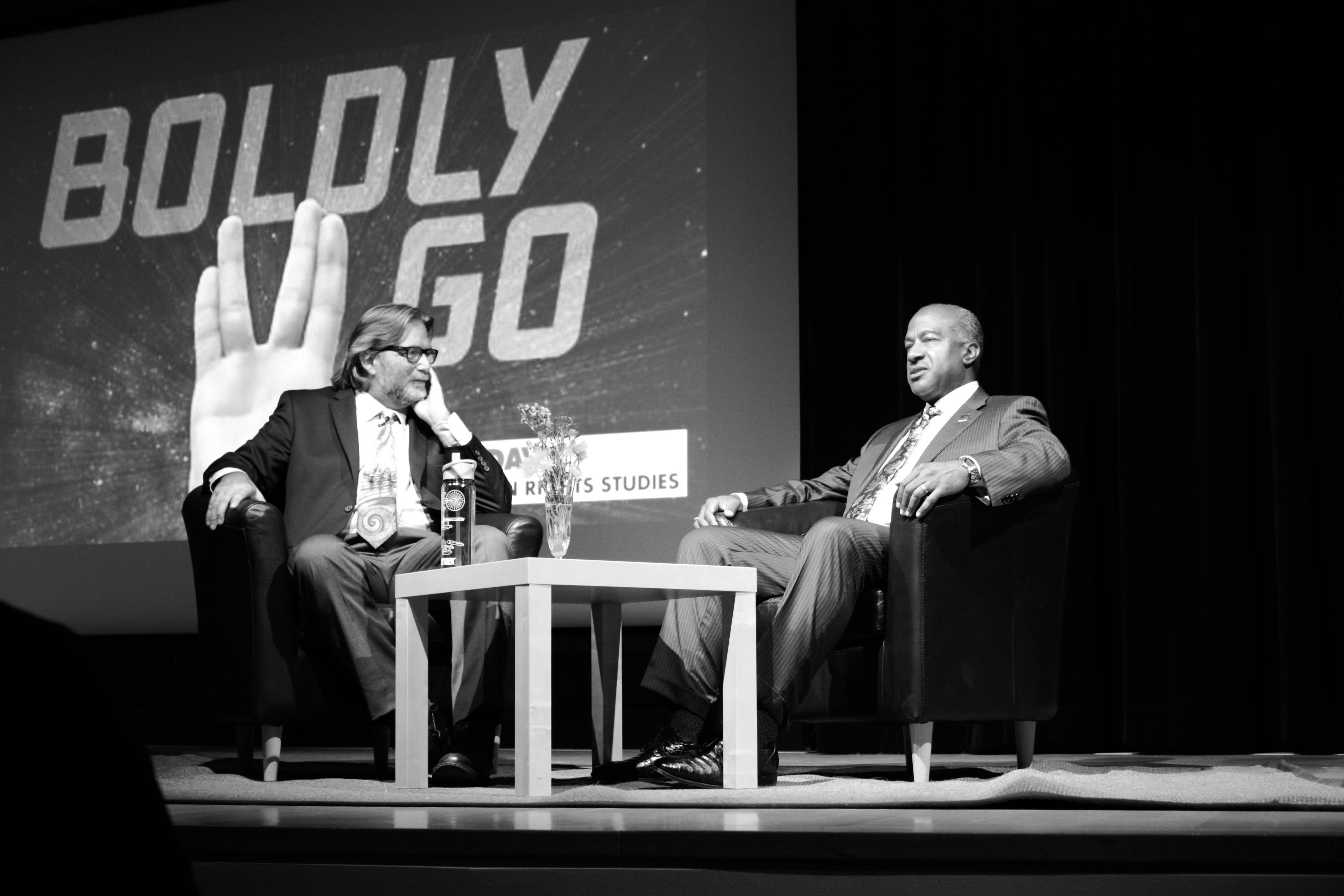 "Like good literature, art or music, good sci-fi is an exploration of what it is to be human," Watenpaugh said in his opening talk.
May said he found himself considering issues presented in "Star Trek" episodes early on, diversity being the first of those issues May remembered.
"Star Trek" was one of the first television series with a racially diverse cast. For May, seeing Nichelle Nichols as Communications Officer Uhura in the series for the first time was a significant moment. Nichols was one of the first African American women to portray a role in a television show that was not stereotypical.
"'Star Trek' was a milestone for diversity," May said. This is one reason he calls himself a Trekker.
Watenpaugh, also a Trekker, recalled the lengthy discussions he often had with his college roommates about human rights-related issues that "Star Trek" episodes touched on and he believes today's students can find similar connections.
The standing room-only audience expressed similar enthusiasm throughout the evening, as Watenpaugh and May shared their favorite episodes and characters, and explained the connections between episodes and topics such as racism, sexism and slavery.
Ultimately, Watenpaugh, who is an expert in Middle East history and human rights refugees, emphasized that the fight for human rights must start close to home. "We must fight for human rights at home, here in Sacramento, in Davis, here in the United States," he said in closing.
Future Human Rights lectures will take place Jan. 25 and March 8 at the Jan Shrem and Maria Manetti Shrem Museum of Art at UC Davis and will explore Confederate monuments and torture.

— Jeanette Yue, undergraduate intern in communication and marketing in the UC Davis College of Letters and Science
Primary Category
Tags