Rock Stars: Group Leaves Painted Messages of Hope
Two UC Davis staff members, backed by a growing corps of volunteers, are spreading color, creativity and kindhearted messages around campus with vibrantly painted rocks.
Kim Pearson and Martha Garrison, who work in the arts administrative group in the College of Letters and Science, launched UC Davis Rocks this spring. The group paints flat rocks with bright designs and words like "Imagine," "Dream" and "Smile," then hides them—often in plain sight—for others to find.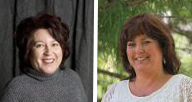 The two colleagues were inspired by the "kindness rocks" movement that has been spreading around the globe since 2015, after empowerment coach Megan Murphy started leaving uplifting messages on rocks on beaches in Massachusetts.
"I had been toying with starting a rocks page for UC Davis after hearing about another rock project in my hometown of Esparto," said Pearson, academic personnel coordinator for the departments of art, art history, cinema and digital media, design, music, theatre and dance.
Garrison, academic personnel assistant for the same departments, had a first-hand encounter with the treasure hunt: "I found a ladybug rock in the Arboretum from the Yolo Rocks Facebook group."
A thousand rocks and counting
Garrison created a Facebook page for UC Davis Rocks and the two started painting. "We have painted approximately 1,000 rocks since March," she said.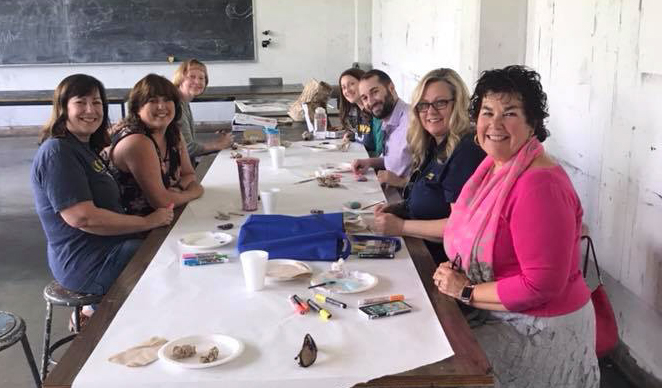 The Facebook group now has more than 350 members, including UC Davis staff members and other supporters. "We have a dozen or so that are actually painting rocks to hide," Pearson said.
The painted rocks are placed around and just off campus to be collected, photographed and often rehidden by a passing individual. On the back of each rock is the message: Share on Facebook UC Davis Rocks.
"We simply enjoy painting the rocks—it's relaxing to me—and seeing others find and post them to our Facebook page," Pearson said. "We have inspired others to start painting them and have gotten folks out taking walks during their breaks just to see if they can find one."
'Day brightener'
Rock finders often express gratitude for the cheerful stone works. "This always makes my day," one wrote on Facebook. "An awesome day brightener!" another posted. "I love this project! It definitely brought smiles to us!" wrote another. 
Pearson said the rocks have led to a number of other activities that promote well-being and build community on campus and beyond.
"We have had Graduate Studies staff reach out to us to plan a rock painting get-together as part of their monthly mindfulness activities that promote social well-being. We had one lunchtime session where staff from the Arts and Graduate Studies participated."
Some of the rocks travel widely. "We have found that some of our rocks are being re-hidden in Nevada and Yosemite," Pearson said. "One my rocks was going to Dubai."
— Michael French, arts marketing specialist in the UC Davis College of Letters and Science 
Primary Category
Tags