The Language of Chemistry
Doctoral Candidate Bao Vue Wins ACS Bridge Career and Professional Development Award
There's no word in Bao Vue's native language for "chemistry." The science subject is not easily expressed in Hmong vocabulary. In fact, the same can be said for the concept of "science" itself.
"Science is really limited in the Hmong community," said Vue, who spent part of her childhood in the mountains of Laos. "The word science, we don't have a word for science."
During Vue's childhood, education was not a focus for her or her local community. Farming was the top priority.
But when Vue was 9 years old, she and her family fled their home. Her father, Fai Vue, faced persecution and the threat of death for aiding the United States in the Secret War, a war covertly waged by the CIA in Laos to stop the spread of communism during the Vietnam War.
For four years, Vue and her family lived in a refugee camp in Thailand. When Vue was 13, she and her family emigrated to the U.S., settling in Fresno, California. It was then that education became a focus of Vue's life.
"It was very difficult," recalled Vue. "I started school very late in age, so I didn't have a foundation." 
Supported and encouraged by family and academic mentors, Vue persevered in her studies. She initially planned to study psychology at college. But while visiting the California State University, Fresno campus the summer before her freshman year, Vue attended a faculty-led demonstration in which chemical reactions caused a clear liquid to shift through a series of vibrant colors. The display amazed Vue and, in that moment, the direction of her life changed. She wanted to study chemistry.  
Today, Vue is a chemistry doctoral candidate in UC Davis Professor of Chemistry Jacquelyn Gervay-Hague's lab, which is focused on developing sustainable methods to produce antiviral and anticancer agents from natural products. Thanks to her research work in the lab, Vue recently won a Bridge Career and Professional Development Award from the American Chemical Society.
"I'm very lucky to have people along the way who believed in me," said Vue, crediting her support system of family and friends. "I call them my guardian angels."
Synthesizing compounds for viral and cancer research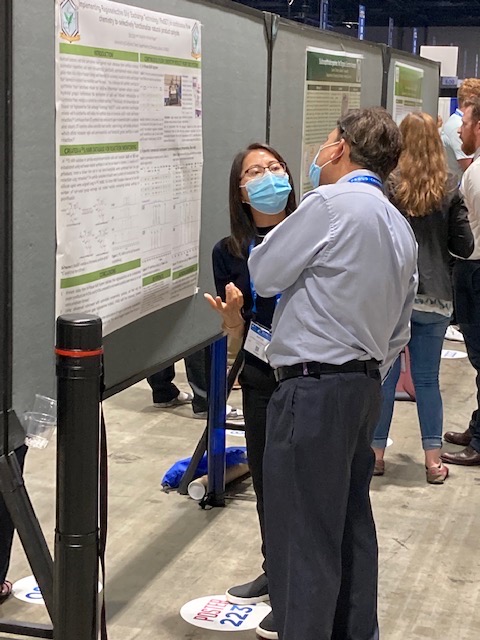 Vue's research focuses on developing synthetic methods to produce organic materials necessary for scientists to study virus transmission and cancer progression. Specifically, Vue investigates O-acetylated sialic acid, a family of sugars that can be found on the outer surface of cells.
"If a virus recognizes this sugar, they will bind to it and that's when the process of infusion starts out and the virus can enter," said Vue. "Also, a lot of the cells that are associated with cancer have high levels of O-acetylated sialic acid."
But O-acetylated sialic acid isn't available commercially. What's more, it's difficult to extract. That's why Vue and her colleagues developed a method to synthesize O-acetylated sialic acids in a lab setting.
The method, which employs regioselective silyl exchange technology (ReSET), combines continuous flow chemistry and silicon nuclear magnetic resonance (NMR) spectroscopy to monitor the quality of the chemical reactions and to determine the most optimal conditions for scaling up the process.
"The benefit of continuous flow chemistry is that a small amount of material (milligram-scale) is used to establish a condition, but this condition can be used to run kilogram-scale reactions," said Vue. "This method is different from traditional methods by saving time, material, money, and it's better for the environment."
The importance of education
With Vue in the fifth year of her doctoral studies, she's had time to reflect on everything she's learned thus far. One recommendation she makes to students: Believe in yourself.
"Life is a challenge, but we never give up," said Vue. "When people tell you, 'You can do it.' Believe them."
Such was the case with Vue's doctoral pursuits.
After receiving a master's degree in chemistry from Fresno State in 2008, Vue spent six years teaching college-level chemistry. While teaching, she felt called to research, volunteering in a lab focused on developing new anticancer agents for prostate cancer. It took outside encouragement for her to recognize that her teaching job combined with her volunteer research work already resembled a doctoral program. After realizing that, Vue felt confident enough to apply to doctoral programs.  
"My dad always wanted me to get a Ph.D.," said Vue, noting that her father's education was cut short at a young age due to his military service. "Education for him was a big thing."
Though Vue's father died a few years ago, pursuing a doctorate is one way she honors his memory.
"For me, when I went into a Ph.D., it's kind of like he was going too," said Vue.
Primary Category
Secondary Categories
Tags