Geologist, Anthropologist Elected to National Academy of Sciences
Three professors from the University of California, Davis, are among the newly elected members of the National Academy of Sciences, as announced on April 26.
The honorees from the College of Letters and Science are Isabel P. Montañez, distinguished professor in the Department of Earth and Planetary Sciences, and Monique Borgerhoff Mulder, distinguished research professor in the Department of Anthropology. The third honoree is Michael Turelli, distinguished professor, Department of Evolution and Ecology, College of Biological Sciences.
"This is a thrill for the UC Davis community to see three outstanding faculty members receiving one of the highest honors that a scientist can earn," said Chancellor Gary S. May. "Their research is helping us both to understand our past and prepare for a more resilient future. I extend my deepest congratulations to these outstanding scholars."
Isabel Montañez
Isabel Montañez is a sedimentary geologist and geochemist. Her work has informed a better understanding of Earth's ocean, land and atmospheric records of the past half-billion years and suggests what the ancient carbon dioxide record may mean for future climate change. Montañez's research extends to Pleistocene and Holocene records of California's hydroclimate in California by studying stalagmites in Sierra Nevada caves to inform climate models. 
Montañez studied geology at Bryn Mawr College before earning her doctoral degree in geology from Virginia Polytechnic Institute and State University. She taught at UC Riverside from 1990 to 1998 before joining UC Davis, where she has been a professor for 23 years.
Montañez is also a fellow of the American Association for the Advancement of Science, American Geophysical Union, Geochemical Society and Geological Society of America, and received a John Simon Guggenheim Memorial Foundation fellowship in 2011.
Monique Borgerhoff Mulder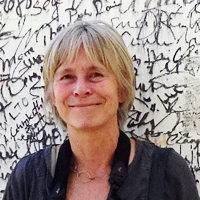 Borgerhoff Mulder is a human behavioral ecologist, working on projects relating to life history, inequality, natural resource management and patterned cultural variation. She explores big "why" questions about our species: Why do people marry? What is the basis of gender roles in economic and social behavior? Why has fertility dropped so radically in most parts of the world? How can people cooperate over natural resource management? Why is economic growth in the developing world not reducing inequality? 
She trained as a social anthropologist at the University of Edinburgh, working in journalism, teaching and museum archaeology before starting a doctoral program at Northwestern University, writing a dissertation on the behavioral, ecological and economic model to polygyny in rural Africa, a topic she has continued to explore throughout her academic life. In 2019, her research in Tanzania shattered stereotypical roles for men and women, finding that women, not just men, benefit from multiple spouses to buffer themselves against tragedy, gain access to resources and keep their children alive.
Borgerhoff Mulder joined the UC Davis faculty in 1991, retiring in 2019. She is currently at the Max Planck Institute for Evolutionary Anthropology, Leipzig, Germany.
— Andy Fell, UC Davis News and Media Relations
Primary Category
Tags