The Cultural Impact of the Fukushima Disaster
Conference Delves Into Film, Manga and Literature Spawned by Triple Disaster
Fukushima, Japan, was struck by a triple disaster on March 11, 2011 — earthquake, tsunami and nuclear power plant failure. The disaster and its impact on the nation's psyche has been explored extensively through film, literature and art during the decade since the disaster.
The UC Davis Department of East Asian Languages and Cultures will take a closer look at creative work that grew out of the disaster in the conference "The Culture of the Fukushima Disasters: Japanese Film, Literature, Manga, and Photography after 3.11" taking place Nov. 3 and 4. The event will include a film screening and presentations by scholars from around the country. The conference is being presented for the annual Alan Templeton Distinguished Lecture in Foreign Languages, Literatures and Cultures. All events are free and open to the public. Register here to attend. 
"The literature, film, art, photographs, manga and anime that emerged from the disasters allow us to think even more deeply about environmental disaster, population displacement, and other aspects of present-day precarity in all parts of the world," said Michiko Suzuki, associate professor of Japanese and comparative literature and co-organizer of the conference with Michael Dylan Foster, professor of Japanese.
"Even before Fukushima, radiation poisoning, earthquakes and other natural and manmade disasters played a significant role in shaping modern Japanese history, literature and culture." — Michiko Suzuki
"(Fukushima) is a singular event that informs our understanding of various aspects of contemporary Japan, but is connected to the Japanese past as well as concerns for the global future."
A disaster with long-term effects on a culture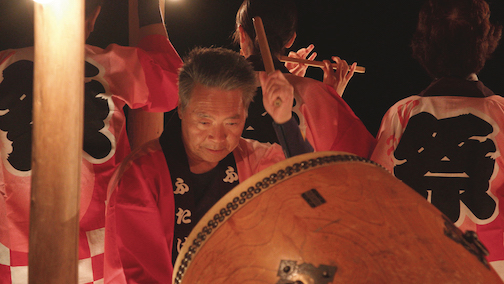 The triple disaster began with the most powerful earthquake ever recorded in Japan, triggering a tsunami with 50-foot waves that damaged the nuclear power plant in Fukushima. It killed about 20,000; most drowned. Flooding shut down cooling units at the power plant, leading to a nuclear meltdown releasing radioactive contaminants into the air and ocean. Nearly a half-million residents of the region were evacuated. Many survivors have experienced mental and physical health problems associated with the disaster and displacement.
The conference starts with a screening of Bon-Uta, a Song from Home, about how evacuees from Fukushima connected to Japanese Americans in Hawaii to help re-establish a centuries-old festival. This will be the film's first screening in the continental United States. Film associate producer and photographer Ai Iwane will introduce the film, and the screening will be followed by a brief question-and-answer session. This event will be held Nov. 3 at 6:30 p.m. in 1002 Cruess Hall.
Presentations on film, manga, literature and photography
Iwane will launch the second day of the conference Nov. 4 at 9:30 a.m. in the Student Community Center, Multipurpose Room, with a presentation about the song Fukushima Ondo, brought to Maui, Hawaii, by immigrants from Fukushima Prefecture in the early 1900s. Iwane has been documenting Japanese American culture in Hawaii for 15 years as well as working in the Fukushima region. Her work has been shown at the Honolulu Museum of Art as part of Hawaii Triennial, the Tokyo Photographic Art Museum, the 21st Century Museum of Contemporary Art, Kanazawa, Japan, and Dali International Photography Exhibition, China. 
Other presentations:
"Manga, Radiation, and Politics after 3/11" — 

Rachel DiNitto, professor of modern and contemporary Japanese literary and cultural studies, University of Oregon. She will talk about the wide range of

manga (comics or graphic novels) produced after the disaster, ranging from the mainstream to the underground, especially their commentary on the nuclear accident. 

"Animal Media: Documenting Life in Japan's Nuclear Exclusion Zone" — Dan O'Neill, associate professor of East Asian languages and cultures, UC Berkeley. His research is focused on how new sensing technologies used in off-limits areas like those around Fukushima's power plant can provide a unique source of information about the natural world's recovery from a disaster and how it shapes our understanding of the non-human world.
"Kobayashi Erika and Radioactive Afterlives" — Doug Slaymaker, professor of Japanese, University of Kentucky. He will speak about how ghosts and radiation, two invisible forces, became dominant

themes in fiction produced in the wake of the disaster, and

novelist Kobayashi's Trinity, Trinity, Trinity,

 about a terrorist attack on the 2020 Tokyo Olympics and the intertwined histories of the Olympics, fascism and nuclear technologies.

 
These will be followed by a panel discussion with all the participants titled "3.11 in Contemporary Japanese Culture."
"The questions raised at this symposium are important for Japan, of course, but also critical for everybody, everywhere — and all the more so in a time when sudden catastrophe, especially climate-induced disasters, touch all of us in one way or another." —  Michael Dylan Foster
"We felt that the disasters and their aftermath are critically important for understanding contemporary Japanese culture and society, and also for considering more broadly the way humans grapple with disaster — particularly in light of the current climate emergency," said Foster, who recently co-edited a book about how people make sense of disasters.  
The conference is co-sponsored by the East Asian Studies Program, the Department of Cinema and Digital Media, the Department of Comparative Literature, the Department of Asian American Studies, and the College of Letters and Science Dean's Office.
— Jeffrey Day, content strategist in the UC Davis College of Letters and Science
Primary Category
Secondary Categories
Tags