Eating and Drinking and Singing
Professor's Book Digs Into Rich History of Opera's Intersection With Dining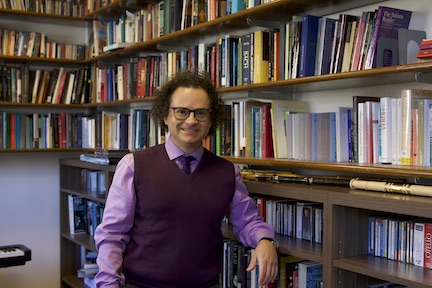 When he was a college student, Pierpaolo Polzonetti was hired by an opera-loving cookbook author to research composer Giuseppe Verdi's favorite recipes. There weren't any, but it led Polzonetti to a fascination with what he dubs "gastronomic signs" in opera. Many years later, the result is the recently published book Feasting and Fasting in Opera: From Renaissance Banquets to the Callas Diet by Polzonetti, the Jan and Beta Popper Professor of Music at UC Davis.
From the first lines, one knows this isn't a musicology textbook. The writer/narrator tells a wild story set on a snowy New Year's Eve at a dingy diner in Ithaca, New York, with a musicologist who is nearly mad — and at the end, nearly dead. But the mad musicologist leaves notes scribbled on napkins that become the book's beginnings. Poloznetti also invents an argument between Johann Sebastian Bach and Wolfgang Amadeus Mozart over coffee-drinking scenes they've written. He dreams up the dialogue while listening to a performance of Bach's Coffee Cantata.
"I wanted to find a way to make the scholarship more engaging," Polzonetti said. "Operas are invented stories, and these stories are another way to get at the truth."
The book, published by the University of Chicago Press, is jam-packed with similar scenes drawn from Polzonetti's deep and detailed research about opera — from its origins as entertainment during 16th-century banquets to 20th-century opera star Maria Callas' diet. Polzonetti also offers timely and personal insights from his own eating and drinking while watching televised operas during COVID-19 lockdown.
Food and drink are more than bit players
The meat of the book is the role of food and drink in an opera's narrative and music.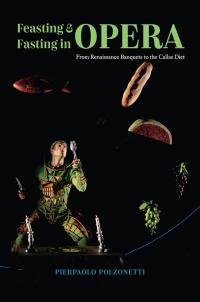 Eating and drinking on stage provides plenty of symbolic content. It can refer to the characters' appetites for nourishment, but more often their desire for power, possessions or sex. Both the title character in Mozart's Don Giovanni and the Duke in Verdi's La Traviata use "banquets, feasts and wine … to seduce and conquer," Polzonetti writes.
Sharing food and drink also signifies alliances, and its refusal is a rejection of such partnerships. An integral scene in La Traviata is a toast that confirms the love between the courtesan Violetta and Alfredo where everyone (except Violetta's current lover) joins in to celebrate.
A decisive meal plays out at the end of Don Giovanni, when the title character's solitary feast is interrupted by the ghost of a man he murdered. The ghost invites him to repent and join in a meal, singing "He who dines on heavenly food has no need for the food of the mortals!" Declining, Don Giovanni is promptly carried off by demons.
The music often reflects what's being consumed on stage, according to Polzonetti.
During a drunken scene in Verdi's Otello, the music has disorienting meter shifts and the singing is fragmented and chaotic. While everyone is celebrating with food and drink in Verdi's opera Macbeth, the title character is terrorized by a ghost only he sees.
"The music brings us inside the parallel reality populated by Macbeth's nightmares," Polzonetti writes.
Opera's origins and opera house manners
Food and drink also have long played a role in the opera audience. Polzonetti traces opera's origins to Renaissance-era academic society colloquia, which were interspersed with meals and performances. The book lists entertainment and refreshments for a 1529 event; it goes on for seven pages and includes 150 courses. The first true operas were created around 1600 and the first opera house opened in 1637 in Venice.
The opera house offered expensive yet mediocre food and drink, Polzonetti writes, along with lots of seeing, being seen and socializing. At times, the performance seemed secondary. But Polzonetti argues that "eating during a performance did not signal lack of interest, but rather showed the opposite … during interesting moments, people did not dare leave their places, so they consumed food and drink in the (theatre)."
What was happening in the audience and on stage often mirrored one another, and both reflected the politics, economy and overall taste of the world outside. Around the time of the French Revolution in 1789, the new middle class rejected the decadent behavior of the royals, but wanted to set themselves apart from the working class. The middle and merchant class turned going to the opera into a more formal affair.
"They overperformed manners," Polzonetti said. "It became no food, no drinking and shut up."
These unwritten rules for audience behavior are largely still in effect today.
A book many years in the making
The seed of the book was planted in 1995 when he took on the Verdi recipe project and he continued to examine the topic while attending Cornell University, where he earned his doctorate. But he was advised against pursing it as a major research project.
"I was told it's cool, it's fun, but don't do it as your main project," Polzonetti said.
Writing a dissertation or book on the topic, he said, was considered "a suicide mission in the 1990s."
But with experience — and tenure — comes a certain amount of freedom.
Although Polzonetti first studied the intersection of food and opera during the 1990s, it wasn't until 2012 that he was able to really dig into the topic. After he gave a talk that year, an editor at the University of Chicago Press expressed interest in a book on the subject that would be both accessible and academically sound. Polzonetti wasn't sure it could be done.
"The problem with a book like this is it is a niche within a niche," said Polzonetti, who came to UC Davis College of Letters and Science's Department of Music in 2017 after a decade at the University of Notre Dame. "Opera studies is such a small field, and then the topic of food and opera is so narrowly focused. Who's going to care?"
Once Polzonetti commenced in earnest, he was soon convinced that many people would care. His research revealed how food and opera intersect with classical studies, politics, social status, economics, friendship, romance and dieting.
"It opens the door to so many areas that are an essential part of life," said Polzonetti.  "Food and meals are so important to society on so many levels."
— Jeffrey Day, content strategist in the UC Davis College of Letters and Science
Primary Category
Tags