From Mental Health to Insect Damage, Colloquium Examines Tea's Value
As in years past, the UC Davis Global Tea Initiative for the Study of Tea Culture and Science annual colloquium will take a broad view of tea: its history, use as medicine, role in culture and society, agricultural practices and the tea industry. Taking place Jan. 19, this year's colloquium is entitled "Tea and Value."
The "value" addressed will look at many aspects of tea. These range from tea's value in mental and physical health to how tea growers balance the value of developing a small quantity of a specific tea or larger crops of a more generic tea.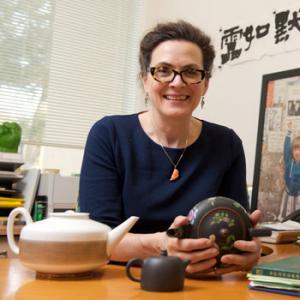 "We always go after the same focus – to have a theme that looks at ways to be provocative and challenging," said GTI Initiative founder and director Katharine Burnett, a professor and chair of art history whose research focus is on China's art and culture.
As the initiative matures, the tea network continues to grow and make for a deeper well of knowledge and expertise. For example, this year's researcher on "bug-bitten tea" was in touch with Burnett when the initiative was launched nearly a decade ago. "I am so thrilled we could finally include Eric Scott at the colloquium," she said. "There are so many people doing important research to draw from."
This is GTI's eighth annual colloquium and the first one to be held in person since 2020 due to COVID-19.
Event back in person
"We were eager to get back to being in person," Burnett said, noting that the two years the colloquium was held remotely were well attended with about 800 people around the globe taking part. "When we hold the colloquium in person, everyone loves being there and getting to know one another." (The 2023 colloquium will not be livestreamed, but will be video-recorded for viewing on the GTI website by those who cannot attend.)
During the past few years, the initiative has also been building a collection of tea-related art and material culture (tea pots from several centuries, tea-making utensils and a model teahouse), developing tea-connected classes and content for existing classes, and adding to or identifying tea-related documents for the UC Davis Library.
Wide range of topics
Presentations at the colloquium:
"Tea Extracts and their Value as Antivirals"
Sandra D. Adams, professor of biology, Montclair State University
Adams will speak about tea extracts that have antioxidant, anticancer, anti-inflammatory, antimicrobial and antiviral activities. Tea polyphenols have demonstrated antiviral properties against herpes simplex infections that are considered significant health concerns worldwide.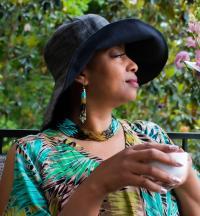 "Black Tea History: Roots of Wellness in the African Diaspora"
Stephanie Y. Evans, professor of Black Women's Studies, Institute for Women's, Gender and Sexuality Studies, Georgia State University
Evans will explore the long history of how Black women around the world have written about tea as a tool for health and wellness. As part of her research, she has studied more than 300 memoirs to map a history of senna, sassafras and pekoe tea in Kenya, Virginia and beyond.
"Tea in Modern American and Japanese History — Locating Economic, Cultural and  Social Value"
Robert Hellyer, professor of history, Wake Forest University
From the 1870s until the start of World War II, Japan centered its tea export industry on the United States and green tea. Hellyer will speak about tea's economic and social value in the U.S. and how it provided employment opportunities in Japan. He is author of the 2021 book Green with Milk and Sugar: When Japan Filled America's Tea Cups.
"Making the Best of Pests: The Value of Bug-Bitten Tea and Barriers to its Spread"
Eric Scott, scientific programmer and educator, University of Arizona
For nearly 100 years, tea growers in a few areas of Taiwan have encouraged leafhopper insects to attack tea, causing the plant to produce chemicals that give the tea produced a unique flavor. Scott will talk about why this tea has not spread to other tea growing areas, the impact of leafhoppers on yield, and the impact of climate change on the tea.
A virtual panel
Also taking part, via Zoom, will be an international tea industry panel including:
Marcus Wulf, managing director and partner, HTH Hamburger Teehandel GmbH Im- & Export, Germany.

Robby Badruddin, managing director, KBP Chakra West Java, Indonesia.

Bachan Gyawali, founder and owner, Chiyabari Tea Garden Pvt. Ltd., Nepal.

Joyce Maina, international tea expert and consultant, Cambridge Tea Consultancy,

United Kingdom.

Sarah Segal,

chief executive officer and chief brand officer,

DAVIDsTEA

, Canada.
The all-day colloquium at the UC Davis Conference Center is free and open to all, but those attending must register in advance on the GTI website.
Primary Category
Tags