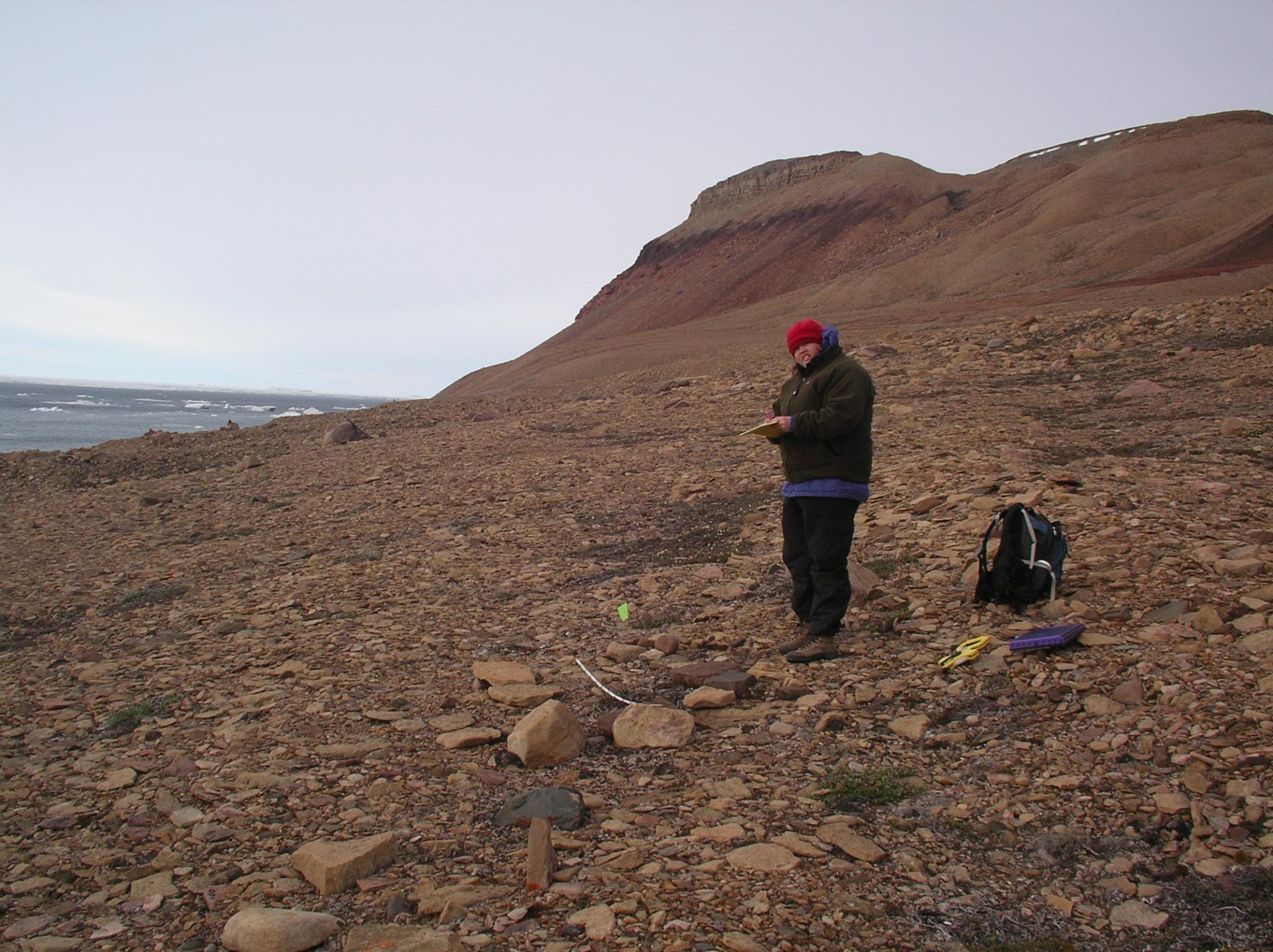 Christyann Darwent, an associate professor of anthropology at UC Davis, studies how humans adapt to arid, arctic environments and coastal ecosystems. Her passion for research has taken her to remarkable locations around the world. As a zooarchaeologist, Darwent studies animal skeletal remains to better understand what past human economies and environments were like. 
College of Letters and Science writing intern James Sommer '18 sat down with Darwent in spring 2018 to learn about the Arctic locations she has traveled to, as well as the discoveries she's made throughout her journey.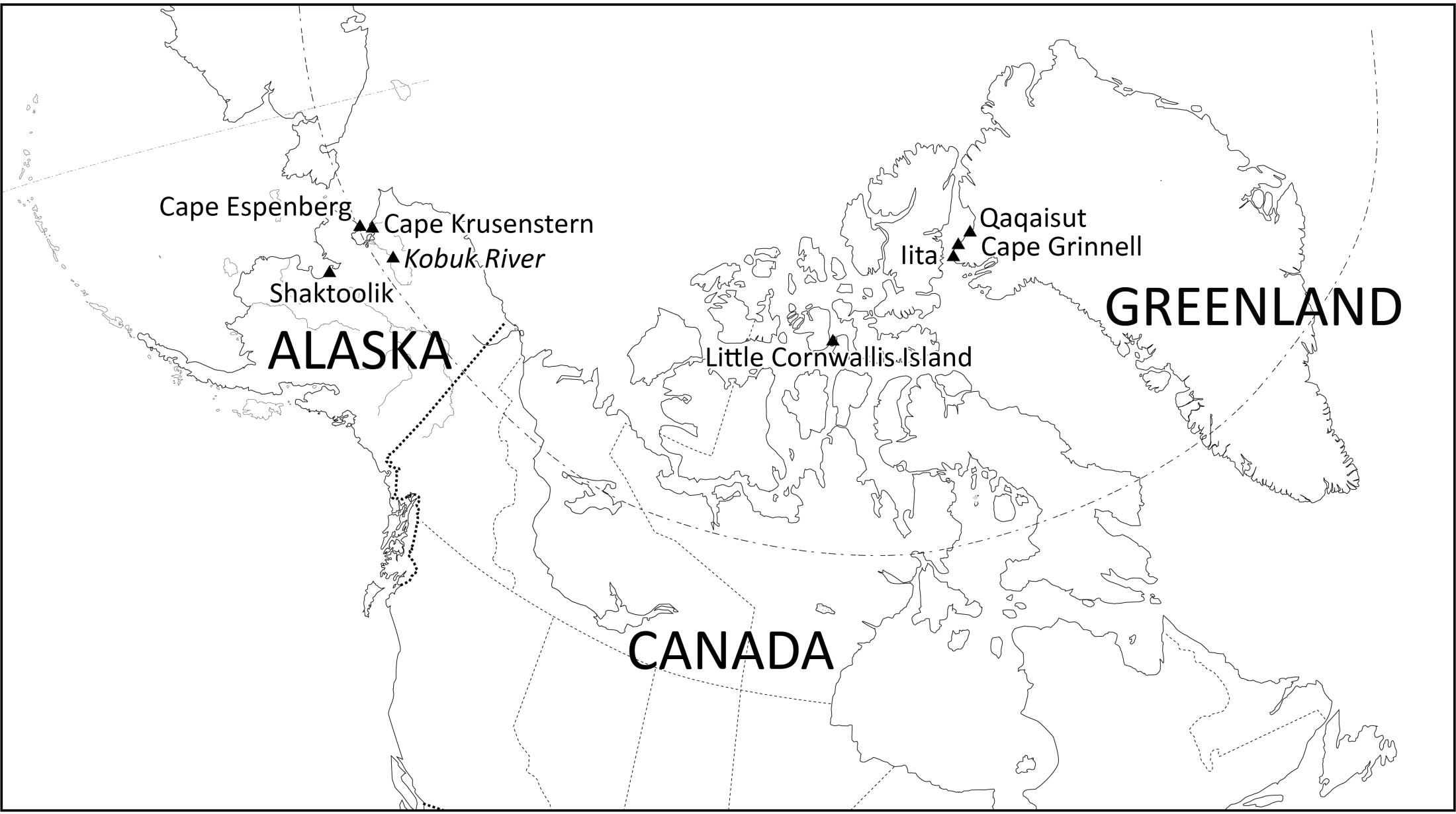 Little Cornwallis Island, Nunavut, Canada 
While nearing the end of her undergraduate studies at the University of Calgary in Canada, Darwent was invited to conduct fieldwork with archaeologists on Little Cornwallis Island, a desolate area of the Canadian High Arctic in 1992. Over the course of three summers, Darwent spent a cumulative six months excavating sites originally discovered by archaeologists working for Cominco, a Canadian metal and mining company.
For those digs, Darwent camped at the site in temperatures ranging from 30 to 50 degrees Fahrenheit. "However, we have actually seen quite dramatic shifts in climate over the past 25 years," she said.
"Folks down south don't realize how significantly the Arctic has changed in such a short period of time. In fact, I don't think any of us, when we were first starting out there, realized how rapidly things were changing. Mosquitoes and rain are now part of work in the High Arctic of Canada and Greenland."
Kobuk Valley National Park, Cape Krusenstern National Monument, and Bering Land Bridge National Park (Cape Espenberg), Alaska
After working in the Canadian Arctic, Darwent spent three months working as a summer intern for the National Park Service in northern Alaska in 1998. During this time, she tested and inventoried archaeological sites for two national parks: Kobuk Valley and Cape Krusenstern. Although Darwent and her group were looking for prehistoric archaeological sites, they happened upon housing remains left by the prospectors of the Gold Rush, the 1897 stampede that attracted tens of thousands of people from around the world, many of whom started their journey in San Francisco.
"What was really interesting was how poorly equipped they were for living that far north over the winter," Darwent says. "They built very thick-walled houses and clearly did not learn from the local Inuit how to survive." 
While working along the coast of Cape Krusenstern National Monument, Darwent learned about the park's Old Whaling Site, the remains of an ancient village long disputed among archaeologists if it is one of the earliest prehistoric whaling sites at 2,800 years ago. Intrigued by the uncertainty, Darwent, now an assistant professor at UC Davis, returned to the park in 2003 to conduct her own study (with start-up funds from UC Davis), undertaking new excavations and radiocarbon dating. 
"We found that the very few whale bones discovered there were probably from scavenging on a beach. There doesn't seem to be any support for harpoon activity or boats. Whaling didn't really start for another 1,000 years after that."
In 2010 and 2011, Darwent returned to Cape Espenberg, Alaska, with colleagues from University of Colorado, Boulder, and University of Alaska Fairbanks, along with graduate and undergraduate students from UC Davis to excavate sites dating to the Thule period (circa AD 1000–1800), with her focus being on the hunting and subsistence.  
Iita, Greenland
Darwent, in collaboration with colleague Genny LeMoine of the Peary-MacMillan Arctic Museum at Bowdoin College in Brunswick, Maine, her husband John Darwent (also an archaeologist at UC Davis), and their Greenlandic Inuit collaborator Hans Lange, conducted a search from 2004 to 2016 for archaeological sites across northwestern Greenland with excavations at Iita, Cape Grinnell, and Qaqaitsut. Together, they sought to investigate the "Contact Period" from the late 1800s to early 1900s, when British whalers and American explorers traveled through Greenland in search of the North Pole.
"What we wanted to know was, 'What is the impact of these explorers on the Inuit?'" Darwent explained. "All the narratives of the time were written from the explorers' perspective."
Local Inuit (Inughuit) from the village of Qaanaaq had assisted LeMoine with documenting Inuit in historical explorer photos, and they asked why researchers were not interested in their history. As a result of this inquiry, the team launched a multiyear project that included Inuit youth and elders in their archaeological research.
"We've really been focusing primarily on one Inuit site called Iita," Darwent said. "The site is very significant because it spans a period of about 1,000 years; going from the 1920s all the way back to about 800-900 A.D."
Inuit thrived there for a millennium in large part because they had an abundant food source: dovekies or little auk. These are a small species of auk that breeds and roost in the cliffs near Iita and were caught en masse with a long-poled net. Darwent and graduate student Erika Ebel are currently analyzing thousands of dovekie skeletal remains, and those of other animals collected from the soils of Iita.
"By analyzing the bone samples, we can look for changes in how [the Inuit] utilized their resources over time."
The Native Village of Shaktoolik, Alaska
Since 2013 the Darwents and UC Davis graduate students, have been investigating human occupation from 4,000 years ago to the Russian Contact period (mid-1800s) in Norton Sound, Alaska. All fieldwork has been conducted on Shaktoolik Native Corporation lands — undertaken with full permission of the corporation and with summer employment provided for local teens. The focus of research is on understanding the development of maritime adaptations. In particular, graduate student Jason Miszaniec is studying the local fishing economy; archaeological fish bone can be useful for understanding how humans and fish adapted to climate change over time.
After 25 years in the Arctic, Darwent said she is still excited to be an archaeologist working in remote locations in collaboration with Inuit communities, and she hopes her enthusiasm comes through in the courses she teaches.
— James Sommer '18, College of Letters and Science writing intern
---
Funding for archaeological fieldwork in northwest Greenland (2004–16) and western Alaska (2010–14) was provided by the National Science Foundation's Office of Polar Programs.
Tags