The members of the Ambassadors of Letters and Science (ALAS) are exceptional students who represent the UC Davis College of Letters and Science to prospective students and families, peers, and the campus and community at large. Meet our Ambassadors for 2022–2023 below.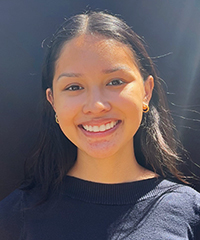 Kaitie Amado
Junior (she/her)


Psychology (Minor in Human Development)


Gilroy, California
2022-2023 Leader, Ambassadors of Letters and Science
Katie chose UC Davis primarily because of the ample health sciences resources and opportunities that are offered. The location of Davis, its close proximity to home, and its college-town setting are additional factors that drew her in.  
Her advice to new students is keep an open mind and remind yourself that college is what you make of it. This is a perfect time for growth and exploration, so take advantage! 
In Katie's free time, you can find her playing tennis with fellow ambassadors, working in the Student Recruitment and Retention Center, and being in community with her beloved peers and friends.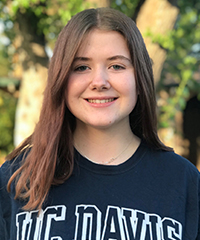 Bayleigh Baldwin
Sophomore (she/her)
History and Spanish
Pleasanton, California
Bayleigh chose UC Davis for its location in her beloved Northern California and its welcoming atmosphere. The campus felt friendly to her even through a laptop screen as she toured colleges online during the pandemic.
Bayleigh's advice to new students is to be open to all the opportunities present on campus. Beyond classes, there are many ways to meet other students and make new connections. Participation in clubs, student government and on-campus jobs may lead to discovering new interests and pathways for the future.
In her free time, Bayleigh enjoys creating and appreciating art. She paints, draws, writes and listens to music to take breaks from studying.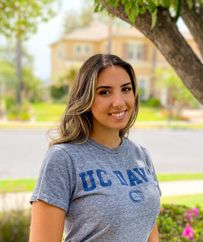 Stephanie Boulos
Senior (she/her)
Political Science (Minor in Philosophy)
Los Angeles, California
When Stephanie first had the opportunity to tour campus, she was blown away by how willing each student she came across was to speak with her about their experiences and help her find her way across the massive campus. These interactions proved to Stephanie that UC Davis was a university that prided itself on being welcoming to every individual, which felt distinct from other universities she toured.
The most rewarding experiences Stephanie has had have been making deep and genuine friendships with her fellow students. Whether through classes or her sorority, the friendships she's made helped her grow into the best possible version of herself.
Stephanie's advice to new students is to experiment during your first quarter with different study habits so you can develop a productive routine. Learning how to "study smart" early in your college experience will not only help with stress, but teach you that there really is no need to spend all night cramming when you stay on top of things throughout the quarter! In her free time, Stephanie loves to hang out with her friends and spend time at the beach or the Farmers Market. Additionally, Stephanie is the intern coordinator for Davis Vanguard, an intern at the office of U.S. Rep. Ami Bera, and serves on the executive board of her sorority Alpha Phi.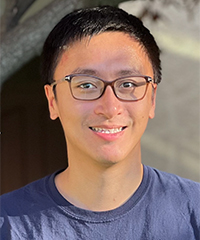 I-Wei Chang
Senior (he/him)
Communication
Taipei, Taiwan
When I-Wei first visited UC Davis, what attracted him the most about UC Davis was the diversity on campus. At UC Davis, he participated in many campus activities, such as varsity sports games and events like Picnic Day, where he made many friends and enjoyed their company.
The most rewarding experience for him at UC Davis was self-growth. Although there were many difficulties and setbacks during the last few quarters, perseverance allowed him to overcome the difficulties in his schoolwork and find balance in life. 
I-Wei's advice to new students is to build friendships with classmates early and don't be afraid of failure. Your peers will help you; Davis is all about kindness. In addition, when there is difficulty in schoolwork, you can always ask a professor or TA for advice. The friendships you find during your years at UC Davis will last a lifetime.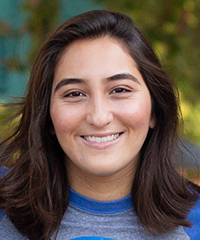 Marisa Davidson
Senior (she/her)
International Relations and Communication (Minor in Public Health Sciences)
San Francisco, California
2022-2023 Leader, Ambassadors of Letters and Science
Marisa chose to attend UC Davis for its stellar academics and professors as well as the overall campus community. She was most excited by the wide variety of opportunities to begin exploring her passions.
Marisa's advice to incoming students is to explore the support networks that exist on campus through academic advisors, the Study Abroad program, the Internship and Career Center, and the Center for Leadership Learning. She has worked for the Aggie Public Health Ambassador internship program as an ambassador, and the Office of Diversity, Equity, and Inclusion for Healthy Yolo Together COVID-19 public health messaging as a social media and communications intern. She has also worked on the social media and photography team at the Center for Leadership Learning and was the principal social media intern for the Aggies Near & Far Podcast, a project by the Global Education for All Fellows. Currently, Marisa works as a social media and communications intern for the Office of Academic Diversity under the Office of Diversity, Equity, and Inclusion.
In her free time, Marisa likes to play tennis, mountain bike and discover new places!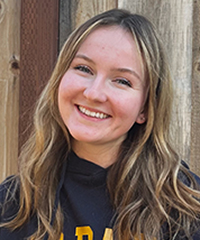 Delaney Ervin
Sophomore (she/her)
Linguistics
Morgan Hill, California
Delaney heard about the welcoming and supportive UC Davis community in high school, and after visiting during her senior year, she realized it was the perfect fit for her. Throughout her first year, Davis has become her second home because of the encouraging, inclusive atmosphere and wide variety of opportunities. 
Delaney understands the challenges that can arise from adapting to a new environment, so she recommends that incoming students not hesitate to reach out to school resources and other students. Putting yourself out there is daunting, but attending meetings and events — even if you are by yourself — is a great way to find your home on campus. 
When she is not working or studying, Delaney enjoys spending time with friends, reading, playing tennis and going on hikes! Her favorite hiking spot is Pinnacles National Park in Hollister.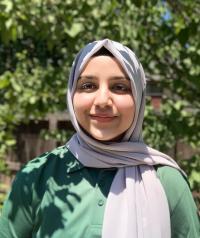 Ubera Fatima
Senior (she/her)
Economics (Minor in Technology Management)
Woodland, California
Ubera, a resident of Davis' neighboring city of Woodland, came to UC Davis because of its serene environment and its proximity to her home. She also appreciates Davis' proximity to Sacramento, which has lots of opportunities for student involvement because of its role as California's capital city. Ubera chose UC Davis because of its diversity, countless opportunities and abundant resources.
Ubera took part in RSO Consulting the previous year, and she intends to join Davis Women in Business. Her advice to new students is to "get comfortable getting out of your comfort zone" because this is how one finds new opportunities that help them be successful whether in college or in life. 
In her spare time, Ubera likes to read, watch Netflix and water paint.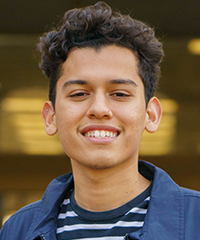 Emmanuel Fonseca
Senior (he/him)
Communications and Sociology — Social Services (Minor in Professional Writing)
Los Angeles, California
Emmanuel chose UC Davis because of the welcoming and friendly environment. Immediately upon stepping on campus, he fell in love with the college-town feel and breathtaking scenery. UC Davis' inclusive and accommodating nature made him feel at home away from home.
Emmanuel holds multiple leadership positions on campus. He is a peer coordinator for Residential Academics and a STREAM social media intern for UC Davis Strategic Communications. Emmanuel has also interned with the California Attorney General's communication team as a press intern. After graduation, Emmanuel hopes to attend graduate school for journalism and eventually work for The New York Times. 
Emmanuel enjoys spending quality time with his friends, going on adventures, trying new things, running, going on hikes, watching movies, journaling, and spending as much time as he can outdoors. His piece of advice for upcoming students is be your true and authentic self. Try everything and anything, don't be afraid to step out of your comfort zone. College years are the time when you find yourself, so live every moment to the fullest.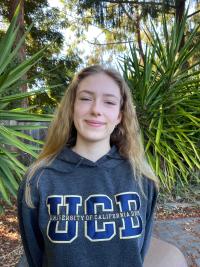 Annabel Marshall
Junior (she/her, they/them)
Psychology 


Sunnyvale, California
As a high school class of 2020 graduate, Annabel never got the chance to tour campus before committing to UC Davis and was excited to explore in-person. When she arrived, she was amazed by the extracurricular opportunities and supportive faculty. She feels lucky to be involved in lots of exciting programs and positions, from serving as an ASUCD senator to working as a research assistant at the Center for Mind and Brain. 
Annabel encourages students to spend time learning about the many programs available to them, be it academic, research, mentorship, etc. There are many resources at UC Davis that often go overlooked by students! 
In their free time, Annabel enjoys writing for The California Aggie, hanging out with friends at the Farmers Market, and forcing other people to listen to her music.
Audrey Mechali
Senior (she/her)
Psychology and Managerial Economics (Minor in Technology Management)
Palo Alto, California
Audrey was looking for a university that would challenge her academically and help her achieve her career goals. But she also wanted to be supported socially — and when she visited campus and saw so many student clubs and organizations tabling at the Memorial Union, she knew she would find her place here. And when she did arrive on campus, she was surprised by how many events and activities there were for students — especially during the first few weeks.
Audrey's advice for new students is to get involved. Joining clubs and organizations (even during a pandemic) will help students meet new people, make friends and participate in fun activities. There's such a wide variety of clubs (over 800!), you should be able to find one that interests you.
In her free time, Audrey likes to play volleyball and board/card games with her friends, and finding new TV shows to binge-watch. She is an active member of the Davis Pre-Law Society and the UC Davis Hillel.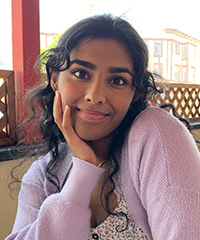 Ganga Nair
Junior (she/her)


Psychology and International Relations


Sacramento, California
Ganga chose to attend UC Davis primarily due to its extensive research program as well as the beauty of Davis, California. She wanted a university that gave her independence while still maintaining a close distance to home, and UC Davis was ideal!
For new students, the best piece of advice she has would be to use all the resources the university has to offer! UC Davis has a number of helpful, extremely informative resources for all forms of assistance, academic, mental health, student-led groups, and more! Ganga also strongly advises incoming students to involve themselves in as any student activities as they can. Put yourself out there, and you will be surprised how much the campus has to offer! 
Ganga is involved in the Campus Judicial Board, Prytanean Women's Honor Society, Sunatya dance team, and the MetaScience Research Lab.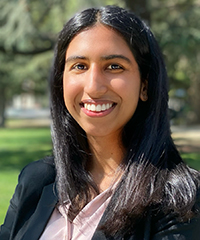 Jahanvi Narwal
Junior (she/her)
Economics and Statistics
Rohtak, Haryana, India
Jahanvi chose UC Davis because of the overwhelming support she felt and received from the campus and wider community. She knew that this was a place that cares deeply for its students and has opportunities for growth in whatever endeavor you may wish to pursue. UC Davis' traditions, community, resources for growth, and unique location makes it an exciting campus to be a part of!
Aside from being a committed honors program student, Jahanvi is very involved on campus. She serves as the chairperson of the ASUCD Research and Data Committee, is a board member for Davis Economics Collective (a student club she cofounded), is an events and marketing manager at the Center of Analytics and Technology in Society (CATS), and works as a student assistant at the Graduate School of Management. Jahanvi's advice to new students is to challenge yourself at UC Davis. Treat every day as a stepping stone and use this foundational time to build yourself. You can be whoever you want to be, so use this time intentionally.
In her free time, Jahanvi likes to work out, be outdoors, travel, read a good book, and spend quality time with loved ones.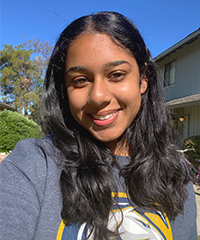 Shreya Nene
Junior (she/her)


Psychology and Economics




Santa Clara, California
Shreya was drawn to UC Davis' culture after visiting campus for the first time during a college tour. The friendly and welcoming nature of the student body and the college-town feel, coupled with the extensive research opportunities that the university provides, were a few of the many reasons she chose UC Davis. After arriving in Davis, Shreya found herself surrounded by kind, helpful and passionate individuals in a vibrant and beautiful campus. 
Shreya's advice for new students is to be open to new experiences and to approach them with an open mind. There are countless on campus to step out of your comfort zone, and she thinks college is the perfect time to do so! There is a club, team or activity for everyone on campus, and getting involved in any of them ultimately might help new students find their community. 
In her free time, Shreya loves to dance, read and meditate. She is also a member of the Mock Trial team and is a research assistant at a psychology lab.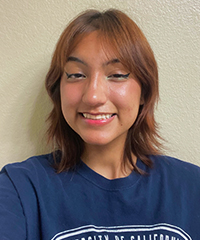 Sandy Saens
Sophomore (she/her, they/them)


Cognitive Science (Computational Emphasis) and International Relations (Peace and Security)




Davis, California
Being a first generation college student, Sandy was looking for a school that had a great sense of community — UC Davis best suited that option! Though rigorous in academics, the tight sense of community allowed her to become well acclimated rather quickly.
Sandy is involved in a student-run clinic on campus, Clinica Tepati. Though not a pre-med student, she feels that this organization allows her to expand her outreach into her own Latinx community. For social activities, she hosts a radio show with a friend at the university's radio station KDVS 90.3 FM.
In Sandy's free time, she enjoys hiking and playing guitar.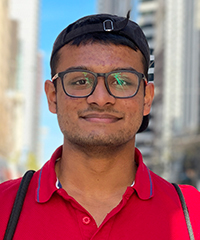 Rohan Srinivas
Junior (he/him)


Computer Science 




Bangalore, India
Rohan came to UC Davis for three key reasons: the campus, the community and the location. Upon arriving, he was struck by the humility and approachability of the broader Davis community. Toward the end of his first winter quarter, he had a conversation with a campus janitor about their experiences throughout the pandemic and their plans for the future, which was a memorable and positive exchange during a time when contact with other people was so limited.
Rohan recommends new students trust in themselves, take deep breaths, and try to have fun to avoid getting too overwhelmed by the newness of college. In his free time, Rohan works out and goes on runs to alleviate stress, participates in various sports, and listens to lots of music!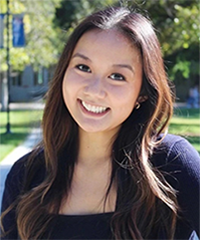 Maggie Tran
Senior (she/her)


International Relations and History (Minor in Public Health Sciences)




Orange County, California
Maggie decided to attend UC Davis because of the welcoming campus and community environment. Being from Southern California, she also was seeking a change in pace and perspective. As a student, Maggie is grateful for the numerous opportunities and resources that UC Davis has to offer. She is also thankful for the incredible faculty here. 
A piece of advice Maggie would give to new students is to not wait around because your time at UC Davis will fly by! Whether it is a professional opportunity, extracurricular or activity that you want to do, take advantage of everything the university has to offer and make the most of your experience. 
On campus, she is involved in the Davis Pre-Law Society. In her free time, Maggie enjoys spending time with friends and family, watching movies, and listening to music.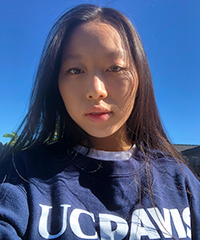 Kay Xiong
Sophomore (she/her)


Physics (Emphasis in Astrophysics)




Napa, California
Kay is very big on community, acceptance and connection, so UC Davis was a great fit. She loves how the atmosphere is very friendly and the university is so integrated with the town itself. Plus, there are a lot of different cuisines to try. 
Kay enjoys cooking and eating (especially eating), playing bass, and playing video games with friends. One piece of advice she would give to new students is to work hard but give yourself a chance to discover yourself during college. Learn how to use your time here efficiently so you can allow yourself to do so. 
Tags