Kathy Olmsted, chair of the history department, kicked off the 2015–16 ISS Noon Lecture series with a discussion of her newest book, Right Out of California.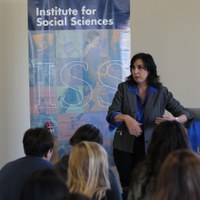 Speaking to a capacity audience on Oct. 20, 2015, Olmsted argued that modern conservatism—the "New Right"—originated in New Deal-era California as a business-backed response to the farmworker unionization movement in the Central Valley.
Historians of modern conservatism typically locate the origins of the New Right amid the backlash against the Civil Rights movement and the cultural changes of the 1960s. "The question of the origins of modern conservatism is one that vexes a lot of historians of 20th-century America," Olmsted explained.  "Did it arise in the South, in opposition to the Civil Rights movement? Or in the suburbs, because of hostility to busing and sex education? Or in the boardrooms of corporate America? Or in congregations of evangelical Christians?" Olmsted argued that all of these arguments understate the significance of big business opposition to Roosevelt's labor policies.
Right to strike
Agribusiness leaders reaped considerable profits from the New Deal and initially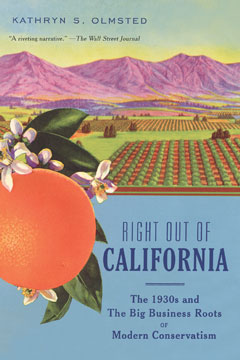 supported Roosevelt's reforms. "California's biggest growers chortled about how much money they were getting from the federal government," Olmsted said. "But when the New Deal began inspiring workers to form unions, these businessmen became very anti-government." The National Industrial Recovery Act provided protections for unions but—as a concession to Southern Democrats—specifically excluded farmworkers.
Despite this, the Cannery and Agricultural Workers Industrial Union organized some of the largest agricultural strikes in American history—most notably the San Joaquin Valley Cotton Strikes of 1933. The union organizers, Pat Chambers and Caroline Decker, were affiliated with the Communist Party but were hardly "intellectual Marxists." Agribusiness leaders resented the Roosevelt administration for mediating the labor dispute, even though Roosevelt never recognized the right of farmworkers to unionize.
Creeping socialism
Led by former president Herbert Hoover, agribusiness leaders responded by trying to undo the New Deal. They argued that the farmworker unions were part of a communist plot to overthrow capitalism and that New Deal reforms represented a form of "creeping socialism"—even though Roosevelt saw the New Deal as a means to save capitalism. Backed by big business, conservatives mobilized the first modern political campaign complete with Hollywood-produced attack ads during the 1934 California gubernatorial race. The tactics perfected in New Deal-era California in turn launched Richard Nixon and later Ronald Reagan onto the national political stage.
— Loren Michael Mortimer
This article originally appeared on the website of the UC Davis Institute for Social Sciences. 
Tags