Grad Takes Lessons from KDVS to KQED in San Francisco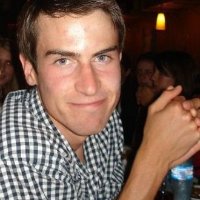 Combining a love for radio and art, Benjamin Castle (B.A., art history and psychology, '14) now leads sales for San Francisco public radio station KQED. 
Castle's first foray into radio came early in his time at UC Davis, where he not only hosted a show on KDVS, but also was the station's business and underwriting director for three years.
"I loved the radio station and wanted to see it stay around— and that's what the business side makes happen," said Castle, a native of San Diego. In addition to pursuing a double major and running the business end of KDVS, Castle founded the Davis Art Salon, an organization that reached out to the local arts community to create exhibitions at the university's Nelson Gallery. 
"Working with the Nelson Gallery was an incredibly rewarding experience and gave me another opportunity for community outreach, which was something I was already doing with KDVS," he said. 
Castle's job as national sales coordinator for KQED includes setting rates, coordinating and communicating with salespeople, entering orders, advising on Federal Communications Commission guidelines and creating the KQED Happenings newsletter. Castle says his extracurricular work at KDVS and the Nelson Gallery taught him how to reach out to the larger community, and his liberal arts education exposed him to a wide range of ideas, helping him excel early in his career.
"In the workforce, you never know exactly what you may be doing," he said. "Few people end up doing what they dreamed of when they were five years old. A liberal arts education exposes you to many ideas, but more important are extracurricular opportunities and the ability to turn them into a career."
— Jeffrey Day, content strategist in the UC Davis College of Letters and Science
Primary Category
Tags