Opening a Backpack – Opening the Way Back to University
Since 2013, an international team of university professionals, and human rights professionals led by UC Davis Professor and Director of Human Rights Studies, Keith David Watenpaugh have been seeking ways to address the impact of the war in Syria on higher education and in particular how to help young refugees return to university.
Building on this work, UC Davis, has formed a consortium with the American Association of College Registrars and Admissions Officers, the Issam Fares Institute for International Affairs and Public Policy at the American University in Beirut and the leading educational software firm, iQ4.com have developed the Article 26 Backpack™— the UC Davis Ecosystem for Refugee and Vulnerable Student Academic Mobility.
Named for the article in the 1948 Universal Declaration of Human Rights that affirms the human right to education and supported by a major grant the Backpack™ is more than just a new "app." Instead, it provides a way for refugees and other displaced and vulnerable people to safely store and share digital copies of documents like transcripts and diplomas, but also training certificates, c.v.s, and statements of purpose. Once images of these documents are put into the backpack, young people can ask that international credential experts to evaluate them for possible use in applying to university, competing for scholarships or even finding a job.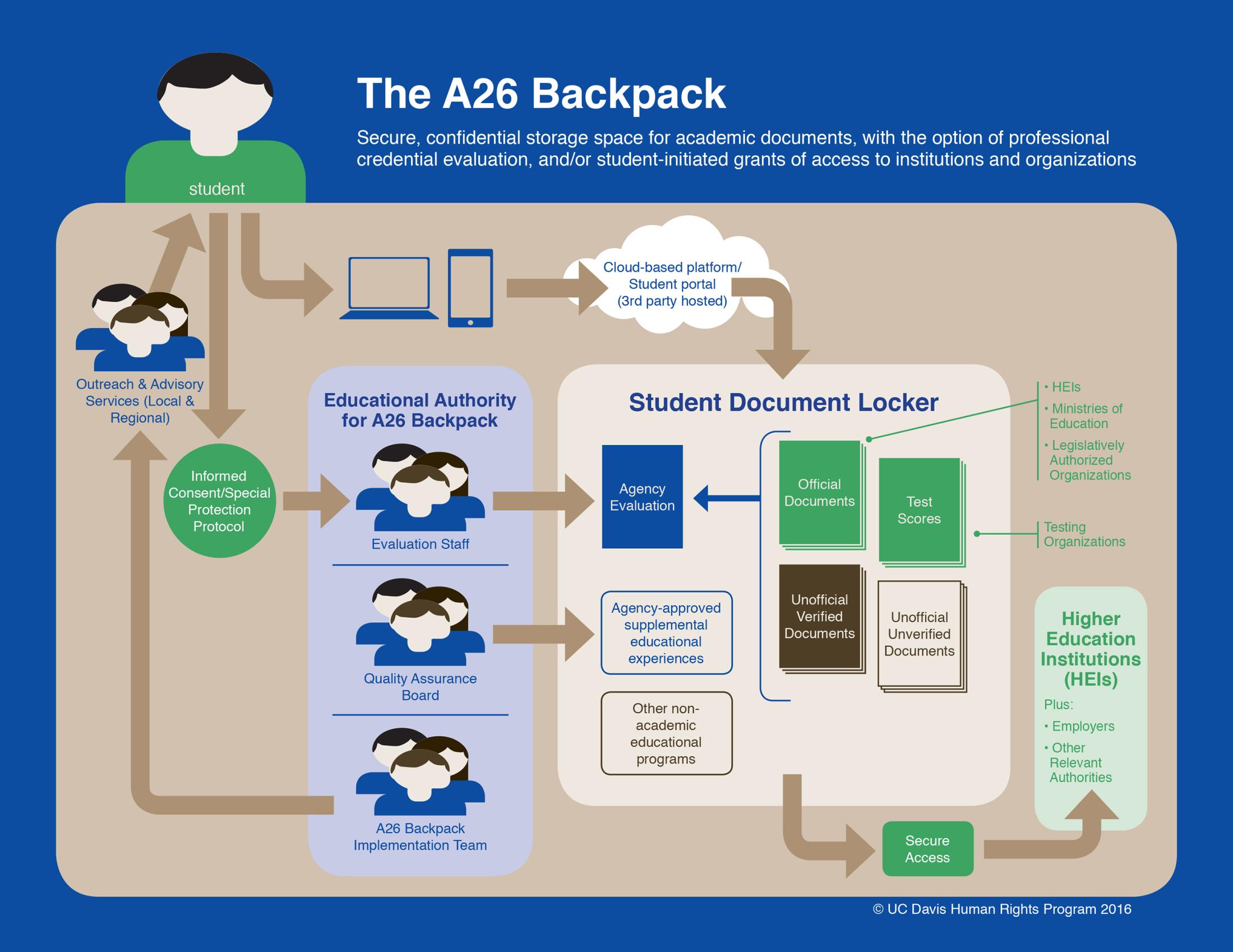 The Backpack also provides an opportunity for young people to learn about educational opportunities. The guides are trained to help refugee students understand how to use the Backpack, engage in an "self-inventory" of past achievements and goals. Part of that is the opportunity to upload to the Backpack a short-filmed statement of purpose.
Over the course of the next year, the UC Davis led consortium will begin implementing the Backpack™ in Lebanon. The consortium is working with local higher education leaders and officials already and April 2018, with the help of "Backpack ™ Guides" – young Lebanese and Syrians trained to help refugees understand and fill their Backpacks, will work with local NGOs to get the Backpack ™ into the hands of 600 vulnerable and refugee young people. At the same time, we are building a group of credential evaluators and admissions officials through the Middle East, Europe and North America who will evaluate and examine the Backpack ™ from the perspective of global higher education.
Primary Category
Tags