ModLab: Exploring the Humanities in the Digital World
How often do you find a university laboratory filled with humanities majors?
Every day at the UC Davis ModLab, where student interns work on gaming, virtual reality and other digital humanities projects.
"They can be software developers, do historical research and data analysis, and work on conceptual and aesthetic design," said Colin Milburn, ModLab director and the Gary Snyder Chair in Science and the Humanities. "The real magic recipe is to bring them all together to leverage their varied expertise toward research goals."
Games on global economy, fracking, elections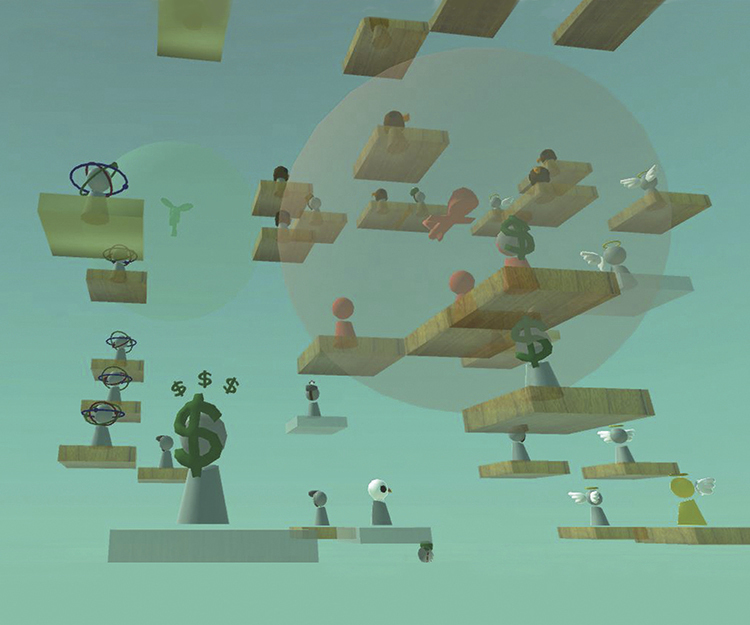 Among recent projects they've worked on are "Buypartisan," a game about the impact of money on elections; "Economusic: Keeping Score," an application converting economic data into music; and "Frack the Game," which explores the environmental and sociopolitical implications of fracking. The most well-developed is "Play The Knave," a virtual reality game in which participants act out scenes from Shakespeare's plays.
The relocation of ModLab into bigger and better space in Cruess Hall in the 2014–2015 academic year made accommodating interns possible; the program greatly expanded in 2015–2016 with about 40 undergraduate interns. Some are paid, some get class credit and others take part just for the experience.
A place for students to explore beyond the page
It was a student, Alison Tam, who suggested recruiting interns for "Play the Knave."
"There's so much they can do and it's a great environment," said Tam, a senior majoring in English. "The lab really nurtures students— you're heard and have input. I got to see that you don't have to be in computer science to work in this field. This is something we can do too."
Alida Araica was looking for a way to merge her interests in literature, computer programming and communications.
"I didn't know how to bring these together, but the ModLab was the place to do that," said Araica, a senior English major who wrote scripts, tested the game and developed social media platforms. "This opened a lot of doors for where I could go with a career."
Izzy Williams, who graduated with a degree in English in the spring, was at first intimidated by the technical side of game development, but that changed when she got to the lab.
"It's so creative and chill, but you're working with all these high concepts," said Williams, who is now a third grade teaching assistant in Los Angeles.
"Students loved the idea of doing research that was beyond the written page," said Gina Bloom, associate professor of English and the person behind "Play the Knave." "They're coming at Shakespeare from a different perspective and looking at it in new ways. It's a good skill to have in any job. The ModLab also provides internships in an area where there aren't many."
— Jeffrey Day, content strategist in the UC Davis College of Letters and Science
Primary Category
Tags