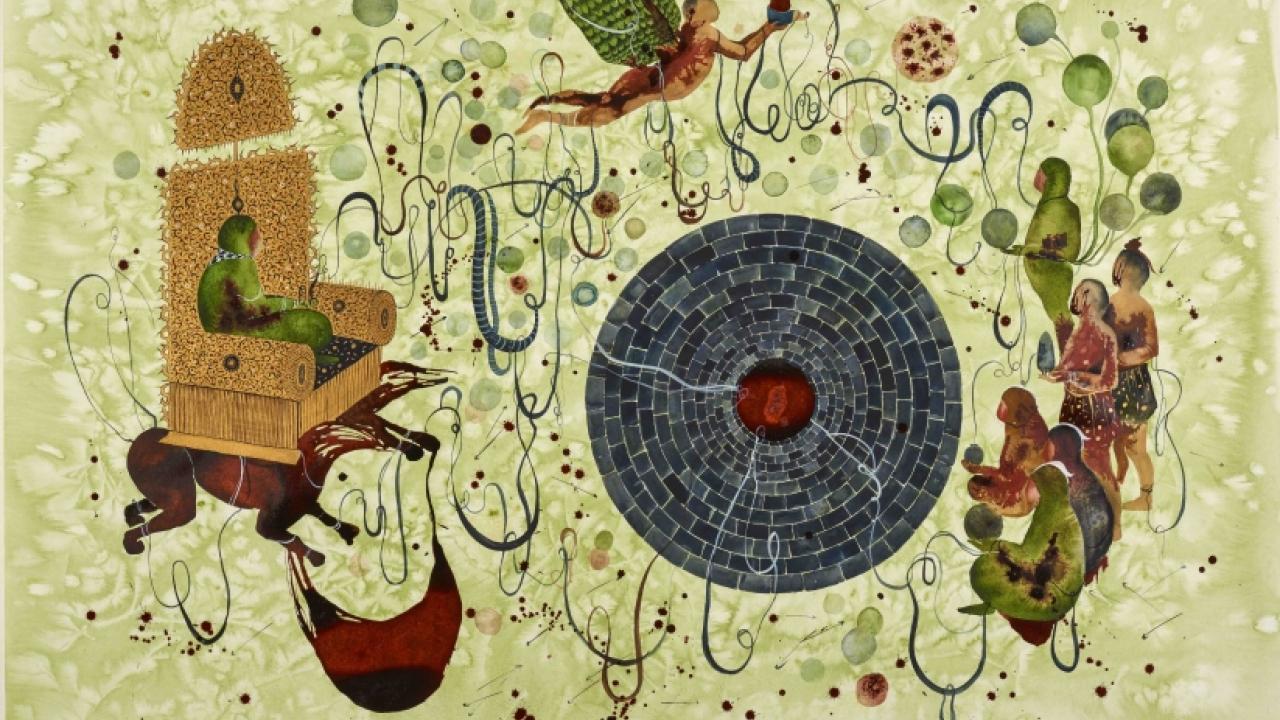 UC Davis art faculty Annabeth Rosen, Shiva Ahmadi, Robin Hill and Gina Werfel all have exhibitions in New York this month. 
Rosen's "Tie Me to the Mast," her first exhibition at P•P•O•W gallery, runs through March 25. Ahmadi and Hill have exhibitions that opened March 9 at Leila Heller Gallery  and Lennon, Weinberg, respectively. Werfel's solo exhibition opens March 28 at Prince Street Gallery. 
Annabeth Rosen: Visual and Sensual
Rosen's exhibition is made up of 10 new smaller individual ceramic sculptures; a large piece made of individual ceramic forms, piled on top of one another; along with six older, large stacked composite sculptures. Each grouping also has accompanying oil on paper drawings to "help describe the process of looking and thinking," she said.
Rosen describes her ceramic process as breaking down the barrier between the visual and sensual. The works often appear caught in motion, evoking a visceral response in the viewer, inviting them to investigate the cracks and crevices on the surface.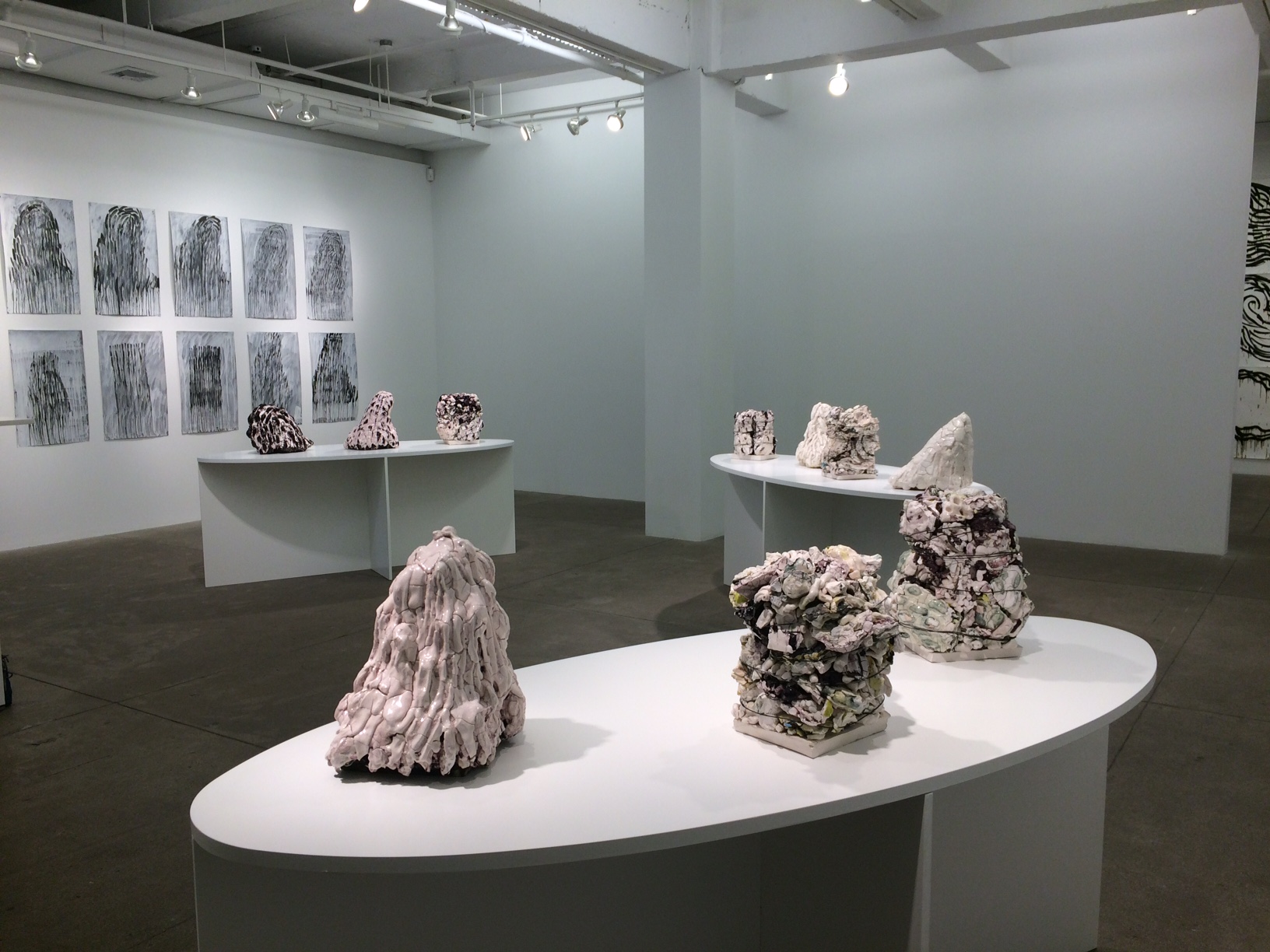 "My work represents a tally of touches that are informed by years of deliberate working experience," said Rosen. "My process may allude to a desire to blur contemporary experience into something timeless and familiar, like ceramics itself."
Rosen, who last year won a $50,000 USA Fellowship Award from United States Artists, will have a 20-year retrospective at the Contemporary Arts Museum Houston starting in August.
"In this incoherent and troubled time in this country, I was thinking with the title 'Tie Me to the Mast' to hold steadfast and true to what you believe," Rosen said.
Shiva Ahmadi: rising above
Shiva Ahmadi had a very good 2016, winning an Anonymous Was a Woman award and a Pollock-Krasner Foundation grant, but her art has grown out of not-so-great times here and abroad.
"This work started as a response to the Syrian war and refugee crisis, then expanded to include what has been taking place in this country," said Ahmadi, who came to UC Davis in 2015.
Still, the exhibition title "Ascend" expresses hope.

That is also the title of her video animation reflecting on the conditions that led to the drowning of a three-year-old Syrian boy on the Turkish coast in late 2015. The boy's name was Aylan – which translates as "one who ascends."
Ahmadi's watercolor paintings are influenced by delicate, jewel-like Persian miniatures depicting religious, mythological or royal court scenes, but hers are also filled with blood, bombs, pipelines running through religious shrines and tyrannical rulers and their monkey-like minions.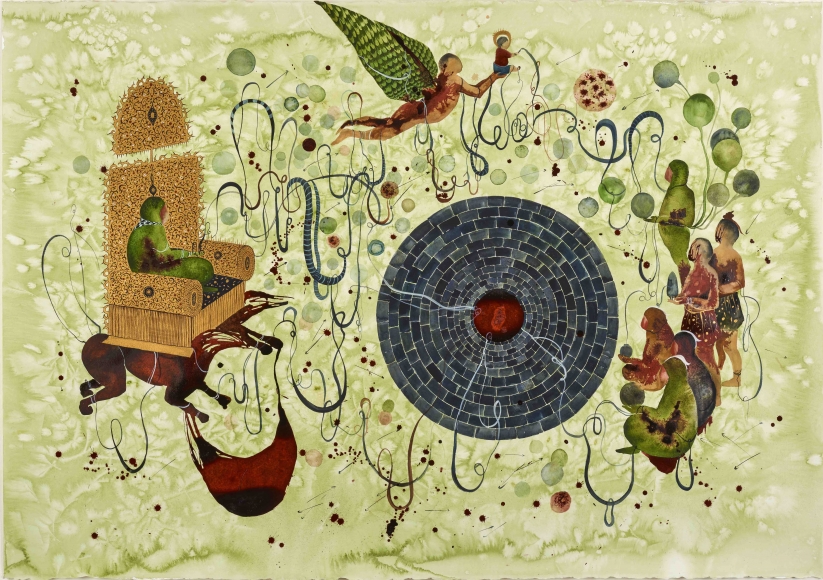 The exhibition, running through April 15, will include several 40-by-60 inch paintings, 10 smaller pieces and a foray into new sculptural forms. These sculptures are made from pressure cookers, their surfaces etched with decorative elements and Arabic writing. Pressure cookers are a common kitchen item around the globe, but they can be turned into improvised explosive devices.
Recent political turmoil has also been personal for Ahmadi, a native of Iran where her parents live. They can't come to see the exhibition due to recent travel bans on people from many Muslim-majority countries.
Robin Hill: serendipitous intersections
Hill's exhibition "There Was" contains a wide range of works: sculpture made of found materials as well as works on paper and photographs/sculptures that are "a meditation on beauty and possibility." Among the pieces is a fire-charred chair, a 7-by-12 foot cyanotype print of a collapsing house and a sculpture made of bricks worn by ocean waves and recycled lumber.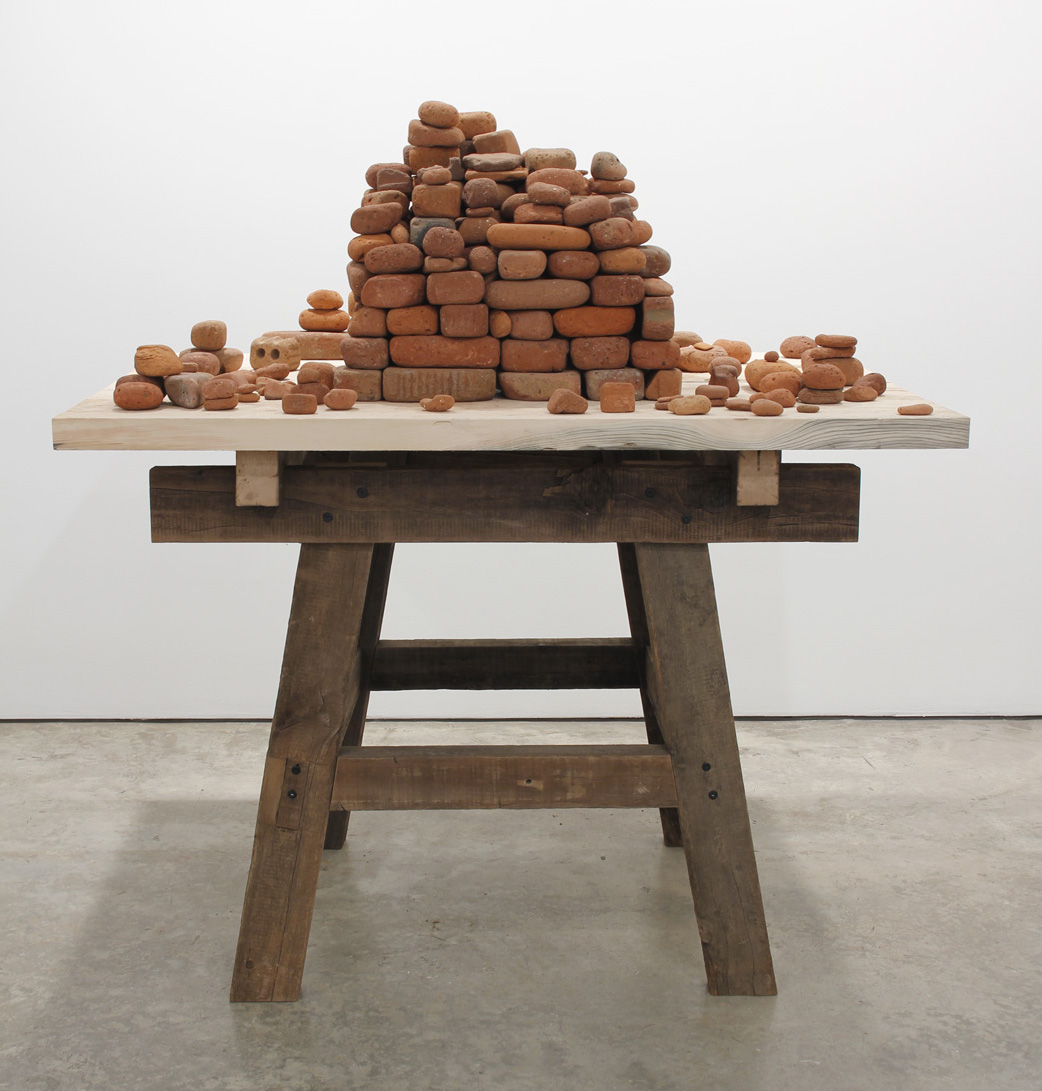 "I am presenting collections of forms and situations that I think of as self-made artworks," Hill said. "The serendipitous intersection of my encounters with these forms and situations, and their readiness to be seen/delivered/released, is the moment of making. Time is the thread that moves through all of the work in this exhibition; geological, economic, industrial, imaginary, political, personal."
"There Was" runs through April 22.
Hill has another solo exhibition, "Approximating Circles," at the Don Soker Gallery in San Francisco March 11 – April 22. She has also curated and has work in "The Fabricated Drawing" at the Lesley Heller Workspace in New York March 26 – May 7.
Gina Werfel: international inspiration
Recent overseas residencies have had an impact on the 20 new paintings in Werfel's show. In them, she layers elements from multiple sources; fragments float in fluid, veiled spaces, broken by gestural brush marks that respond to memories or to glimpses from her studio.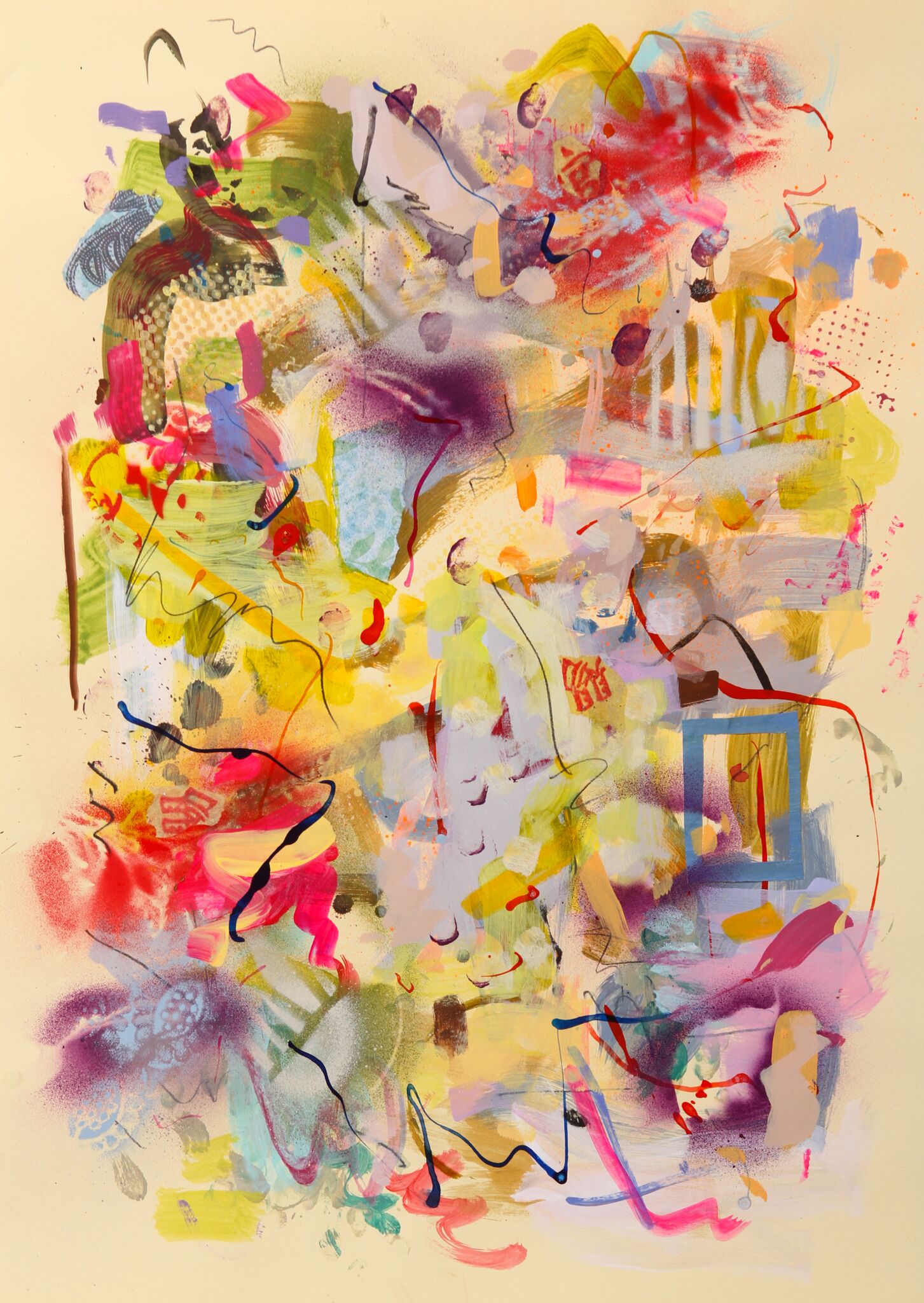 "As a visiting artist at the American Academy in Rome last April, I was inspired by Baroque period ceiling paintings (such as Andrea Pozzo's painted ceiling in the Church of St. Ignazio), and many of my current works evoke that spatial complexity," Werfel said.
"From my 2015 stay in Singapore as a visiting professor at Yale University-National University Singapore College, I developed a new interest in stencils and I've since expanded on this," she said. "I'm using spray paint for stencils and incorporating collage to interrupt my brush marks. It has led to a kind of openness in the newer work."
Werfel had recent exhibitions at the Elizabeth Moss Gallery in Maine and the Robert Mondavi Winery in Oakville.
— Jeffrey Day, content strategist in the UC Davis College of Letters and Science
Category
Tags