Design Faculty Working on Climate Change Project
Two faculty members from the UC Davis College of Letters and Science Department of Design are part of a group selected for a year-long project bringing together local residents, public officials and experts to develop projects to strengthen resilience to sea level rise, severe storms, flooding and earthquakes.
Their project, Public Sediment, was one of ten selected by Resilient By Design's Bay Area Challenge, an international competition. Brett Snyder, associate professor of design, and Beth Ferguson, assistant professor of design, are on the Public Sediment team that's exploring ways to enhance the level of sediment coming into the San Francisco Bay Area. Too much sediment trapped upstream by dams and flood control levees has caused the subsidence of the bay's wetlands which form a protective barrier against flooding.
Earlier this month, the team presented three proposals:
• "Unlock Alameda Creek" - Increases sediment flows from the creek which enter the bay near Hayward.
• "The Bay Cushion" - Restores salt ponds and increases sediment deposits around the south shoreline of the bay.
• "Pilots for a Future Bay" - A series of small-scale experiments over a wide area for monitoring sediment.
During the next few weeks, the Resilient by Design judges will hear public input and select a final project that will be further developed mid-May, when it can then move into a funding and implementation stage.
"We're engaged in climate change discussion that isn't top down," Snyder said. "The places we've been to and proposed this to very much want to be part of it."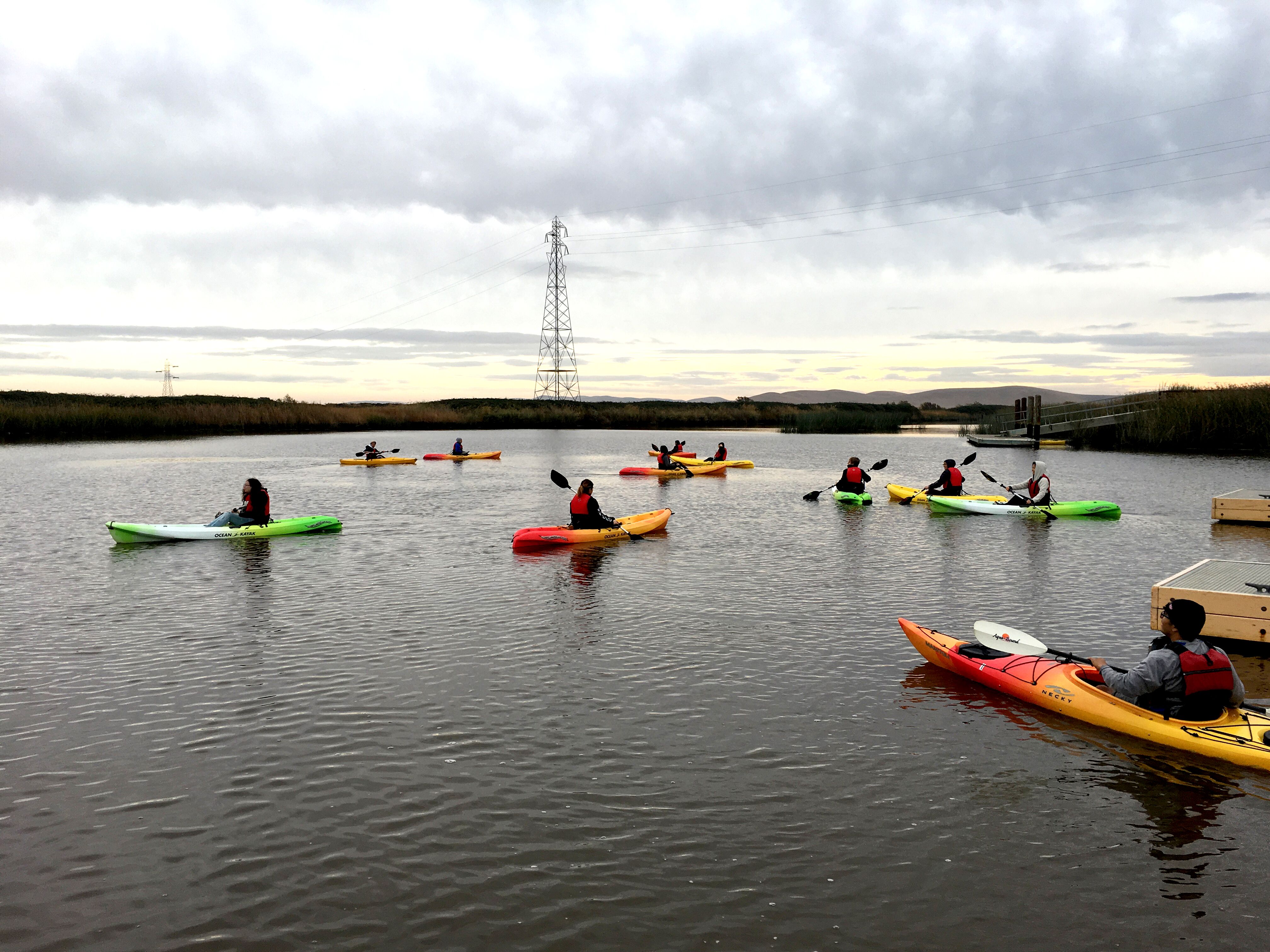 The role of design in the project will be multifaceted and may include mapping areas at risk, developing climate change warning graphics and systems and creating kits for citizen scientists taking part in research.
"These are kinds of communications that cross languages," Ferguson said. "You could spend a long time talking about climate change or you could spend five minutes with a map and understand it."
Many UC Davis students have been working on Public Sediment.
Three of Snyder's graduate students and 28 undergraduates in a class about the environment and sustainability are taking part, including making a kayaking trip in Suisun Bay.
"It was the perfect fit because it opened all these possibilities for community engagement and working with local stakeholders," Snyder said. "Then with the trip out on the water, they could literally feel and see the effects of sea level rise."
About 100 students in Ferguson's "Introduction to Sustainable Design" course in the winter will be involved.
Fourth-year design student Victoria Chau also came away with a more holistic view of design.
"The project has me wearing a lot of hats and pretending to be a landscape architect, an archaeologist, an environmental policymaker and a graphic designer, all the while trying to find a way to change the mindset of seven million people living in the bay surrounding climate change — or just my own mindset about what it means to be a designer in the current state of everything," she said.
Sonia Garcia, a third-year design major, worked on the Alameda Creek project.
"We found there were many schools surrounding the creek and saw that with the expected sea level rise, some schools would be flooded, so we crafted a program that would bring awareness to the young people who will be affected," she said. They developed an after-school series of hikes that will look at the various ways sea level rise will impact the area.
"This project has a purpose beyond aesthetics, so I have been pouring my ideas and research into the work to create something that could actually be used in the real world, not just in theory," Garcia said. "This project has broadened my perspective of design. Design is meant to solve problems for the community, the people, the world."
Collaborating across college and with others
Other UC Davis affiliates on the team are Brett Milligan, assistant professor of landscape architecture and sustainable environmental design; Claire Napawan, associate professor of landscape architecture and environmental design; and Jay Lund, professor of civil and environmental engineering.
Public Sediment is led by SCAPE Landscape Architecture partnering with design and consultancy firm Arcadis, the Dredge Research Collaborative, and landscape architecture and urban design firm TS Studio. Each team receives $100,000 for research and $150,000 for design.
— Jeffrey Day, content strategist in the UC Davis College of Letters and Science
Primary Category
Tags