UC Davis Graduate Arts Programs Make Big Rankings Leap
The most recent U.S. News & World Report ranking of university graduate programs places UC Davis fine arts programs as No. 15 in the nation. This is a jump from No. 27 three years ago and ties UC Davis with UC Berkeley. Master of Fine Arts programs in the College of Letters and Science include art studio, design, dramatic arts and creative writing.
Art studio program has rich history and future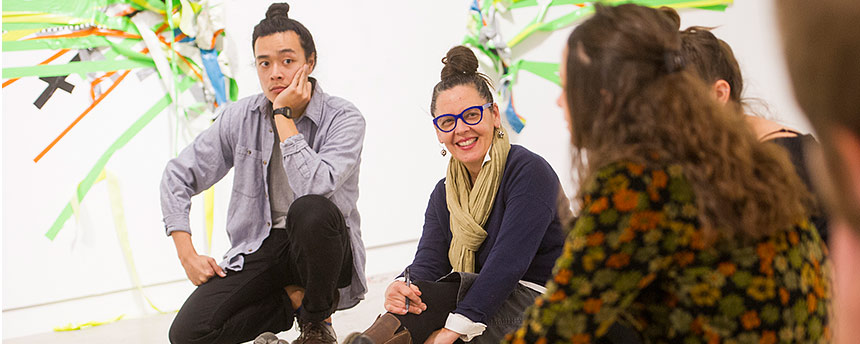 The graduate art studio M.F.A. program has a storied history with world-famous artists teaching in and coming out of the program. Current faculty members exhibit throughout the world and have work in major museum collections, including the San Francisco Museum of Modern Art; Museum of Fine Arts, Boston; the Asian Society in New York; and the Philadelphia Museum of Art. The faculty work in many mediums, including ceramics, sculpture, photography, painting and video, and often combine materials in their art. The program attracts students from across the United States and beyond, many with significant experience as artists and teachers.
The art studio program hosts five to eight visiting artists each year who visit graduate students' studios and give a public lecture. The Betty Jean and Wayne Thiebaud Endowed Lecture also annually brings an internationally recognized artist, critic, curator or arts writer to campus.
Design most wide-ranging in UC system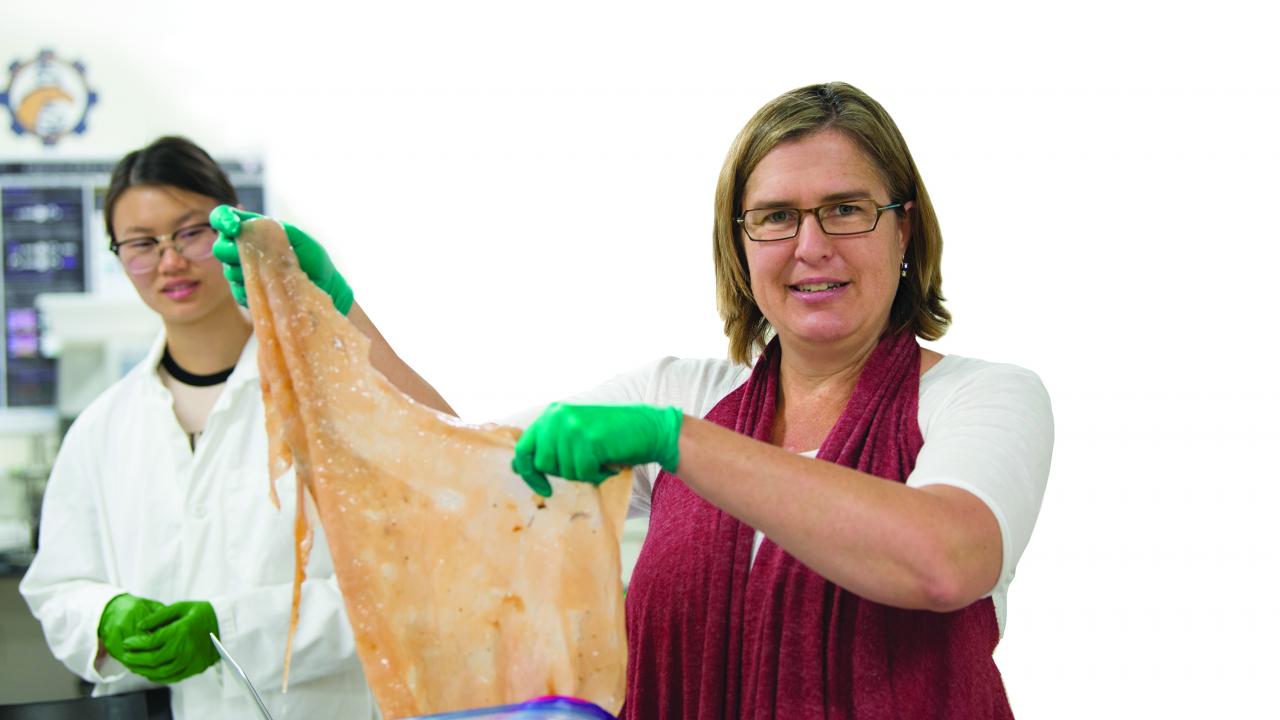 The Department of Design is the only comprehensive academic design unit in the UC system. It offers a wide range of courses in graphic, fashion, exhibition, product and interior design with an emphasis in sustainable design. The M.F.A. program unites theory and practice, and encourages an interdisciplinary approach. 
There are many features that make the program and department unique and cutting-edge. The department is home to the California Lighting Technology Center, which boasts world-class energy-efficient lighting; the Design Museum, a collection of 5,000 objects including textiles, clothing, basketry, furniture and architectural drawings; and a prototyping lab and shop with laser cutting, 3D printing, and electronics for making everything from packaging to furniture. The department is also at the forefront of wearable technology and biodesign. Each year, the Alberini Family Speaker Series in Design Lecture brings an internationally renowned designer to campus.
Faculty and students are seasoned professionals
The Department of Theatre and Dance M.F.A. provides a program of rigorous, advanced training and practice that enables mid-career artists to explore and expand skills in order to develop artistically and professionally. These students often serve in leadership roles for undergraduate students and work closely on public performances offered through the program. The faculty includes seasoned professionals who have directed Broadway plays, led professional theatres in Great Britain, and costume-designed for Mark Taper Forum, Pasadena Playhouse, Yale Rep and others. 
The theatre and dance department regularly invites professional guest directors, designers and others from around the world to collaborate on productions. UC Davis also offers a doctorate in an interdisciplinary performance studies program.
Creative writing program starts with a bang
The creative writing M.F.A. program in the Department of English is currently in its inaugural year. The program has received 125 applications for the coming academic year, up from 45 the first year. The creative writing faculty includes novelists and short-story writers, poets and nonfiction writers, as well as literary scholars, who have been published extensively and won awards and recognition, including Top Ten Poetry Collections of 2019 by The New York Times, the Pushcart Prize, O. Henry Award and the Rome Prize. Prior to creation of the M.F.A. program, the creative writing M.A. program produced many writers who have gone on to successful writing careers.
Music doctoral program provides professional experience
In addition to M.F.A. programs, the Department of Music offers a doctorate in music composition and theory and a master's degree in conducting. Works by doctoral composition candidates are performed on campus by professional musicians and ensembles from around the country.
— Jeffrey Day, content strategist in the College of Letters and Science
Primary Category
Tags