Two Internationally Acclaimed Artists-in-Residence at UC Davis in May
UC Davis is hosting two internationally acclaimed artists who will give public talks, screen films and work directly with students in May. Lynn Hershman Leeson and Shimon Attie are presented by The Manetti Shrem California Studio in the Department of Art and Art History, housed in the College of Letters and Science. The California Studio is part of UC Davis art studio and underwritten by a gift from Jan Shrem and Maria Manetti Shrem.
Lynn Hershman Leeson, a groundbreaking artist across mediums

Hershman Leeson, a professor at UC Davis from 1993 to 2004, is a pioneer in the fields of photography, video, film, performance, artificial intelligence, installation, and interactive and net-based media art. Her work investigates the relationship between humans and technology, identity, surveillance and the use of media as a tool of empowerment against censorship and political repression.
She will show films May 23 and 24 — Teknolust, Electronic Diaries and Logic Paralyzes the Heart — followed by a Q&A session at 4 p.m., and give a talk May 25 at 4:30 p.m. The screenings and talk in Wright Hall are free and open to the public. (Teknolust is rated R for sexual content and nudity. Films may contain sensitive content, including trauma, hunger and body dysmorphia, divorce, and childhood physical and sexual abuse.)
Exploring identities, interactivity and AI
The artist has worked across many mediums: drawings that dissect the human form; performance, in one case taking on an alternative identity for several years; and early artistic forays into artificial intelligence. In the 1980s, Hershman Leeson was the first artist known to create interactive work using a precursor to the DVD and incorporating a touchscreen. She has collaborated with other artists, actors, filmmakers and scientists. As part of her residency, she will be screening three films.
"When I was at UC Davis, I was doing media work, photography, and trying to do feature films," said Hershman Leeson, who lives in San Francisco. "I actually made Teknolust while I was there and was working on Electronic Diaries. I chose (to screen) those not only because I was doing them while I worked at UC Davis, but also to show some of the range of what one could accomplish. One was a feature film, a high-definition video with 24 frames with a real actor, Tilda Swinton, and the other was just me sitting in front of a camera. They show the different kind of works that could be done."
Hershman Leeson's 26 films, six of which are feature length, have screened at the Sundance Film Festival, Toronto Film Festival and Berlin International Film Festival. Her artwork is in the collections of the Museum of Modern Art in New York; the San Francisco Museum of Modern Art; the Zentrum fur Kunst und Medientechnologie in Germany; the Los Angeles County Museum of Art; the Tate Modern, London; and the National Gallery of Canada. A retrospective, "Lynn Hershman Leeson: Twisted," was held at the New Museum in New York in 2021. 
She is a recipient of the Siggraph Lifetime Achievement Award, Prix Ars Electronica Golden Nica and the College Art Association's Lifetime Achievement Award. She received a Special Mention at the 2022 Venice Biennial (curated by Cecilia Alemani, who was at UC Davis as part of The California Studio in February).
Shimon Attie's site-specific engagements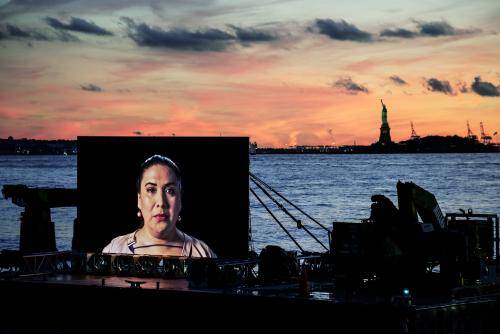 Attie is a multidisciplinary artist who creates site-specific video and photography installations in public spaces around the globe, often collaborating with local communities. His work reflects on the relationship among place, memory and identity, and explores a wide range of social and political issues.
Attie will give a public lecture on May 18 at 4:30 p.m. at the Jan Shrem and Maria Manetti Shrem Museum of Art at UC Davis.
"I hope to provide UC Davis students with a hopefully new perspective as to what art making can be, how it can engage local communities and activate public sites with images of their lost histories or speculative futures," Attie said. "I would like to inspire each student to find their own blending of form and content, such that concepts and aesthetics come together seamlessly."
Connecting to history, immigration and conflict
In Attie's Night Watch, from 2018, a barge showing large video portraits of people recently granted political asylum in the U.S. traversed waterways in New York. It was remounted in the San Francisco Bay in 2021.
Other works by Attie over the past 30 years have included slide projections of pre-World War II Jewish street life photography on locations in Berlin; projections of handwritten songs, stories and dreams in several languages on buildings in New York's Lower East Side; a film made with Syrian refugees who had recently arrived in Europe, many on rafts over the Mediterranean; and light and language installations across Israel and Palestine.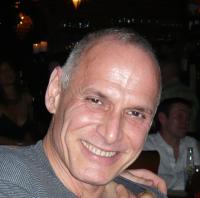 His work has been shown at the Museum of Modern Art, New York; the Corcoran Gallery of Art, Washington, D.C.; Centre Georges Pompidou, Paris; and the Institute of Contemporary Art, Boston. He has received fellowships from the American Academy in Rome, the Pollock-Krasner Foundation, and the Radcliffe Institute for Advanced Study at Harvard University.
Although most often associated with New York, Attie grew up in Los Angeles and earned art degrees from UC Berkeley, Antioch University in San Francisco, and San Francisco State University.
At UC Davis he will teach an undergraduate class and a graduate seminar. Students in those classes will create a projected light artwork that will be shown during the May 12 "Art About" gallery crawl in Davis, and a work on electronic billboards on the Golden 1 Center in Sacramento May 22-28.
— Jeffrey Day, content strategist in the UC Davis College of Letters and Science
Secondary Categories
Tags