Taproot New Music Festival Composes Connections
The Taproot New Music Festival is indeed a festival of fresh new sounds, but it is also about building connections among ensembles, composers and audiences. The seven-concert festival at UC Davis Jan. 30 – Feb. 2 features many university-affiliated artists, but has just as many coming from outside.
The UC Davis Department of Music has mounted a new music festival every other year for a decade; going forward, Taproot will be the name and a mix of UC Davis and outside ensembles and composers will be the format.
"The festival is rooted in this place and produces unique works," said Sam Nichols, festival coordinator, composer and music department faculty member. "The different groups and people come together and meet one another and share. We didn't just want groups parachuting in and performing what they might perform elsewhere and then leave."
Award-winning visiting ensembles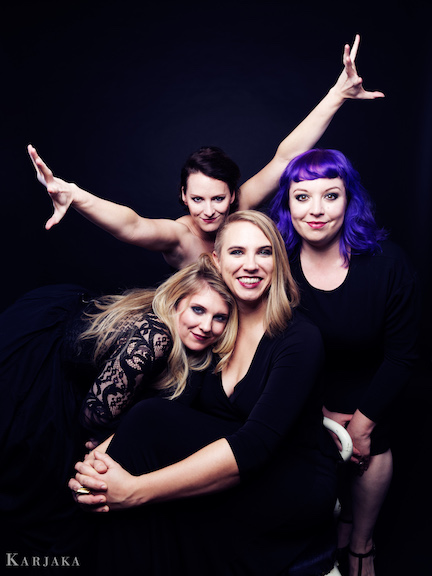 This year Taproot will include four-time Grammy award nominees Spektral Quartet, female vocal group Quince, UC Davis contemporary music group the Empyrean Ensemble, and the UC Davis Symphony Orchestra. Nine works will be premiered during the festival.
The festival officially takes off with a free noon concert with Spektral, Quince and Empyrean on Jan. 30, followed by a concert that night by Quince. Spektral will give a concert Jan. 31. The orchestra will perform Feb. 1, followed the same night by a Spektral concert. The festival wraps up with Steve Reich's monumental, 65-minute piece "Music for 18 Musicians" on Feb. 2. 
The festival will mark the second performance of composer Lisa R. Coons and director Mark DeChiazza's "The Space Between," which was premiered by Spektral at the Steppenwolf Theatre in Chicago this month. A free pre-festival concert will be held at Davis' Armadillo Music on Jan. 18.
 
Premieres by eight composers
Eight composers were selected to create pieces for the festival. They are from the U.S., Russia, Turkey, Singapore and Iran, and include UC Davis doctoral music composition students Daniel Godsil and Aida Shirazi.
"Our goal is to bring together composers and performers and to share something unique with our audiences here in Northern California," Nichols said. "Our matchmaking builds real relationships between people who wouldn't have otherwise meet. It offers our community something special — performances of new works written especially for the festival."
Collaboration with Mondavi Center
Taproot is a collaboration with the Robert and Margrit Mondavi Center for the Performing Arts.
"It's no small thing that Taproot genuinely ticks the big three boxes of the UC mission — teaching, research and public service," said Jeremy Ganter, associate executive director of the Mondavi Center. "The music department has built a festival that, all at once, develops new talent, adds new music to the repertoire, and creates opportunities for fascinating and provocative live performance."
For details on specific concerts, visit the music department website.
— Jeffrey Day, content strategist in the College of Letters and Science
Primary Category
Tags