Malaquías Montoya's Multi-Generational Impact
Two Extensive Exhibitions Honor Professor Emeritus and Activist Artist
At recent exhibition openings, Malaquías Montoya was surrounded by former students and colleagues, and artists from all over. Many brought their families to meet the man who has meant so much to them. Although recovering from COVID, he arrived early and left late. 
Montoya, a professor emeritus of Chicana and Chicano studies at UC Davis, is being widely celebrated with two major exhibitions: "Malaquías Montoya and the Legacies of a Printed Resistance" at the Jan Shrem and Maria Manetti Shrem Museum of Art at UC Davis and "Por el Pueblo: The Legacy and Influence of Malaquías Montoya" at the Oakland Museum of California.  
Montoya is an artist. But he is much more. Montoya, 85, has influenced several generations of students who went on to make art or make a mark on the world in other ways.  
At UC Davis he created classes in Chicana and Chicano art and culture, mural painting, and poster and print making — all still being taught — and co-founded the printmaking center Taller Arte del Nuevo Amanecer (TANA) that is used by UC Davis students, community members and established artists. 
Montoya's art has been shown in many museums, but the current exhibitions "make me feel good," said Montoya, who joined UC Davis in 1989 after a decade at the California College of the Arts in Oakland, California.  
There is a caveat — museum exhibitions have never been his goal. 
"My interest has always been to get my art out to the people who don't go to museums," Montoya said while walking through the Manetti Shrem Museum, surrounded by 60 years of his art addressing social and political issues: farmworkers rights, the Vietnam War, U.S. intervention in Central America, and the torture of prisoners by many governments, including the U.S. 
The current exhibitions are mostly made up of prints and posters, but a major part of his impact has been through murals created as part of the UC Davis mural class. In those, he and his students worked in conjunction with community members and young people to bring to life the walls of schools, community and health centers, and a juvenile jail. (View this archive with images of the murals and preparatory drawings.)  
Once asked if he had gallery representation, he responded, "I have a gallery from Lake Merritt to 87th Street (in Oakland). You can see my work on utility poles and the sides of buildings. The work was for people to see when they drive through the neighborhood or walk to the grocery store." 
Finding pride and a mission
Montoya largely grew up in the San Joaquin Valley as one of seven children of farmworker parents. Eventually it was just him and his mother, struggling to get by. He enlisted in the U.S. Marine Corps when recruiters said he'd be able to send home $100 monthly. It was more than the two of them could make picking cotton or working cannery jobs.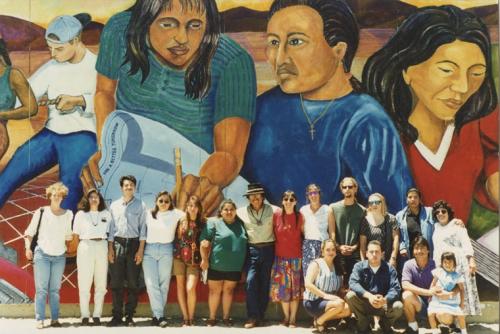 As a Marine he traveled overseas, where his buddies laughed at the locals; that didn't sit right with him. What he saw were people facing the same poverty, discrimination and violence that his family and others experienced in California. "The people looked like my aunts and little nephews," he said. 
All that and more would surface in his art.  
After his discharge, Montoya studied at San Jose City College and considered pursuing commercial art. That practical plan didn't last long thanks in part to Joseph Zirker, a San Jose City College faculty member. Zirker encouraged Montoya to explore his own cultural identity, history and art that stretched from pre-Columbian civilizations to the 20th-century Mexican muralists José Orozco and Diego Rivera.  
"He told me, 'I can teach you certain skills. But I can't teach you much — you come from a wealth of art,'" said Montoya. He remained lifelong friends with Zirker, who died in June at 98. As Montoya learned more about Chicano history, art and activism, he said, "All of a sudden I started to feel proud of who I was."  
That's a message he has passed on. At UC Davis, the California College of Art and TANA, he has encouraged students to develop pride in who they are and where they are from, and to use that knowledge to help others do the same. 
"I talk to the students about the responsibility we have," Montoya said. "It's not just for us. We can use our art to reach people." 
His students tell their stories
The list of people whose lives Montoya touched is long. 
"No matter where we go, former students will come up and tell him how much the classes and mentorship meant to them and that the lessons they learned have never left them," said his son Maceo Montoya, a UC Davis professor of Chicana and Chicano studies and creative writing.  
Coming full circle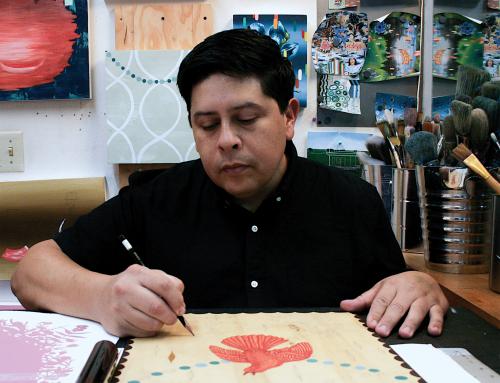 As an art student, Jose Arenas (M.F.A., art studio, '00) became Montoya's teaching assistant. Although Arenas is three decades younger than Montoya, his background is similar; he grew up in the Central Valley where his parents worked on farms and in 
canneries.  
"He helped me find ways to speak about my own experiences and my own cultural roots in my artwork," Arenas said. "Hearing someone else articulate that experience and evolving identity helped shape my work." 
In 2017, things came full circle, with Arenas returning to UC Davis to direct TANA and teach the mural class.
Passing it on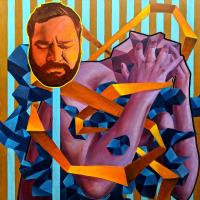 When Manuel Fernando Rios (M.F.A., art, '11) learned about Montoya and his art, "I knew that I wanted to go to UC Davis to be in the presence of one of the greatest Chicano artists ever." 
"One of the many things I admire about him is how humble he is, especially with his community involvement," said Rios, an associate professor of art at Woodland Community College. "He still finds time to reach out to young artists and gets them involved in art making and political activism, and more times than not, mixing art with politics. I try my hardest to get my students involved in the art community." 
Building communities through art around the world  
A longtime professional mural artist, Alicia Maria Siu (B.A., art and Spanish, '05; M.A., Native American studies, '11) arrived at UC Davis as a shy young person "scared to make art."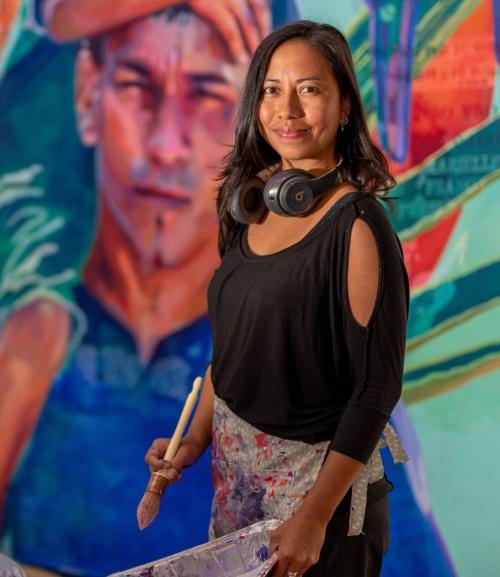 "For me, he provided an example of self-reflection and being able to speak out," said Siu, whose family fled violence in their native El Salvador. "There's not a lot of freedom to speak out where I am from." In San Diego (where she lives), Mexico, Honduras and beyond, Siu has collaborated with communities on making murals. Her approach — lots of community input, research and communication, long before the paint touches wall — comes almost verbatim from Montoya's mural class. 
When Greta McLain (B.A., art studio, '05) graduated, Montoya encouraged her to return to her native Minneapolis to make a mark. She was one of three artists who painted the iconic George Floyd mural close to the intersection where Floyd was murdered by police in 2020. She continues to create community-based murals around the globe.  
"A mural is about people coming together, about celebrating what we have in common. That's what (Montoya) taught and nurtured," McLain said. "It's not a high art experience — it's a high community experience. The process is about celebrating what we have in common; that's what he taught and nurtured. He's a powerful activist because of that." 
Making the world a better place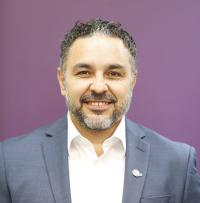 As a student at UC Berkeley in the 1960s, Montoya participated in protests calling for creation of ethnic studies programs. In 1990 José Quiñonez (B.A., Chicana/o studies, '94) took part in a hunger strike calling for more ethnic studies faculty and establishing an ethnic and cultural center at UC Davis. When the center opened in 2012, Montoya painted a mural on the building, his only mural on campus.
"Malaquías created space in and out of his art classes, where we were more than just students but members of a vibrant community, carrying on with our rich traditions of advocacy and social justice," Quiñonez said. "I remember feeling safe to be myself, a Mexican immigrant, learning from him and his art, as I looked for my own way of making a mark in the world." 
In 2007 Quiñonez founded Mission Asset Fund, a nonprofit providing no-interest loans to immigrants so they can open bank accounts, build credit, pay debt and save, for which he was awarded a MacArthur Fellowship in 2017. 
Another generation in the works
McLain and Melanie King-Dollie (B.A., anthropology, '07) met in their first quarter at UC Davis in Montoya's class. It was at his suggestion.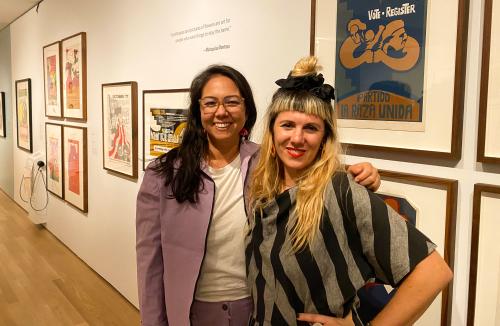 "He told me, 'You need to speak to this girl,'" King-Dollie said. 
"He has a way of seeing people and understanding what they need," McLain said. 
They've been best friends since that introduction, although separated by vast distances; McLain relocated from her hometown of Minneapolis to Mexico two years ago and King-Dollie has settled in Sacramento after living in China, Australia and Israel. Although not everyone has developed such close friendships, there is a bond among people who took Montoya's classes. 
"I was looking at a photo from our mural class recently and I still know half the people," said King-Dollie, a UX developer. "We may not stay in touch regularly, but I could call them up and reconnect easily." 
"It was such a strong, shared experience and we're still part of that," said McLain, who does community-based murals around the globe. "The two years we studied with him were just a blip, but it was such a vibrant part of our lives." 
Early on at the Oakland Museum opening, Montoya and half a dozen members of his extended family were experiencing the completed exhibition for the first time. Montoya had not seen some of the items — snapshots of him with his brothers, a high school football team photo, an order booklet from the printshop where he'd worked — in decades.  
Hours later it was dark. Montoya and others had migrated from the galleries to the museum's rooftop gardens. The bar was closed, the food mostly gone. But Montoya was still there, posing for photos.  
King-Dollie and McLain were still on the roof as well, catching up with those they'd known at UC Davis. For a week, McLain and her son had been staying with King-Dollie and her children, all of them going to the exhibitions. Their children know Montoya and are always excited to see him and his art. 
"That's the power of Malaquías," McLain said. 
A look at Malaquías Montoya's artwork through the decades:
Primary Category
Secondary Categories
Tags