Lowering the Barriers to Undergraduate Research
College students are often told undergraduate research will give them an edge in the job market. But the steps involved in finding a project can seem daunting. UC Davis makes the process easier with courses that open doors to meaningful research for all students.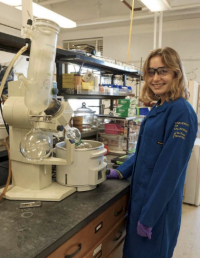 In these classes, called course-based undergraduate research experiences (CUREs), faculty and students work together on original research. Because the classes are aimed at first-year students, both freshmen and transfers, the program also gives students time to capitalize on research that captures their interest. Nearly 50% of UC Davis undergraduates participate in faculty-mentored independent research and creative projects.
For Mira Milic (B.S., pharmaceutical chemistry, '21), a CURE class led to two published research papers, including a first-author publication featured on the cover of The Journal of Organic Chemistry.
The research featured a new method for testing the hydrogen-bonding ability of organic molecules using nuclear magnetic resonance (NMR) spectroscopy.  Hydrogen bonding is an important property in pharmaceutical chemistry because many drug-receptor interactions occur via hydrogen bonding, Milic said. "This method represents a rapid and simple alternative for understanding how well or how poorly organic molecules engage in hydrogen bonding," she said.
Milic and her co-authors, undergraduates Magda Tellez and Madison Thompson, were mentored by Professor Annaliese Franz and graduate student Julia Jennings.
"CUREs provide a path that allows students to discover research at an early stage, to build their confidence and also learn about research programs and fellowship opportunities to stay involved," said Annaliese Franz, professor of chemistry. "Most researchers don't publish their first paper until they're a graduate student, and it's rare that an undergraduate student is the first author on the research study." 
Trying out research with a cohort of fellow students was a welcoming, low-stress experience, Milic added. One of her CURE classmates became a good friend — research partner and co-author Magda Tellez (B.S., pharmaceutical chemistry, '21), who contributed an original artwork for the journal cover. (They cemented their friendship during a UC Davis study abroad experience in England focused on organic chemistry.)
The cover illustration features two scientists, both women, working in a research laboratory with NMR spectroscopy equipment. The illustration reflects both the research and the authors, a diverse group of women, said Tellez, a first-generation college student.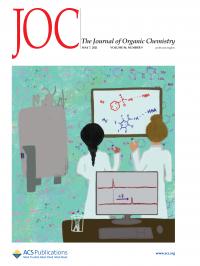 For Milic, Tellez and Thompson, undergraduate research also brought an opportunity to share their work with peers and professionals. All presented their projects at the campuswide Undergraduate Research, Scholarship and Creative Activities Conference (URC) and the Department of Chemistry's annual R. Bryan Miller Symposium. Milic also received a URC travel award to present her research at the American Chemical Society national meeting, and was recognized with a Hanson Family Undergraduate Research Publication award for work.
"I highly recommend a CURE class for someone who would like to get a taste of what real research is like," said Milic, who will pursue a doctorate in chemistry at Texas A&M University in the fall.
— Becky Oskin, content strategist in the College of Letters and Science
Primary Category
Secondary Categories
Tags