Words and More for Creative Writing Series
Award-Winning Authors, Faculty Readings, Interdisciplinary Student Works on Tap
The UC Davis Creative Writing Series kicks off 2021 with readings by acclaimed visiting writers Jess Arndt and Carmen Maria Machado, a collaboration between music and writing students, and a showcase of new works by faculty members. All events are at 4:30 p.m., free and accessible on Zoom unless otherwise noted.
The Creative Writing Program is part of the English department in the College of Letters and Science.
Jan. 12 — 'They Live!' Readings by Creative Writing Program lecturers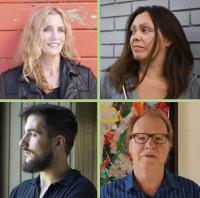 Val Brelinski is author of the novel The Girl Who Slept With God. She was a Wallace Stegner Fellow at Stanford University, and her writing has been featured in Vogue, MORE, Salon, VQR and The Rumpus.
Greg Glazner's books of poetry are Cellar Testament, From the Iron Chair and Singularity. He has won the Walt Whitman Award, the Bess Hokin Prize and a National Endowment for the Arts Fellowship. His writing has appeared in Ploughshares, Poetry, The Colorado Review and Seneca Review.   
Rae Gouirand is the author of two collections of poetry, Glass Is Glass Water Is Water and Open Winter, two chapbooks and a short work of nonfiction entitled The History of Art. She is recipient of a 2021 residency in nonfiction from the Helene Wurlitzer Foundation.
André Naffis-Sahely is author of The Promised Land: Poems from Itinerant Life and has written for Harper's Magazine, Times Literary Supplement, The Economist and Playboy. His translations include over 20 titles of fiction, poetry and nonfiction from French and Italian. 
Feb. 4 noon — 'New Words and Music With Voice'
This concert will showcase collaborative works among five creative writing Master of Fine Arts students and four doctoral students in music composition and theory. The noon concert will also include music, theatre and dance students performing, as well as music faculty. The prerecorded concert will be shown on the Department of Music YouTube channel and available for viewing after its premiere.
Earrings,

a musical drama, with libretto by Mangai Arumugam and music by 

Emily Joy Sullivan. 

Spaceman / Watchman

for soprano, readers and piano, with words by Sawyer Elms and

Jordan Dahlen

and music

by 

Trey Makler.

Geographies I

for soprano and piano, with music by Daniel Godsil, music and words by Jennifer Soong.

can you hear me? for solo voice, with words by

Anna Tuchin and music by

 Orkun Akyol. 
Feb. 9 —

Jess Arndt's 'Large Animals'

Jess Arndt's debut story collection, Large Animals, was short-listed for the California Book Prize and long-listed for The Story Prize. The characters in the stories rebel against accepted ideas of human identity and present a new normal that is as ambiguous as it is messy.
Arndt's writing has recently appeared in The LA Review of Books, THEM, Lithub, Hazlitt, Fence, BOMB, Night Papers, and in collaborations with Swedish band The Knife. Arndt is a co-founder of New Herring Press. Creative writing M.F.A. students Sawyer Elms and Rowena Chodkowski will also read.
March 2 — Alumni read from new books
Becky Mandelbaum (M.A., English, '16) is author of Bad Kansas, the winner of the 2016 Flannery O'Connor Award for Short Fiction, and of The Bright Side Sanctuary for Animals, published in 2020.
Kiik Araki-Kawaguchi (M.A., English, '11) is author of the novel The Book of Kane and Margaret, published in 2020, and Disintegration Made Plain and Easy.

Megan Kaminski

(M.A., English, '05) is author of three poetry collections, including 2020's Gentlewomen.
March 3 —

Carmen Maria Machado reads from bestselling memoir

Carmen Maria Machado is the author of the bestselling memoir In the Dream House and the award-winning short story collection Her Body and Other Parties. In the Dream House traces the arc of a harrowing relationship with a charismatic but volatile woman and Machado's struggle to make sense of how what happened to her shaped the person she was becoming.
She has been a finalist for the National Book Award and the winner of the Bard Fiction Prize, the Lambda Literary Award for Lesbian Fiction, the Lambda Literary Award for LGBTQ Nonfiction, the Brooklyn Public Library Literature Prize, the Shirley Jackson Award and the National Book Critics Circle's John Leonard Prize.
Machado will read from In the Dream House and take questions from Ethan Nosowsky, editorial director of Graywolf Press. Creative writing M.F.A. students Anna Tuchin and Brianna Cockett-Mamiya will also read. The event is co-sponsored by the Jan Shrem and Maria Manetti Shrem Museum of Art.
Primary Category
Tags