Wangechi Mutu Will Give Thiebaud Lecture
The Artist Explores Human/Nature Intersection, Feminism and Racism in Her Work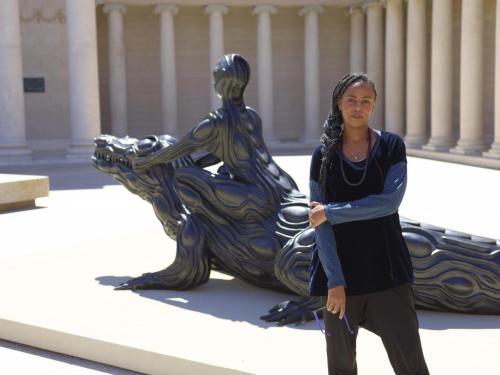 Wangechi Mutu will give the Betty Jean and Wayne Thiebaud Endowed Lecture on May 12 at UC Davis. The 4:30 p.m. free talk at the Jan Shrem and Maria Manetti Shrem Museum of Art is presented by the Department of Art and Art History.
A native of Kenya who divides her time between New York and Nairobi, Mutu has had solo exhibitions at the Metropolitan Museum of Art in New York and others around the globe. Her sculptures, paintings, collages and films have been part of many group exhibitions including the Whitney Biennial at the Whitney Museum of American Art.
Major exhibiton recently in San Franciso
Many people in Northern California will have seen the 2021 exhibition of her work "I Am Speaking, Are You Listening" at the Legion of Honor Museum in San Francisco. Mutu's art was placed alongside The Thinker by Auguste Rodin in the museum courtyard and throughout galleries primarily devoted to European art.
An artist is a healer. First they heal themselves and then they try, bit by bit, to heal others."  — Wangechi Mutu
The museum called Mutu an artist who "moves voraciously between cultural traditions to challenge colonialist, racist and sexist worldviews with her visionary projection of an alternate universe informed by Afrofuturism, post-humanism and feminism. Mutu breaches common distinctions among human, animal, plant and machine. At once seductive and threatening, her figures and environments take the viewer on journeys of material, psychological and sociopolitical transformation."
Mixing materials and species
Some of Mutu's sculptures are cast in bronze and others constructed of wood, paper, soil and other materials. The sculptures often meld the human form with animal and plant forms. The large bronze sculpture Mama Ray connects the head and upper torso of a woman to the body of a manta ray, and her Dream Catcher of a human figure's head and shoulder is made of red clay and sticks.
Mutu left Kenya to attend school in Wales and completed art degrees at Cooper Union in New York and Yale University. She first came to wide attention in the early 2000s for a series of collage paintings that reworked magazine imagery into anthropomorphic, surrealist forms.
The Thiebaud Endowed Lecture was launched in 2015; speakers have included painter and writer David Salle, sculptor Leonard Drew, critic Peter Schjeldahl and painter Njideka Akunyili Crosby. The series honors the Thiebauds' long commitment to educating the eye and hand along with the mind. Last year the Thiebaud Foundation provided an endowment of $500,000 to support and expand the series.
— Jeffrey Day, content strategist in the UC Davis College of Letters and Science
Primary Category
Tags