Uncharted Territory
Students Look Inside and Out in Creating for Graduate Exhibition
The culmination of two or more years and a lifetime of experience and exploration by UC Davis students, "The Arts & Humanities Graduate Exhibition" offers new ways to understand the world, ourselves and the issues we face. 

The students often start with only a vague idea of where they are going and sometimes end up with something far from their original idea. The graduate programs encourage exploration and breaking down walls. Most often what's in the annual exhibition poses new questions rather than providing answers.

We spent time with three students from art studio, music and design to learn about their journeys of creating works that are in the exhibition. 
Kelley O'Leary: 

Building a 3,000-mile bridge across the physical and digital divide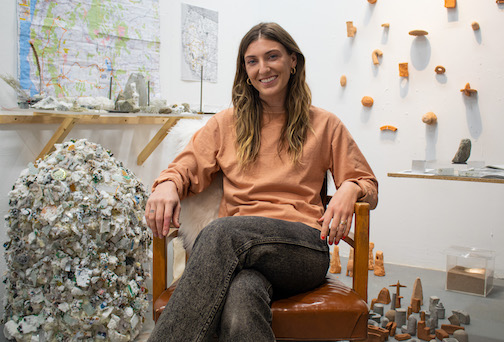 Scattered across the country, especially in remote areas of the West, are huge buildings with few distinguishing characteristics, often surrounded by sagebrush, rocks, sand and high-tension electrical wires. Although we don't know it, most of us visit these places dozens of times a day. These are data centers, the places the internet lives.
"The internet is not a cloud; it's not an amorphous ethereal thing," said Kelley O'Leary, a master of fine arts student in art studio.
Last summer, O'Leary made a 3,000-mile road trip to explore the divide between the digital and physical worlds by visiting data centers and the surrounding land, water and sky to compare the knowledge that's inside the centers to what's around it.
I set out on this journey without knowing exactly what I was looking for — just driven by curiosity," said O'Leary.
UC Davis' Graduate Show Shines Light on Excellence From Art to Music to Political Science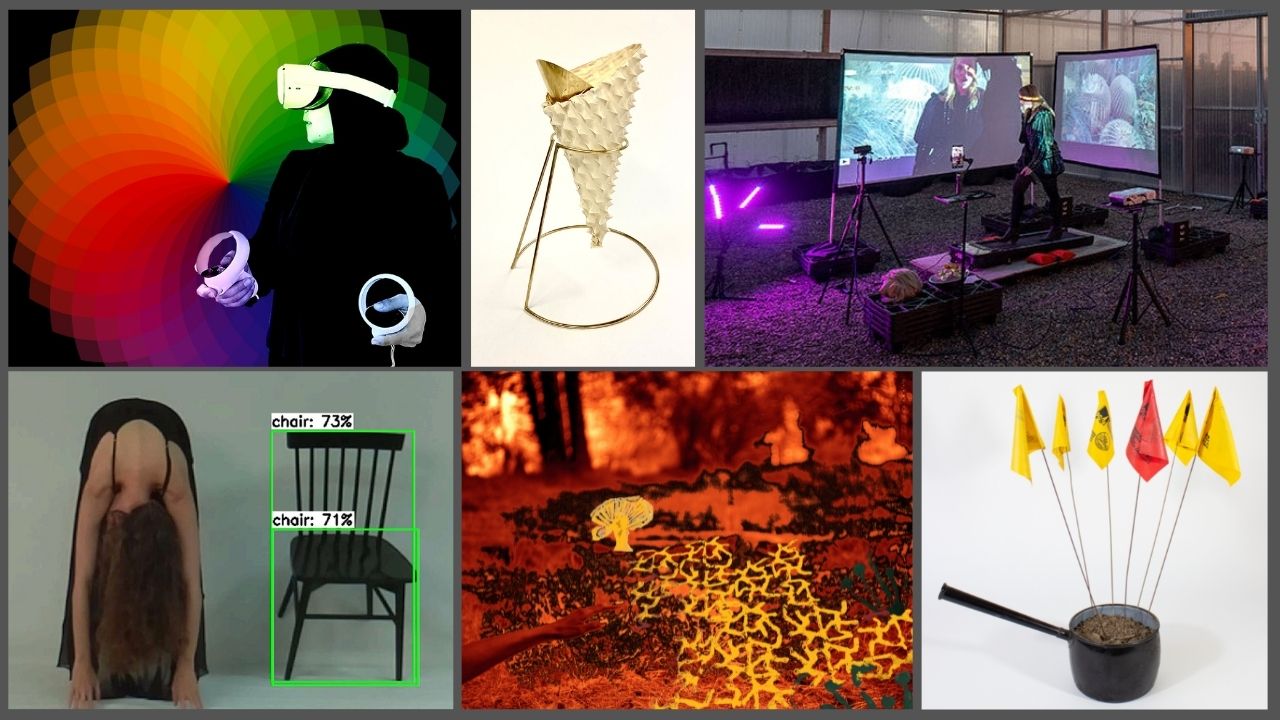 UC Davis College of Letters and Science graduate students will share their work with the public as the multidisciplinary "Arts & Humanities 2022 Graduate Exhibition" returns following two years of virtual exhibitions. It showcases 27 students from eight programs creating in many mediums, including sculpture, painting, experimental music and virtual reality, and often addressing pressing issues of our time.
An opening event takes place June 2 from 6 to 9 p.m. The exhibition is up through June 19. 
The trip, funded in part by a Dean's Graduate Summer Research Fellowship, took her through California, Oregon, Washington, Utah and Nevada, taking photos and gathering stones, sand and plants but mostly information. Back in her studio, she has been putting these together with drawings and ceramics shaped from clay collected on the trip, along with archival photos and documents. All of these parts will make up an installation titled "Clouds of the American West."
"Growing up with the internet, I found myself drawn to this physical and digital enmeshment," said O'Leary, a native of Massachusetts. "When I heard about the data centers, I had to go. I'm probing this porous barrier between the physical and digital worlds."
The individual parts of her installation are not particularly complex, but she physically and intellectually juxtaposes them as a way to interrogate what sources we use to learn about the world.
"So much knowledge is stored in these data centers," O'Leary said. "What's left out is this deep sense of time and deep knowledge embedded in the rocks and plants."
Exploring and camping around the data centers, she looked for ways to gain some of that deep knowledge. O'Leary used her phone to locate the North Star, then put away the phone and learned to orient herself using the star. She built sundials to tell time. She explored and examined the landscape to draw on the millions of years of information it contains.
"I wanted to look at the connection between the natural world and human-built," she said.
Some objects in her installation are connected to today's technology. Boron extracted from borax (she brought chunks of it back) is used to make microprocessors, phone cameras and touch screens. She modeled small ceramics on power line pylons and HVAC systems at the data centers, which use enormous amounts of electricity and water. Other pieces refer to outdated information storing and sharing systems. She created a big blocky sculpture with outdated electronic devices held together by growing borax crystals. A large chunk of glass was made from melted down telegraph and telephone line insulators. One of the data centers occupies what was once a newspaper office and printing plant.
"My goal is really to raise awareness, to ask people to pay attention and to encourage curiosity," she said. "It would be nice if people walk away thinking more about their daily internet lives."
(O'Leary received the LeShelle & Gary May Art Purchase Prize.)
Joseph Vasinda:

 

Making music with minimal means and lots of manipulation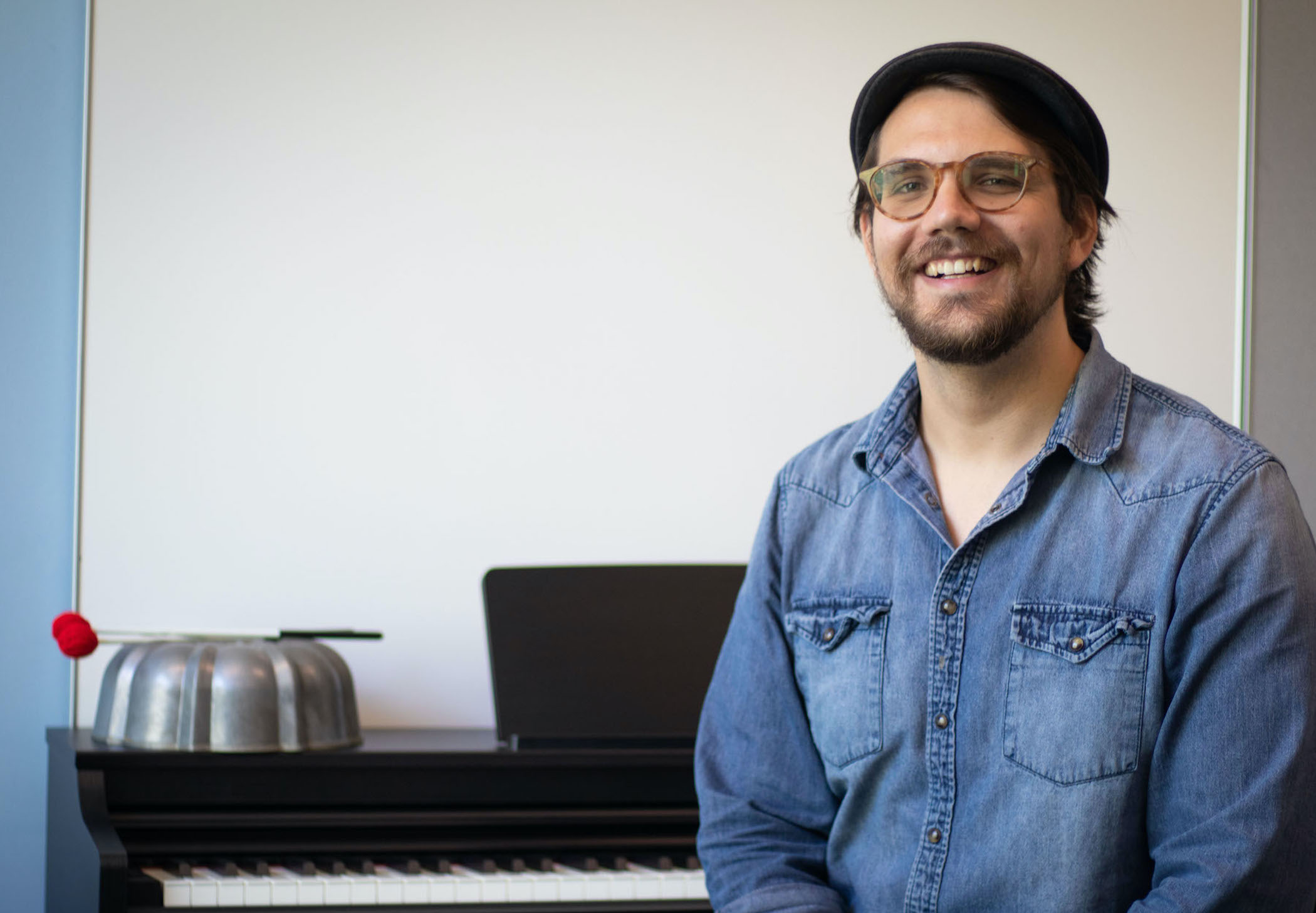 Joseph Vasinda was deep into his dissertation research in the midst of the COVID-19 pandemic. To keep his composing chops in shape and deal with the isolation, he wanted to come up with a project that he could write, play and record, but was not too onerous.
"I was looking to write something I could get immediate gratification from," said Vasinda, a doctoral student in music theory and composition and a Michigan native.
That's when the Bundt cake pan appeared. He happened to bang the pan on something and was surprised by what he heard.
"It made this beautiful sound," he said. "I immediately knew I wanted to use it for something."
Bundt pans have many sides that are fluted and grooved with a central tube or chimney. The complex shape gives the pan great percussion potential.
I wanted to see how many sounds I could make and how many ways I could spin this," Vasinda said.
Modifying the sounds made by striking the pan through music processing software, he spun it into an 18-track, 53-minute recording titled "Hidden Gems." Unlike most of his music writing, he could start one of these in the morning and have a decent draft by day's end. The recording can be listened to at the exhibition.
Some of the short pieces contain sounds not that different from the original. Others take on the tone of a giant gong or cathedral bells. Some would be hard to recognize as percussion let alone Bundt pan percussion, as he has transformed them into something more akin to heavy metal guitar.
The works are named after minerals and stones – malachite, onyx, amethyst, jasper, bismuth — and are primarily connected to their colors. Some of the music reflects the dominant color, such as the purple of amethyst. For the piece named for bismuth, a brittle metal with a stairstep crystal structure of many iridescent colors, the music gets considerably more complex.
The recording draws on Vasinda's experience teaching at music camps for children where he demonstrates all the sounds they can make with a simple instrument that might, like the pan, not even primarily be an instrument.
"It's a practice in creativity," he said.
Writing for Bundt pan is only one small sample of his work. Vasinda's recent compositions include Bitter Ends for piano four hands; Hope Left… for solo voice and electronics; Vapors for reed trio; and others that can be heard and seen on his website.
The pan is back in the kitchen where he uses it to make a very tasty orange poppyseed cake.
Iris Xie: 

Bringing together diverse interests through design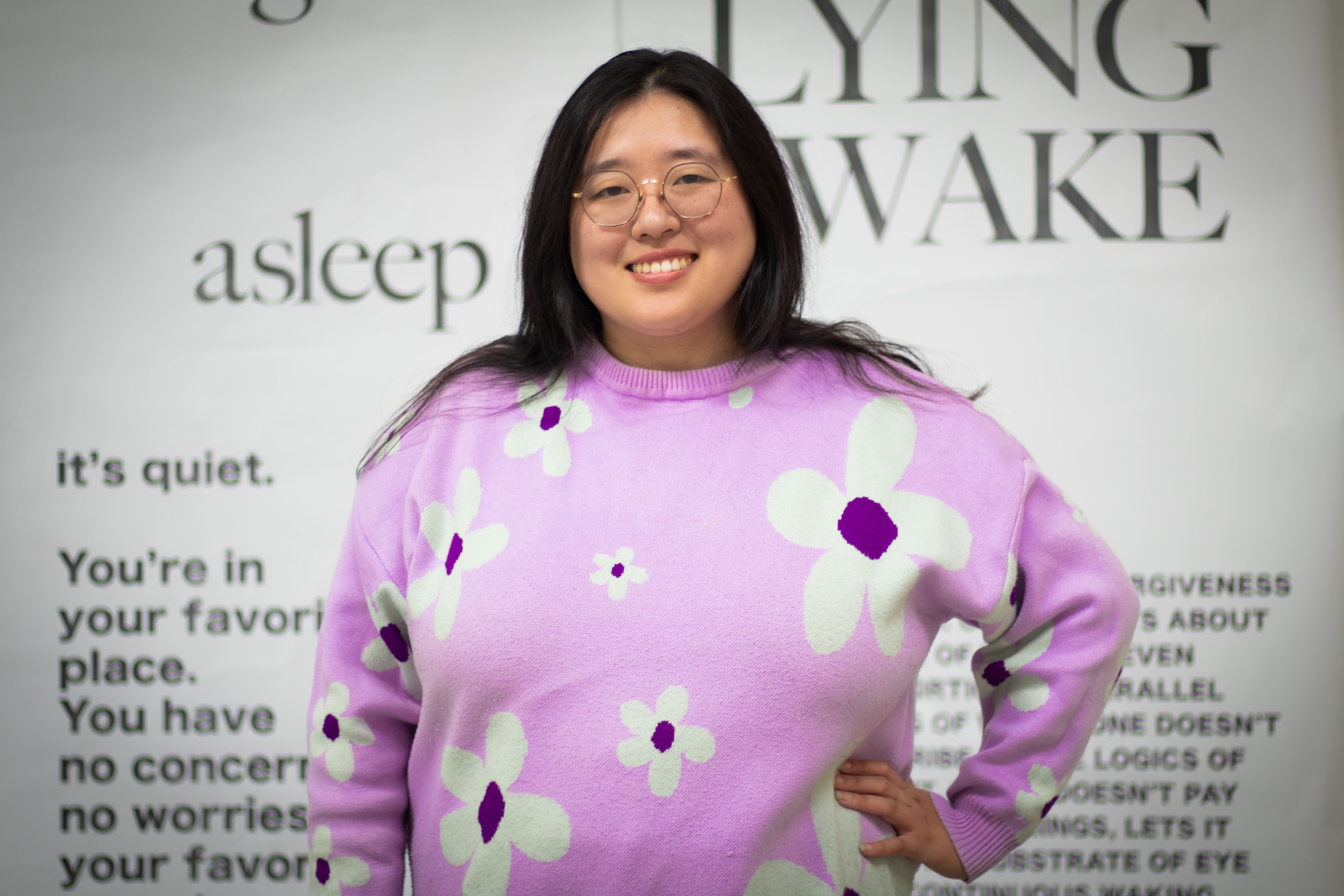 Iris Xie has used personal experience as a multiple-marginalized person as basic building material for their work. Xie is self-described as "a disabled, neurodivergent, queer, trans, nonbinary, second-generation Chinese American, multidiscipline writer, artist and designer."
Xie's goal with their works in the exhibition is to share perspectives and develop empathy for those who don't always fit in.
"I want to acknowledge those with similar experience in a world that doesn't acknowledge and honor those differences and open the minds of others," said Xie, a master of fine arts student in design. "We have a full and unique series of perspectives and different ways we engage and process the world."
The installation will be made up of several components.
A series of paper scrolls — one is 22 feet long — will start high up on the gallery wall and unfurl across the floor. Texts on the scrolls use poetic and gaming language to examine ideas of rest and self-care and suggestion actions that call for a response or reaction.
"Some people who saw them early on didn't understand — until the COVID-19 pandemic arrived," said Xie, a native of Fremont, California. "I think that was the first time more people realized how stressful things are."
That's something marginalized people already knew.
We are not losers, we're canaries in the coal mine," Xie said.
Xie has also created a board game about experiences with miscommunications that's a mix of Pictionary, Taboo and charades. Along with these will be a neon sign that reads "This Work Is Only Theoretical To Those Who Do Not Live It."
The work brings together Xie's many interests and experiences in social and political activism, art making, writing and design. As an undergraduate at UC Davis, Xie double majored in English and gender, sexuality and women's studies, and took classes in Chicana and Chicano studies and Asian American studies. Xie has been involved with the LGBTQIA Resource Center and Women's Resource Center, and Asian Pacific Islander Queers at UC Davis.
Xie became interested in studying design through meeting and working with Glenda Drew, a design professor, and Jesse Drew, a cinema and digital media professor, on their "Stories of Solidarity," a research project and social media platform to address through storytelling low wages, insecure employment and lack of health care.
Design has given Xie the tools to bring varied interests and skills together.
"I've been able to take not only my academic work, but my activist work to a fuller embodiment that integrates all these different parts of me and my interests."
— Jeffrey Day, content strategist in the UC Davis College of Letters and Science
Videography and photography by JR Martinez (Cinema & Digital Media and Communication, '22).
Primary Category
Tags