UC Davis Alumnus Brings Attention to Armenian Genocide With Lecture Series
When Shant Garabedian was a student at UC Davis, he and a few others founded the Armenian Student Association to draw attention to the Armenian Genocide of the early 20th century. Garabedian and his wife, Robin, recently made a donation to establish a lecture series as part of the Human Rights Studies program.
"This is a way to continue what I started 30 years ago," said Garabedian, a physician in Tennessee who earned a bachelor's degree in physiology and minored in international relations at UC Davis in 1992.
The inaugural Dr. Shant and Robin Garabedian Lecture in Genocide and Mass Violence will take place March 12 at 2 p.m. at the Walter A. Buehler Alumni Center. The series will focus on the Armenian genocide when about 1 million Armenians were killed between 1914 and 1920.
Author Mark Arax will give the first talk titled "The Lost Tribes of the Great Valley: Genocide and Landscape of Memory in California," which will include reflections on his experience as the descendant of genocide survivors. The talk is free and open to the public, but registration is suggested. It will also be livestreamed. 
The Garabedian Lecture in Genocide and Mass Violence is funded for five years and is part of an ongoing human rights lecture series at UC Davis.
Reconnecting with UC Davis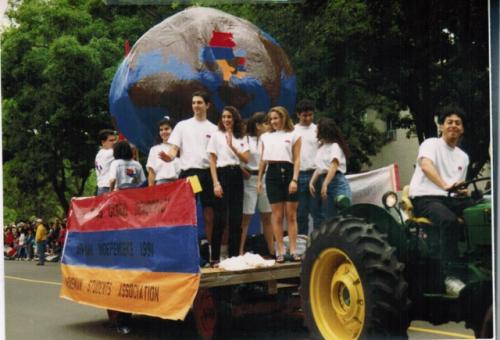 When Garabedian was a student, he and other members of the fledgling Armenian Student Association held several demonstrations on campus to bring attention to the genocide.
"From day one, we've had to fight to have (the genocide) recognized; so many people have never heard about it," Garabedian said. The group even created a float for Picnic Day, building a giant globe where Armenia's location was prominently marked. "We literally put Armenia on the map," he said. "No one knew where it was." 
A few years ago, the Garabedians created a scholarship for Armenian American students at UC Davis. During that process, they became familiar with the Human Rights Studies program founded and directed by Professor Keith David Watenpaugh in 2015.
"They wanted to support our work and be sure that the historical and contemporary experiences of Armenians is heard here," Watenpaugh said.
Garabedian also reconnected with Heghnar Zeitlian Watenpaugh, a UC Davis professor of art history, who is married to Keith Watenpaugh. She and Garabedian grew up across the street from one another in Beirut, Lebanon. (Heghnar Watenpaugh has done extensive research on early Christian churches in Armenia and is the author of The Missing Pages: The Modern Life of a Medieval Manuscript, from Genocide to Justice.)
Garabedian's family moved to the U.S. in the 1980s when he was 15, settling in San Francisco.
The California and Armenia intersection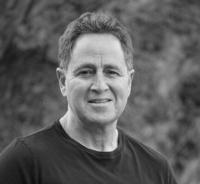 For the lecture series, Arax was selected as the first speaker due to his dual connections to California and Armenia. His books include In My Father's Name: A Family, a Town, a Murder, a memoir of his father's unsolved murder; the essay collection West of the West: Dreamers, Believers, Builders, and Killers in The Golden State; The King of California: JG Boswell and the Making of a Secret American Empire; and The Dreamt Land: Chasing Water and Dust Across California.
Arax is a native of and lives in Fresno, California, which was a center for Armenian immigration starting in the late 19th century.
"Mark is someone we've gotten to know and is a good person to come and talk about being an Armenian and being a Californian," Keith Watenpaugh said.
— Jeffrey Day, content strategist in the College of Letters and Science
---
More About t

he Armenian Genocide, Diaspora and California
In the waning years of the Ottoman Empire, there were several mass killings of ethnic Armenians, and an exodus began from the traditional Armenian homeland in eastern Anatolia starting in the 1890s. The first Armenians coming to the U.S. during that time mainly settled in the Northeast, but Fresno became a hub for those in agriculture. Fresno was once the U.S. city with the largest Armenian American population and 40,000 people of Armenian descent still live there.
After the Ottoman Empire was defeated during World War I as an ally of Germany, Armenians and other ethnic minorities in the empire became victims of mass killings by the ruling party. It is estimated 1 million Armenians were killed outright or died during forced labor or marches across the Syrian Desert.
Those who escaped initially settled in Lebanon, Iran, Syria, Jordan and other Middle Eastern countries while others went to Russia. Armenia was taken over by the Soviet Union in 1922 and some fled Soviet rule. More Armenians arrived in the U.S. after World War II and there was another wave after U.S. borders were opened to more immigrants starting in 1965.
The civil war in Lebanon that began in 1974 and the Iranian Revolution of 1979 set off another round of Armenian immigration from those countries, as did two major earthquakes in 1988 in Armenia and the dissolution of the Soviet Union in 1991.
There are now about 2 million Armenian Americans, with the greatest number in the Los Angeles area.
Primary Category
Tags