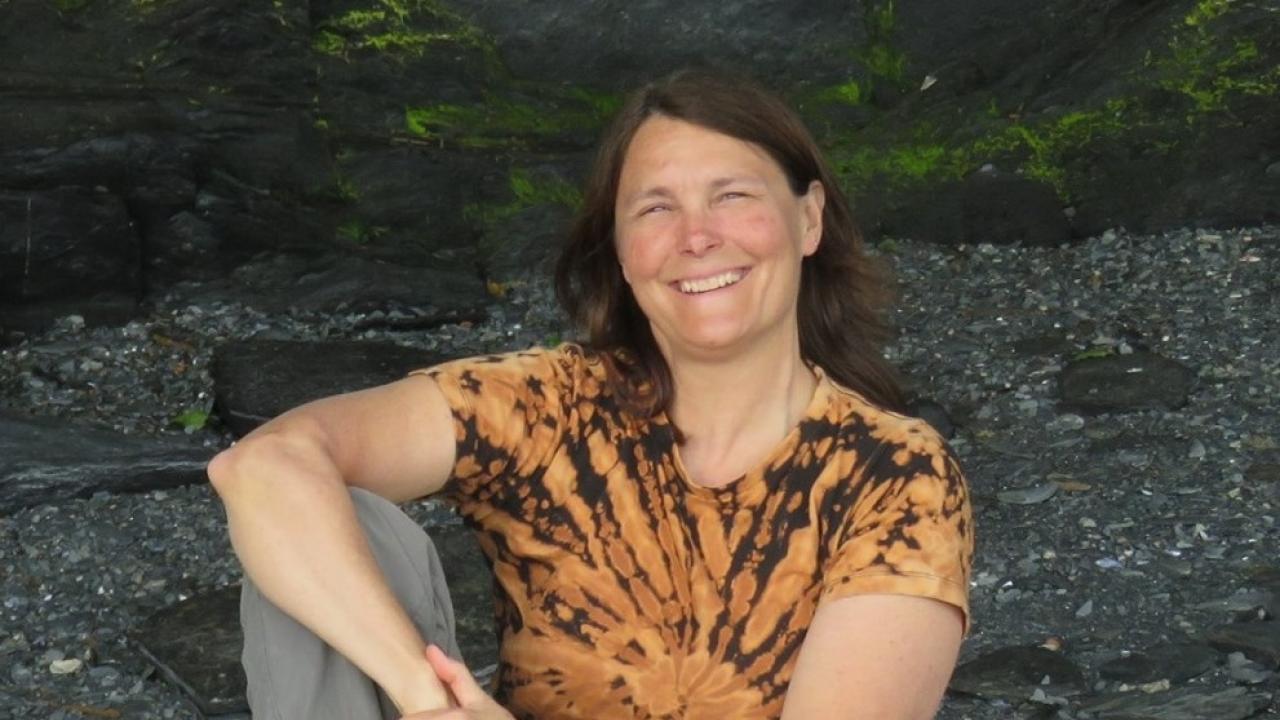 Whether writing scientific articles or screenplays, UC Davis College of Letters and Science alumna Laura Marsh sees a common core in her work: storytelling.
Now, the wildlife ecologist is reimagining her own life story. She hopes to become a published novelist after winning the college's 2020 Maurice Prize for Fiction for her manuscript SAV•AGE(S). Set in Papua New Guinea during World War II, SAV•AGE(S) is her first novel.
"The Maurice Prize has shifted my world on its axis," said Marsh. "I have always written fiction, but got the message from when I was young that it was a fun past-time to write stories and poems — not a career. I am so proud to now be counted among those who write tales that others will enjoy. This validation that I have a voice beyond science messaging is so amazing for me, you really have no idea!"
Prize aims to encourage unpublished Aggie novelists
Marsh is the 15th winner of the Maurice Prize, which was established in 2005 by best-selling author John Lescroart. The annual $5,000 prize recognizes the best book-length prose fiction written by a UC Davis graduate who has not yet published a novel.
A 1985 alumna, Marsh is the director and co-founder of the Global Conservation Institute in Santa Fe. An expert on tropical rainforest ecology, she has produced more than 100 scientific publications. Among her work, she has described new species of saki monkeys and edited influential books on the conservation and study of primates in fragmented habitats.
She has also written seven scripts for TV and film, including a film documentary in post-production, Houseboat Amazon, about a search for a species of saki monkey that had not been seen alive since the 1930s, and a feature-length film and stage musical in development about the 18th-century journal of Isabel Godin, Across the Amazons.
She originally wrote SAV•AGE(S) in the early 2000s as a screenplay. But she said she wanted to dive deeper into her story of U.S. Army Master Sgt. Lou "Alice" Carroll's 1944 tour of duty in New Guinea, and wrote the novel.
"I love having a novel in the background of my mind to have a world I can go play in as a break from the science and other stuff I do," Marsh said.
Entries from alums of many majors
SAV•AGE(S) was one of 14 manuscripts submitted for this year's Maurice Prize. Alumni who entered the 2020 competition graduated from 1969 through 2018 with degrees in many fields, including anthropology, applied physics, economics, English, history, Italian, philosophy, political science and law.
Nancy Econome (B.A., English, '77) received honorable mention for her manuscript The Classic Grill: A Tale of Greek Gods and Immigrant Heroes.
Inspired by a teaching visit in New Guinea
As a UC Davis student, Marsh pursued an individual major in animal behavior and a minor in English. After graduating, she earned a master's degree in ecological ethology from San Francisco State University, master's and doctoral degrees in tropical ecology/anthropology from Washington University, St. Louis, and was a post-doc and technical staff member at Los Alamos National Laboratory.
As part of her work as a Los Alamos scientist, she taught climate change educational workshops for teachers in Papua New Guinea in 2002. Conversations about tribal cannibalism, hotel photos of Gen. Douglas MacArthur on the beach, and the enduring popularity of "Navy biscuits" in the multi-island country set a story spinning in her head.
After returning to the United States, Marsh learned of a family connection — her father-in-law, Dan Fair, told her stories of his Kansas-born dad's World War II New Guinea tour. Marsh said she was grateful that she could share a reading copy of her novel with Fair before his October 2019 death from pancreatic cancer.
"While this is a work of fiction, I tried to ensure that all facts of time and place were accurate for the war effort and tribal life," Marsh writes in an afterword for her novel.
The novel's title is a dictionary entry, she said. "The very first thing you see in the novel are the definitions of 'savage' in English, Japanese, and a placeholder for Tok Pisin — the national unifying language of PNG — because there is no word for it. The whole novel spins on the question 'Who are the savages?,' which begs the reader to decide who is more savage by definition: the U.S., Australian and Japanese militaries — or the cannibals."
Category
Tags