College Presents Top Undergraduate Awards
Prizes Go to Environmental Justice Advocate and Scholar of Literature and Science
A first-generation student who overcame language and financial obstacles to excel in college as the daughter of immigrants and a student whose research melded the humanities and sciences in remarkable ways are the recipients of the UC Davis College of Letters and Science's top prizes for graduating seniors.
Celine Busnelli, who is graduating with a double major in international relations and history, was selected to receive the Herbert A. Young Award for outstanding senior based on academic accomplishments and extracurricular activities.
Eli Elster, an English and cognitive science double major, will receive the Leon H. Mayhew Memorial Award. The award is presented by the College each year to an undergraduate majoring in music, art or literature for their academic achievement and service to the university.
Young Award: Celine Busnelli
For her last quarter as an undergraduate, Busnelli worked 24 to 30 hours a week as an intern for U.S. Rep. Doris Matsui (D-Sacramento), took classes through the UC Davis Washington Program and explored Washington, D.C.
But that's not all.
Busnelli continued another internship remotely, researching grassroots efforts to reduce air pollution in California's Central Valley. She also put the finishing touches on her honors thesis about the social, environmental and legal implications of a federal proposal to raise the height of Shasta Dam, a major source of water and hydroelectric power for California communities, farms and industry.
Busnelli completed her double major in just three years, maintaining a 4.0 grade point average. The first in her family to graduate from college, she credits her drive to succeed in her studies to the language barriers she faced in elementary school, the financial struggles of her immigrant parents, her love of learning and a desire to make the world a better place.
Driven by grit
Busnelli learned English as a third language after starting first grade in Santa Maria, a town near the Central California coast. At home, she spoke French with her mother, who immigrated from France, and Spanish with her father, who is from Argentina.
While not understanding English initially made school "a little traumatizing," she recalls wanting to make her parents proud. "I knew subconsciously they were worried," said Busnelli, an only child. "They had a hard time fitting in themselves and I think I saw that and I wanted them to know that I would be OK."
She gained a greater "sense of grit" with her parents' separation when she was 11. Living with her mom, a licensed in-home child care provider, Busnelli said, "I realized if I'm going to be able to make change in the world, I need to make sure that I'm OK and that my mom's OK. I started having this innate drive to do the best I can."
Focus on environmental justice
A course she took in environmental law provided the seeds for her honors thesis on Shasta Dam — and her plans for the future.
For her honors project, she read articles and legal documents, interviewed people who would be affected by the proposal to raise the dam, and researched potential impacts on fish.
"There are many implications of this dam raise," she said. "For me, the biggest one is the impact on the Native tribe in the Shasta area, the Winnemem Wintu. Their lands were originally flooded by the construction of the dam and the creation of Shasta Lake back in the 1940s. And they only have a tiny bit of that left — 10% of their original land. And if the dam were to be raised, it would flood the majority of their remaining cultural sites."
One of the conclusions she reached: "The Shasta Dam raise doesn't really get to the root of the problem, which is that the climate is changing, water patterns are shifting. We're not getting enough rain, which is really the big issue. I think we need to scale back as a larger society and community and think about how we're actually using our water.
"We need to make a decision collectively about whether we're going to prioritize the generations to come. We need to include environmental justice in our considerations of projects."
Building a better world
After graduation, Busnelli plans to seek work with a nonprofit organization or policy institute in Sacramento or Washington, D.C. Eventually she may pursue a law degree, focusing on environmental law, criminal justice or immigration law.
I think there's many opportunities in the future to affect policy in a way that can help people who have been affected by the disparities in our country. I hope we can do that and take care of our planet and build a better world for future children." — Celine Busnelli
But first, she's going to take a break for a few weeks to take some time for herself and visit family and friends.
"Attending university is a huge privilege," Busnelli said. "If I hadn't had people that had helped guide me along the way, I wouldn't be here. I just feel so lucky to have been an Aggie and to have met all the people that have impacted me so much. I think it's just super important for everyone to remember where they come from, and also put themselves in other people's shoes when it comes to being able to understand each other and create change."
Mayhew Award: Eli Elster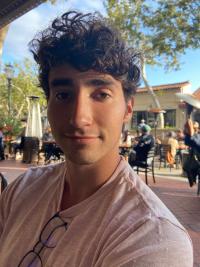 When Elster arrived at UC Davis, he wasn't quite sure what he wanted to do.  Through classes, support of professors, being editor of the student literary magazine Open Ceilings, and volunteering at 916 Ink, a group that supports disadvantaged and marginalized students in the Sacramento region through writing, he found direction and made quite an impression along the way.
"I had the space here to do all these things and it has been something I could build on my own terms," said Elster, who grew up in Walnut Creek, California. "I am certainly surprised at how my four years here have come together. Still, it makes sense. I can trace a path from high school and my infatuations with literature and the big questions of human existence to the path before me now."
He attributes his growth to professors who "showed me that answering the unanswerable requires both the broad strokes of the humanities and the specificity of the sciences."
The broad-mindedness of our school's humanities programs led me to engage and experiment with different areas and organizations, from literary publications to science writing groups." — Eli Elster
Soon he'll start working at a Boston University children's cognition lab, studying how children learn about scientific processes by bringing together literature, developmental psychology and education. He eventually plans to return to school to study developmental psychology.
A 'veritable force of nature'
The professors who nominated him for the award said he was one of their best students ever, with unique scholarly insights beyond his age and experience.
In a literature and philosophy class of doctoral students, "Eli still emerged as an intellectual leader," wrote Michael Subialka, assistant professor of comparative literature and Italian.
Colin Milburn, Gary Snyder Chair in Science and the Humanities, wrote that Elster "is among the best students I've worked with over the last decade. Smart, motivated, friendly and always upbeat, Eli is a wonderfully interdisciplinary student of literary studies, creative writing, cognitive science, and the history and philosophy of science. He is a compassionate and nuanced critical thinker, and a truly decent and kind human being."
Elster also took the advice of Gary Snyder, professor emeritus of English, to read works in their original language, which led him to learning Italian and French. He has also done research in the Snyder manuscripts held in Archives and Special Collections at the UC Davis Library and developed a student-led class based on his research titled "Literature and Time."
Unique, self-guided research
Working with English professor Tobias Menely, Elster developed a reading list for Māori/New Zealand novels and took a deep dive into researching and writing about how different concepts of time between the Indigenous/Māori and Western settlers are expressed in the literature.
"What is particularly inspired about Eli's approach is the way he is looking to non-Western narrative modes to discover alternative epistemologies of time," Menely said. "He is the sort of undergraduate who makes teaching at UC Davis such a rewarding job."
— Kathleen Holder and Jeffrey Day, content strategists in the UC Davis College of Letters and Science