Symposium Will Explore "Eyes in the Sky" Warfare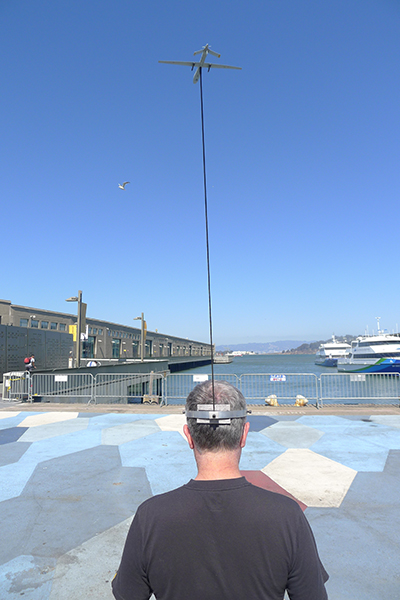 A symposium at UC Davis on April 5 will gather historians, cultural studies scholars, artists, designers, gamers and others from diverse disciplines to explore the intersection of visual culture and drone warfare. It is free and open to the public.
"Eyes in The Skies: Drones and the Politics of Distance Warfare" will trace the history of Unmanned Aerial Vehicles from World War I to today with a prognosis for their future use in surveillance, reconnaissance and war.
"We will have artists, designers, gamers and scholars who work on diverse facets of remote aerial imaging to bring the politics of this form of warfare into clearer view," said Caren Kaplan, a professor in the Department of American Studies and event organizer. "There is interest from many areas in this emerging field of what's called critical military studies and it will bring together people who might not normally collaborate."
The event kicks off with "Angry Eyes: The God-trick and Geographies of Militarized Vision" by Derek Gregory, distinguished professor at the Peter Wall Institute for Advanced Studies and Department of Geography, University of British Columbia. He is a leading expert on drone warfare. His noon talk at Room 2303 King Hall, UC Davis Law School, is part of the Mellon Sawyer Seminar, Surveillance Democracies.
From 2 – 6 p.m. there will be several presentations, including the talk "Aerial Dispositions and Atmospheric Politics" by Kaplan and Andrea Miller, a doctoral student in Cultural Studies. Priya Satia, an associate professor of history at Stanford University, will talk about the use of drones by the British in the Middle East and Afghanistan prior to World War II. 
Joseph DeLappe, professor in the University of Nevada, Reno, department of art and director of the digital media program there, will give a presentation on his many drone-related works.
Tim Lenoir, distinguished professor in Cinema and Digital Media and co-author of the upcoming book The Military Entertainment Complex, will moderate a discussion on DeLappe's work with James Pierce, an interactive designer; Amanda Phillips, a UC Davis IMMERSe postdoctoral fellow; and Performance Studies doctoral student Colin Johnson.
These events take place in Room 107 at the Art Annex.
— Jeffrey Day, content strategist in the UC Davis College of Letters and Science
Primary Category
Tags