Student-Run Art Space Fosters Experimentation, Experience
At the edge of campus, beneath the first floor of the Art Building, is a unique and hidden pocket of the university unknown to most UC Davis students: the Basement Gallery, a space run entirely by students for students.
"It's an opportunity for people interested in gallery work to learn how to do that, and it's for artists to show their work," said Helena Zittel, the gallery director. Zittel is a fourth-year art studio and English double major.
'We make the decisions'
Each quarter, the gallery crew, led by Zittel, comes up with ideas for shows and brings them to life in the Basement Gallery. "We make the decisions about what kind of shows we want to hold," she said. "We have to do everything if we want [the space] to be cool."
This includes promoting the gallery, coordinating with artists, and spending hours to hang art, set up lights, spackle and paint the walls - and occasionally, repaint the floor.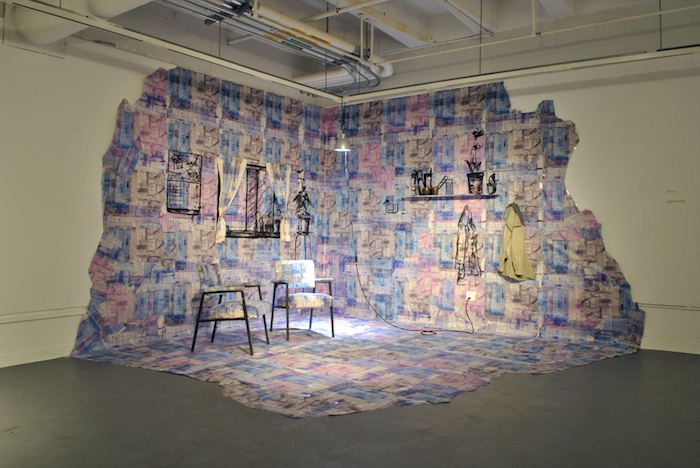 This quarter, the Basement Gallery put on "Being: Portraiture and Poetry," a show that features student portraitures of all kinds, including self-portraits and portraits of others, as well as original poetry. The show runs through March 8. The gallery is located in the Art Building, Room 60, and is open to the public. Hours are Monday to Friday, 9 a.m. to 5 p.m.
No limits 
Aside from planned exhibits, student artists also use the space to put on their own shows. Alumna Christine Lee (B.A., art studio, '17) has worked in the space as a part of the Basement Gallery team and independently.
"I gained a lot of hands-on experience," Lee said. "I think it's extremely important if you want to have a career as an artist."
For Wendy Liu, a fourth-year art studio and design double major, her experience collaborating with other art students to organize shows in the Basement Gallery has opened her up to different career paths. "I've never thought of doing [museum curating] before," Liu said. "Having my own gallery doesn't seem too strange of a future now."
And that is exactly what the Basement Gallery is for: helping students gain experience and identify their interests. Liu said the student-run component of the gallery fosters this. "It's really unique in that students can do what they want. There aren't huge limitations to experiment with shows."

"It's super important for students to be able to express themselves in a place that's safe and that is led by students," Zittel said. "There's really no other agenda than to get student work on the walls."

For upcoming events and more information, follow the Basement Gallery on Facebook and Instagram @ucd_basement_gallery, or email student.art.gallery@gmail.com.
— Jeanette Yue, undergraduate intern in communications and marketing in the UC Davis College of Letters and Science