Studying Communication in the 21st Century
Focused on new technology, communication at UC Davis is not your parents' major. And if you graduated before 2013, it's not exactly your major either.
For a glimpse of how much the Communication program has changed at UC Davis, consider the course CMN 170v "Digital Technology and Social Change."
Not only is it offered online—hence the "v" in the course number—"Digital Technology and Social Change" comes with a three-minute trailer on YouTube. In his video, Assistant Professor Martin Hilbert, a former United Nations economic affairs officer who studies the effects of big data on society, sums up some of the ways the digital age is transforming our lives:
"It changes the way the economy works, including the labor market that you're about to enter. It revolutionizes government and public administration. It modernizes cultural production, entertainment. It transforms the health sector. It changes the way people find and fall in love. It triggers political revolutions. And, last but not least, it seems to be changing education—proof of concept being that I'm talking to you through a video recording."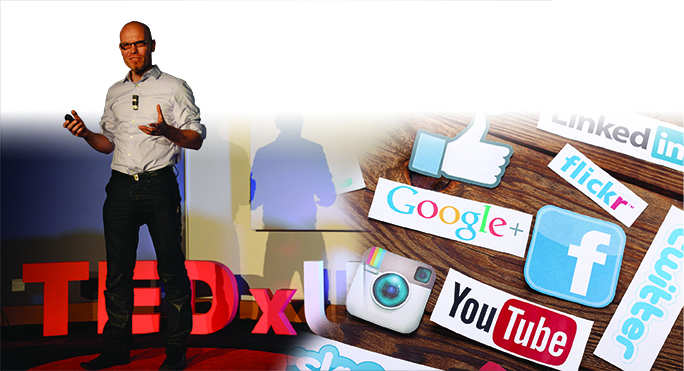 In these plugged-in, data-exploding times, Hilbert says it helps to have conceptual frameworks for understanding what's going on today in order to participate in shaping the future.
That premise underlies more than just one course. It is the new direction of the Department of Communication. The department has adopted a future-forward approach to teaching and research—with the aim of becoming one of the nation's leading programs in information and communication technologies.
"It's what most social scientists would hope for in a communication program, but it's not what most people who are outside the field would expect." — Robert Bell, professor and chair of the Department of Communication.
From the humanities to social science
The department's name changes over the past three decades tell part of the story of its transformation: once the Department of Rhetoric, it became the Department of Rhetoric and Communication in the late 1980s, and the Department of Communication in the late 1990s.
When Bell arrived 31 years ago, he was the second social scientist on the faculty. Today, all Academic Senate faculty study communication processes through the lens of the quantitative social sciences, including computational social science.
Faculty members now teach courses like "Children, Adolescents, and the Media," "Interpersonal Technologies," "Social Media" and "Video Games and Virtual Environments" in addition to the more traditional areas of interpersonal, group, organizational and mass communication.
And their research involves sifting through data and experiments to study international communication networks, social networks in massively multiplayer online games, peer production on Wikipedia, the use of mobile apps to treat depression and online health communication, among other topics.
Fast-growing major
Katlyn Hanf, a senior communication major from Turlock who hopes to go into public affairs or marketing, found her niche in organizational communication and public relations classes. "I liked thinking about persuasive communication, that kind of thing."
When Hanf started at UC Davis, she thought she was going to major in an agricultural or environmental science. But she found herself gravitating towards humanities and social sciences courses, and loved communication for its breadth. This year, she is president of a new student communication club.
In addition to communication courses, undergraduates are now required to take statistics, either an introductory computer course or symbolic logic, and an array of social science courses (psychology, sociology and either linguistics or anthropology).
"The vast majority of our majors also have taken calculus," Bell said. "We're not an easy major."
That sort of academic rigor posed no obstacle for Shengling "Wilburn" Wang, a senior from Shanghai who studied biological sciences and sustainable agriculture before deciding to double major in economics and communication.
Likewise, Wang said, the focus on communication technology is a natural for him and other students. "It's part of our lifestyle."
Wang, who hopes to go into management consulting after graduating next June, recommends communication as a second major or minor for students in other social sciences, engineering and natural sciences—"basically for everybody."
"I like it so much; I want to take more."
He's hardly alone. Communication has seen a 57 percent increase in undergraduate majors since the program changes began—with 884 undergraduate majors in winter 2017, up from 564 in winter 2013.
Global faculty
During that same period, the academic faculty has grown by 50 percent and is increasingly international. The 15 ladder rank faculty come from eight countries: the United States, Chile, China, Korea, Germany, Canada, Russia and Poland.
In hiring new faculty, Bell said the department has competed successfully with such outstanding universities as The Ohio State University and the University of Texas, among the nation's leading communication programs. The department has also broadened its perspective in hiring; its most recent hire comes from the field of informatics.
One of the first graduates of a new communication doctoral program at UC Davis, in turn, is now a faculty member at Ohio State—reflecting, Bell said, the program's rising stature.
Undergraduate research opportunities
Undergraduates benefit from the department adding the Ph.D. program, says Jeanette Ruiz, who earned her bachelor's degree in rhetoric and communication in 1997 before joining the first cohort of communication doctoral studies. Ruiz, who completed her doctorate in 2015, is now a tenure-track lecturer.
"Having the Ph.D. program really helps the undergraduate program in two big ways," Ruiz said. "One, we are able to offer many more research opportunities to undergrads, and, two, we are able to focus on writing in some of the discussion sections of our courses."
"I feel this has always been a strong department, in one way or another. Currently, our department is at the forefront of where the field is going."
Michael Carter, who graduated last June with a bachelor's degree in communication, was among undergraduates pursuing research opportunities.
While taking a course on computer-mediated communication from Associate Professor Jorge Peña, Carter got an idea that led to his own honors project on how Facebook posts affect users' perceptions of themselves and other people.
This fall, Carter entered the doctoral program, where he intends to research internet addiction and its links to social anxiety.
Carter, who struggled with social anxiety himself while growing up in Castro Valley, said he would like to eventually help schools develop curricula and apps for improving students' personal interactions— whether online or offline:
"I want to be able to provide people with the tools they need to succeed socially. I feel digital technology is a means for accomplishing that … I want people to connect. It's important for our psychological well-being."
Bell, an expert on health communication who holds a faculty appointment in the Department of Public Health Sciences in addition to chairing the Department of Communication, said the program's new focus is only going to become more relevant.
"This isn't a fad," he said. "Technology is going to become a more pervasive part of our lives. This is a fundamental change in the way humans communicate with each other because of technology."
— Kathleen Holder, content strategist in the UC Davis College of Letters and Science
Primary Category
Tags