The Show Goes On
Arts & Humanities Exhibition by 30 Students in 7 Disciplines Moves Online
UC Davis College of Letters and Science graduate students aren't letting the lack of a physical space stop them from celebrating and sharing their work with the public. The Arts & Humanities 2020 Graduate Exhibition, usually held at the Jan Shrem and Maria Manetti Shrem Museum of Art, will instead take place on the museum website May 28–June 28.
The virtual exhibition will feature individual galleries for 30 students in seven disciplines — art, design, art history, music, Native American studies, creative writing and cultural studies. Despite the challenges presented by COVID-19 and remote planning, the same number of departments are participating as in years past, with the Department of Native American Studies joining for the first time.
"The students and faculty persevered through difficult circumstances to present this extraordinary exhibition, which suggests the ways that the arts can elevate the human experience even in the face of the most overwhelming challenges," said Ari Kelman, interim dean of the College of Letters and Science. "We are so grateful for the efforts of all of those involved and so proud of what they've accomplished."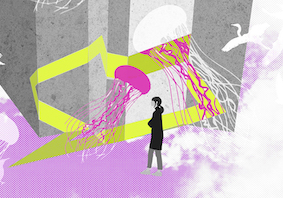 Works include wide range of topics and techniques
The students took varied approaches to their work and its presentation, given the unusual circumstances. Web galleries will include photographs and videos of art and artmaking as well as photos and videos that are the artworks themselves, along with audio recordings, taped presentations of research, and written statements. The exhibition will include a piece that explores an artist's family's farm roots, an app that allows one to share memories after death, a reimagining of famous historical photos of Native Americans, and a "flash fiction" story about a dead woman on a road trip.
As in years past, the majority of the participants are from the studio art program and design department, with eight and 10 respectively. Also taking part are five art history students, two doctoral music composition students, two creative writing students, and one each from Native American studies and cultural studies.
Live online event open to all 
A live opening celebration will be held online Thursday, May 28, at 7 p.m. Pacific time, and will include welcome remarks and the announcement of the Keister & Allen Art Purchase Prize for studio art and the Savageau Award for design. Pre-registration for the Zoom webinar is required. 
(Dongwan Hong has received the art purchase award and Eldy Lazaro has won the design award.)
"Creating this online exhibition required major coordination and significant support," said Rachel Teagle, founding director of the museum. "The Office of the Chancellor and Provost and the College of Letters and Science Dean's Office partner with the museum because we are all committed to the vision of an interdisciplinary exhibition that serves all graduates in the arts at UC Davis. Everyone involved, especially the students, wanted this to be a real, but unique exhibition that stood on its own."
A sampling of exhibition projects
STUDIO ART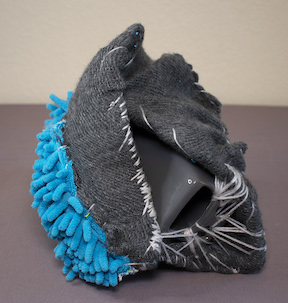 Brenda Gonzalez investigates memory and the passage of time in the context of home.
"I often use inexpensive materials from thrift stores and dollar stores that could easily be found in a low-income American home, such as the one in which I grew up," Gonzalez said. "My work seeks to imbue these deserted or nearly obsolete objects with new life. I strive to connect rose-colored nostalgia with elements of an imperfect present."
Caz Azevedo works in clay, performance and video, interacting with the earth using shovels, rakes and other farm tools to explore the rituals of farming and dance and how they relate to the earth and previous generations.
Julia Rigby examines cycles of growth and decay, production and waste in her art.
"I explore ideas about matter flow and matter metamorphosis through sculpture and installation," she said. "I make regular visits to my local dump to study the shifts in the landscape. I stick my hand into the waste stream, select my material, work my hand into that material, and drop it back into the waste stream in its transformed state."
DESIGN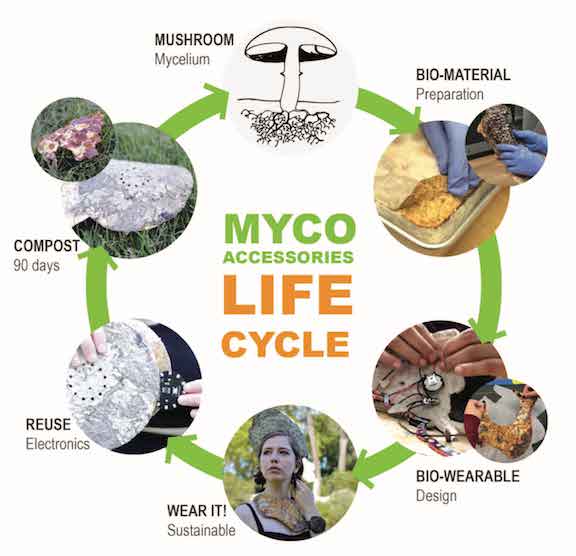 Eldy Lazaro's project shows ways to increase environmental awareness for designers who use digital fabrication though manufacturing materials naturally, using local and low-impact materials, and disposing of them properly.
"I explored the combination of design, biology and life cycle analysis to create a MAKING calculator, which is a digital tool that allows designers to quantitatively measure their environmental impact during their design process," she said.
Tracy Corado's "Nature unBOUND" merges augmented reality, open-source digital content and citizen science to reveal the abundance of nature in daily life. It transforms familiar places into informal learning environments by blurring the boundaries between people, city and nature.  
Jean Menezes has created the "Vessel Sender App" where one can create individualized programs to share after death.
"It is for those who worry about showing and sharing their love at a level of depth that is sometimes difficult to express," Menezes said. "It preserves your continued identity, the memories you shared with the people that mattered to you, and the meaning they gave to your existence."
Student Participants
ART
Caz Azevedo, Zeina Baltagi, Brenda Gonzalez, Dongwan Hong, Orang Hutan, Brett Melliar,
Jessica Eve Rattner and Julia Edith Rigby         
DESIGN
Alexa Ann Bonomo, Wenjie (Austin) Cao, Tracy Corado, Tara Halsted, Eldy Lazaro, Harold Linde, Elizabeth Marley, Jean Menezes, Jonathan Parris and Aureolus Stetzel
 
ART HISTORY
Allison Grenda, Heidi Herrera, Grace Landon,  Amanda Shaw-Johnson, Noel Albertsen and Natalie Varbedian              
MUSIC
Adam Strawbridge and Sarah Wald  
CREATIVE WRITING
Jennifer Ahlquist and  Kelly Thomas                          ​​​​​​
NATIVE AMERICAN STUDIES
Haley Rains
CULTURAL STUDIES
Scott Tsuchitani                  
NATIVE AMERICAN STUDIES
Haley Rains, a doctoral candidate in Native American studies, has created photos and a film that respond to and reimagine famous, early 20th-century photographs of Native Americans by Edward S. Curtis.
"I have reimagined Curtis' photography by exploring some of the ways he may have photographed contemporary indigenous people if he were still alive today," Rains said. "I'm especially interested in depicting the diverse, dynamic and compelling lives of modern American Indian people."
CULTURAL STUDIES
Scott Tsuchitani, doctoral candidate in cultural studies, has been working on a major, multifaceted project on the life and work of Isao Fujimoto, a founding member of the UC Davis Asian American studies program and a community activist. Tsuchitani has created a number of online resources about Fujimoto's work as well as an exhibition that was recently shown at the International House in Davis.
CREATIVE WRITING
Jennifer Ahlquist collaborated with Jenny Kessler, a graduate student at the Maryland Institute College of Art, on an illustrated collection of flash fiction chronicling a road trip down the highway of the dead taken by a woman and her own corpse.
MUSIC
This will be the third time music composition and theory doctoral student Sarah Wald has taken part in the graduate student exhibition. Her contribution will be recordings of her works "Rumination on 'La Prima Vez'" (for solo flute), performed by Wald, and "Meditation on 'La Prima Vez'" (for piano four hands), performed by the piano duo ZOFO, along with the scores and program's notes. The pieces are part of her dissertation collection of several works based on Sephardic songs.
ART HISTORY
Grace Landon has studied a 17th-century Persian painting from an illuminated manuscript based on Sufi text to show how the artist interwove the author's avian allegory and groundbreaking symbolic assignments with sociopolitical and mystical iconographies from two major Islamic dynasties.
Allison Grenda is using architectural and archaeological evidence to dispel a commonly held notion that a "dark age" descended on Athens, Greece, in the seventh century after the city was sacked by the Slavs.
— Jeffrey Day, content strategist in the College of Letters and Science
Primary Category
Tags