Scholar Reconnects to UC Davis and His Homeland Through Research on San Francisco Murals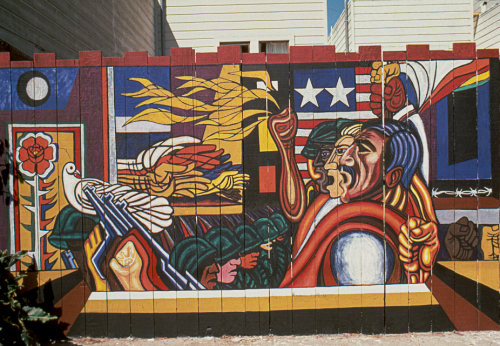 Mauricio Ernesto Ramírez, a postdoctoral scholar in the UC Davis Department of Chicana and Chicano Studies, first walked through Balmy Alley when he was a student at a nearby elementary school in San Francisco's Mission District. The block-long alley contains the most concentrated collection of murals in a city that's a tapestry of murals. The alley's art — which first began appearing in the early 1970s —has long been about issues relevant to the many Mission residents who trace their roots to Mexico and Central America.
As a child, Ramírez didn't know that in the '80s most of the murals were about U.S. military intervention in Central American wars, including in his family's homeland of El Salvador.
"I didn't really know the significance until I was in college," said Ramírez, who earned his doctorate in Latin American and Latino studies at UC Santa Cruz. "I became much more aware of the politics and history of the region."
Ramírez has returned to the murals for research on a book tentatively titled Painting Solidarity: U.S.-Central American Murals of San Francisco. The UC President's Andrew W. Mellon Foundation Hispanic-Serving Institution Postdoctoral Fellowship has provided support for that work. 
He will give a talk about his research into the Central American murals on  May 23 at 4 p.m. Room 157, Everson Hall. The talk, sponsored by Chicana and Chicano studies and art history, is free and open to the public.
Finding mentors at UC Davis
As an undergraduate art student at UCSC around 2010, Ramírez learned about the famous Mexican muralists José Clemente Orozco, Diego Rivera and David Alfaro Siqueiros while also taking Latin American studies classes. He became intensely interested in murals, painting a mural at UCSC with his friends Rafael Arana, who is still doing murals.
"We were aspiring muralists at the time," Ramírez said.
Ramírez's interest led him to Malaquías Montoya, a UC Davis professor emeritus who launched a mural workshop class and was founder of Taller Arte del Nuevo Amanecer (TANA), the department's Woodland-based art center. He also met Carlos Jackson, an artist who was then a faculty member in the Department of Chicana and Chicano Studies; and Maceo Montoya, a professor of Chicana/o studies and creative writing at UC Davis.
"I was very much intrigued by the mural class Chicanx studies offered as well as the printmaking component with TANA," he recalled. "It has really come full circle with me being at UC Davis now."
Murals are gone, but stories remain
The Balmy Alley murals were inspired by the nationwide "Artists' Call Against U.S. Intervention in Central America" in 1983. In El Salvador, Nicaragua and Guatemala, leftist rebels were attempting to overthrow military dictatorships that were supported by the U.S.
In El Salvador, military and paramilitary groups and "death squads" executed protesters, university professors and students, nuns and priests, including Archbishop Óscar Romero who was shot and killed while celebrating mass at the San Salvador Cathedral.
As part of his research, Ramírez has taken part in panels and given talks about the murals and has written pieces for the San Francisco Museum of Modern Art and the Chiricú Journal: Latina/o Literatures, Arts, and Cultures.
In the nearly 40 years since the Central American murals were created, all but one of the original 27 have disappeared or been replaced with newer murals.
"Some of the murals were gone a year or two years later or were in bad condition early on," he said. "Fortunately, good photos were taken."
While the murals may be gone, Ramírez has tracked down about half of the 40 artists who were involved with their creation. He has interviewed many for the book and plans to do more interviews for a podcast he is developing.
"So far, I've only found one (artist) who was Salvadoran," he said, noting that artists and activists from varied backgrounds were concerned about Central America and helped create the murals. "There was real transnational solidarity."
— Jeffrey Day, content strategist in the UC Davis College of Letters and Science
Primary Category
Secondary Categories
Tags