Saving an Endangered Language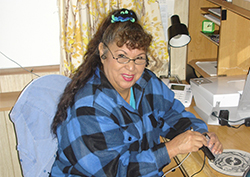 About an hour inland from Eureka there remains a small group of people who speak Hupa, a critically endangered Native American language. Members of the Hoopa Valley Tribe have for many years now been actively engaged in revitalizing their language, and over the next three years their efforts will be supported through the work of Justin Spence, an assistant professor in the UC Davis Native American Studies Department.
Spence recently received a $245,000 grant from the National Science Foundation's Documenting Endangered Languages program for research and documentation of the language.
During the three-year project, Spence and collaborator Ramon Escamilla, assistant professor of linguistics at the University of Central Arkansas will work with Hoopa elder Verdena Parker (pictured). Parker made audio and film recordings and the grant will help have these preserved, digitized, narrated and transcribed and made accessible through a multimedia website.
"It's hard to know how many people are still fluent in the language, but it is probably just a handful," said Spence, who is also director of the UC Davis Native American Language Center.
Parker grew up speaking Hupa at home in Hoopa Valley, where the Hoopa reservation is located. She and her mother continued speaking Hupa until her mother's death in the late 1990s. Parker made audio recordings of herself telling traditional Hupa stories and during the 1950s and early 1960s made silent movies of the tribe's dances. The project will produce transcriptions of Parker's stories and record her using the Hupa language to narrate the film footage.
"I wanted to see these stories preserved for the Hoopa people," Parker said. "I've kept these stories in my head and wanted to share them."
Spence's research is focused on "evidentiality," grammatical markers that indicate sources of information and viewpoints in the language.
"The grammar of Hupa is very complicated, but evidentiality is clearly an important part of it," said Spence, who earned a bachelor's degree in French and linguistics from UC Davis and a doctorate in linguistics from UC Berkeley. "Details of the distinctive Hupa system are still largely unexplored, but have tremendous potential to improve our general understanding of how such meanings are expressed in human languages." 
While the grant will aid Spence's research, it has much wider implications in that it will make recordings and transcribed texts available to many people for many uses. That will include other scholars, but also members of the Hoopa Valley Tribe who are trying to bring the language back into everyday use.  
"There materials will be useful to linguistic science, but I also hope useful for revitalization projects happening in Hoopa Valley," Spence said. "We want to bridge that gap with this project."
Hupa is part of the Athabaskan language family, spoken across North America with concentrations in western Canada and Alaska, the southwestern United States, as well as Northern California and coastal Oregon.
Parker said hers was one of the few families who spoke Hupa exclusively at home. When she was growing up, speaking Native American languages was discouraged and those who did were seen as backward. As attitudes have changed, more people are interested in re-connecting with their culture and language, but it is not easy.
"Some of the older people are trying to learn, but Hupa is very difficult," Parker said. "There are classes for pre-schoolers and they're doing well."  
All recordings and transcriptions produced by the project will be archived with the Survey of California and Other Indian Languages at UC Berkeley.
— Jeffrey Day, content strategist in the UC Davis College of Letters and Science
Primary Category
Tags