Return to Chibok
Professor's New Film Explores Story of Kidnapped Nigerian Girls in New Ways
In rural Nigeria in 2014, 276 teenaged girls were abducted from their school by the militant Islamist group, Boko Haram. A few escaped, some were later released, but nearly a decade later about 100 are still missing.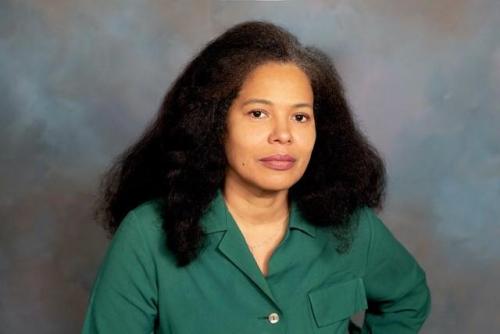 The new film Return to Chibok by Branwen Okpako, a professor of cinema and digital media in the College of Letters and Science at UC Davis, explores the abduction and how we understand the stories about it. The film will have its U.S. premiere on campus Feb. 27. To attend, please register in advance.
The film is based on the 2016 book The Chibok Girls: The Boko Haram Kidnappings and Islamist Militancy in Nigeria, by Helon Habila, which brought a journalist's curiosity and a novelist's sensibility to the story. Okpako and Habila, a professor of creative writing at George Mason University, are both natives of Nigeria and have been colleagues and friends for a decade. Even before the book was published, Okpako knew she wanted to make a film based on it.
Story interpretation and 'standing in the suffering'
The film tells of Habila's journey to Chibok where he interviewed some of the girls who escaped, their families and others. Like the book, the film blends historical contextualization, journalistic observation and creative interpretation to provide a deeper understanding. Okpako's goal was to allow the audience to reflect on the investment that observation may constitute, saying "to observe is to participate." She teaches such techniques and skills in her classes.
"I use my imagination to bring out themes. We wanted to do a film that goes past witnessing," Okpako said. "Can we make a film about that? How do I tell the story in an authentic manner? (Habila) had interviewed those involved and recorded those stories in audio files. A reenactment would have to involve listening to the original voices."
The film follows Habila, played by actor Wale Ojo, as he travels to Chibok to speak to families, government officials, schoolteachers and escapees. He explores the land and towns trying to make sense of the tragedy that befell the region. Other roles are played by non-actors who listened to audio recordings of community members' conversations with Habila; after listening, they provided their own interpretation in the form of a reenactment.
 "(The performer) repeats what they have heard, in their own words, and we experience this interpretive translation as they provide their empathetic and emotional view," Okpako said.
The people of Chibok, including some of the girls who escaped, she said, must tell the stories repeatedly to convince the authorities to take action.
"It becomes performative, telling the same thing again and again and standing in the suffering," she said.
Okpako will invite some of those attending the screening to give their own readings/interpretations of portions of the interviews. This will provide an interactive element to the screening.
Chibok was closed to outsiders when filming took place in 2018; instead, it was done in Habila's native Gombe State. Many of those appearing in the movie were suggested by Habila and all were paid. Okpako was able to finance the film production with her research funds and Habila granted the rights to adapt his book without charge. The film had its world premiere in October 2022 at the British Film Institute, Film Africa Festival, London.
Raising global awareness beyond #bringbackourgirls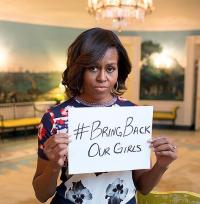 Boko Haram, a militant Islamist group, was founded in 2002. The name Boko Haram roughly translates as "Westernization is Sacrilege" or "Western Education is forbidden." The 2014 abduction was only one of many the group has carried out. Boko Haram is said to have been responsible for kidnapping thousands of children, killing more than 2,000 teachers and destroying more than 1,500 schools.
"It was a big shock, but these things were happening long before," Okpako said.
"This was the first time such an incident reached the world stage."
What was different in 2014 was the presence of world leaders and the international media attending an economic forum. Because of this, Boko Haram abductions received global attention for the first time. That worldwide awareness inspired a #bringbackourgirls movement that former President Barack Obama and former first lady Michelle Obama actively supported.
But media coverage and #bringbackourgirls appear to have had little impact. The abductions have continued; 300 boys were taken in late 2020 and 300 girls last February, along with many smaller kidnappings.
The screening is being presented by The Center for the Advancement of Multicultural Perspective on Social Sciences, Arts, and Humanities (CAMPSSAH) in the UC Davis Office of Diversity, Equity and Inclusion.
About Branwen Okpako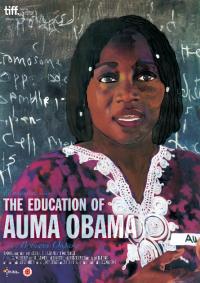 Branwen Okpako grew up on the University of Ibadan campus in southwest Nigeria. At 16 she attended the United World College of the Atlantic in South Wales, later earning degrees from Bristol University and the German Film and Television Academy in Berlin. She has been an independent filmmaker for two decades, based in Berlin most of that time. Her other films include: Dreckfresser (Dirt for Dinner), about the first African-German police officer in Germany; Tal der Ahnungslosen (Valley of the Innocent) follows a biracial German woman searching for her heritage; Die Geschichte der Auma Obama (The Education of Auma Obama) looks at the life of former President Obama's half-sister, whom Okpako became friends with in the 1990s; and Fluch der Medea (Curse of Medea), about the German writer Christa World and her novel Medea: A Modern Retelling. Her films have won numerous awards and have been shown at the Toronto International Film Festival, the Panafrican Film and Television Festival, the Africa International Film Festival and the Berlin International Film Festival.
— Jeffrey Day, content strategist in the UC Davis College of Letters and Science
Primary Category
Tags