New Sounds for Sonnets
English Professor Connects With DJ to Bring Renaissance Writing to Today
The UC Davis College of Letters and Science will be well represented when the Modern Language Association holds its annual convention in January. About 30 UC Davis faculty members and graduate students will present research at the gathering in San Francisco of the MLA, the leading organization for scholars of language and literature.
But about 10 blocks away from the convention conference rooms, some of the 4,000 scholars attending can hear a new take on Renaissance-era writing at a happy hour DJ set. Associate Professor of English Tiffany Jo Werth has collaborated with her Oakland neighbor DJ Mike Frugaletti to meld sonnets by Edmund Spenser, Lady Mary Wroth and Louise Labé with house music.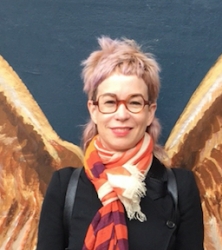 "It's a way to break down the walls between artistic genres," said Werth, who will also present her research at the convention. "It shows how you can engage other senses – the auditory, the visual — for a multisensory approach to understanding these sonnets. You've read it, you've analyzed it, now you can have an embodied experience with it."
In other words, you can dance the sonnets.
The mix, called "Sonnet Songs from The School of the Night," will be played as part of the regular happy hour set at the Folsom Street Foundry on Jan. 6 from 6 to 8 p.m.
Connecting to contemporary culture  
Werth will use the resulting mixes in her classes and make them available to professors — and house fans — everywhere. Finding creative ways to engage students with poems written centuries ago is something Werth is always thinking about.
In classes, she often plays an aria from composer John Adams' opera Dr. Atomic with lyrics from John Donne's Holy Sonnet 14 "Batter My Heart," and also shows images of controversial artworks that are related to metaphysical poetry. When Werth, a house music fan, became friends with Frugaletti, she saw a collaborative, critical and creative way to connect with contemporary audiences.
"I love collaborations, and this was my first opportunity to collaborate with someone outside the academic arena," said Werth, whose research includes Renaissance literature, Reformation history, print culture and environmental narratives.
"I wanted sonnets that are fairly well known and that could be used in classes," Werth said. Spenser and Wroth came to mind quickly, but she also wanted to bring in a continental example as sonnets were part of a larger humanist, cultural context of circulation and translation. She asked Claire Goldstein, a UC Davis associate professor of French, who immediately suggested Labé.
Matching readings with the music 
Then Werth set about finding the right voices to record the sonnets that Frugaletti would use to build the beats around. One reader was close at hand — her husband Bertand W. Delacourt, who is French.
"Everyone says he has a sexy voice," Werth said. He read the Labé sonnet in French and took up the challenge to perform the Spenser sonnet in English.
The Wroth sonnet posed a greater challenge.
"It's perfect in being melodramatic, touched with irony and definitely over the top, but it is extra challenging because of it being linguistically dense," Werth said. Werth also wanted to have a female voice for this sonnet, one of the first secular sonnets written by an English woman with a feminine point of view.
The ideal reader was just a few doors down in the Department of English — poet Margaret Ronda, associate professor of English and a scholar of American poetry from the past 150 years. (Ronda will also present her research at the MLA convention.)
"Margaret gave a beautiful, lucid reading that makes it sound simple although it isn't," Werth said.
Werth sent the voice recordings to the DJ, asking him to match the emotional tone and connections to the elements of air, fire and water of each sonnet. Frugaletti has drawn from the sounds of deep house, new disco and French house to encompass both his roots in dance music and the elemental themes behind each lyric, such as pairing rising and dropping chords to evoke ocean waves and tides and capturing the crackle of a roaring fire to simulate a percussive rhythm.
The pieces will be part of the usual Friday night Vibelords happy hour mix at the Folsom Street Foundry with no introductions or repeats (catch the sonnet mix a little after 7 p.m.)
DJ Frugaletti told Werth, "We're not going to turn the volume down."
The sonnet songs will be available after Jan. 9 for download at schoolofnight1.bandcamp.com.
UC Davis at MLA
About 15 faculty members and 12 graduate students from the UC Davis College of Letters and Science will make presentations and serve on panels at the 2023 MLA Annual Convention Jan. 5–8. Panels and papers will touch on contemporary topics including abortion, gun violence, immigration and climate change.
A few of those taking part:
Diana Aramburu (Spanish and Portuguese) — "Transatlantic Dissidences from Tierra Del Fuego to the Pyrenees"
Howard Chiang (History) — "Comparative Racialization, Queerness, and Sinophone Studies"
Kathleen Frederickson (English) — "Sex, Race, and Empire in an Era of Climate Change"
Rana Jaleel (Gender, Sexuality and Women's Studies) — "Just in Time: Guns, Gases, Gods, and Gynocide: The Supreme Court's 2022 Session"
Tobias Menely (English) — "Romanticism and Phase Change: Alchemy, Abortion, and the Ends of Empire"
Margaret Ronda (English) — "Boll Weevil Ecologies and Poetics of Resistance in the Cotton South"
Tobias Warner (French and Italian) — "Literary Prizes, Prestige, and Contemporary African Literatures"
Claire Waters (English) — "Chaucer's Ornamentalism and Gimmickry"
— Jeffrey Day, content strategist in the UC Davis College of Letters and Science
Secondary Categories
Tags