A New Look at the Slant Step
Odd object that inspired generations of artists back in spotlight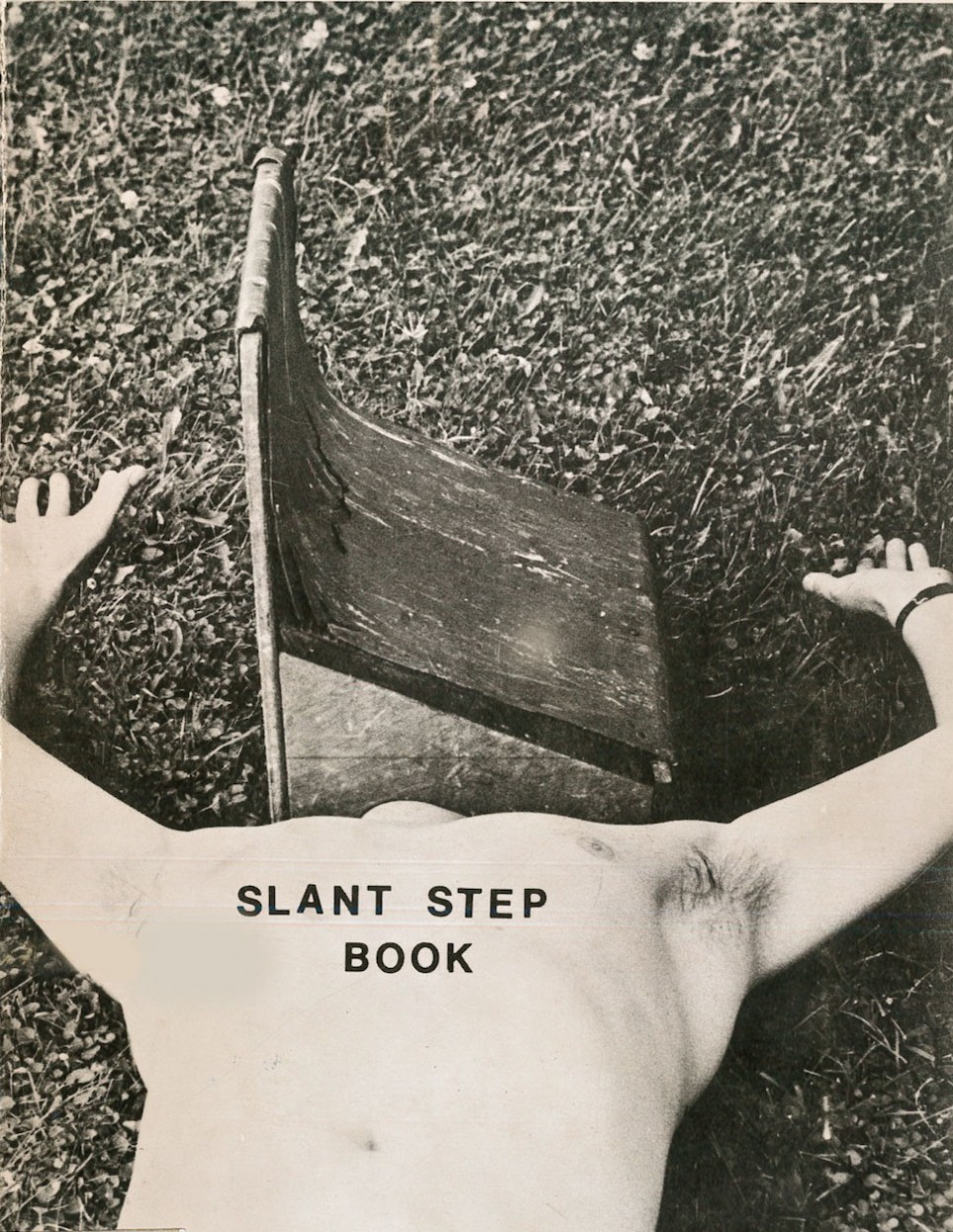 Published in 1969, the Slant Step Book celebrated a thrift store find that became, and remains, a part of UC Davis art department lore. The Slant Step is a green linoleum-covered plywood stool with a slanted — and seemingly nonfunctional — step that has inspired artists for decades.
The long out-of-print book is filled with black and white images, poetry, letterhead from the fictitious Slant Step Mfg. Co., a recipe for making a slant step, and lyrics to "The Slant Chant." For the 50th anniversary of the book, Verge Center for the Arts in Sacramento has republished it, along with a companion volume, Slant Step Book: The Mysterious Object and the Artworks It Inspired, and has also organized the exhibition Slant Step Forward, running Sept. 12 through Oct. 27.
Art professor William Wiley purchased the step in 1965 for 50 cents and gave it to his student Bruce Nauman (M.A., art, '66). The step traveled cross-country several times, perplexing and captivating artists along the way, including poet Phil Weidman, who organized and edited the original book. In 2012 the step was donated to UC Davis by two College of Letters and Science art department alumni.
Slant Step Though Time
1965 – Art professor William Wiley purchases the step at a Marin County thrift store and gives it to his student Bruce Nauman.
1966 – First Slant Step exhibition, San Francisco. Step carried away by artist Richard Serra, who takes it to New York.
1967 – Versions of step in the groundbreaking Funk exhibition at the UC Berkeley art museum.
1969 – Slant Step Book published.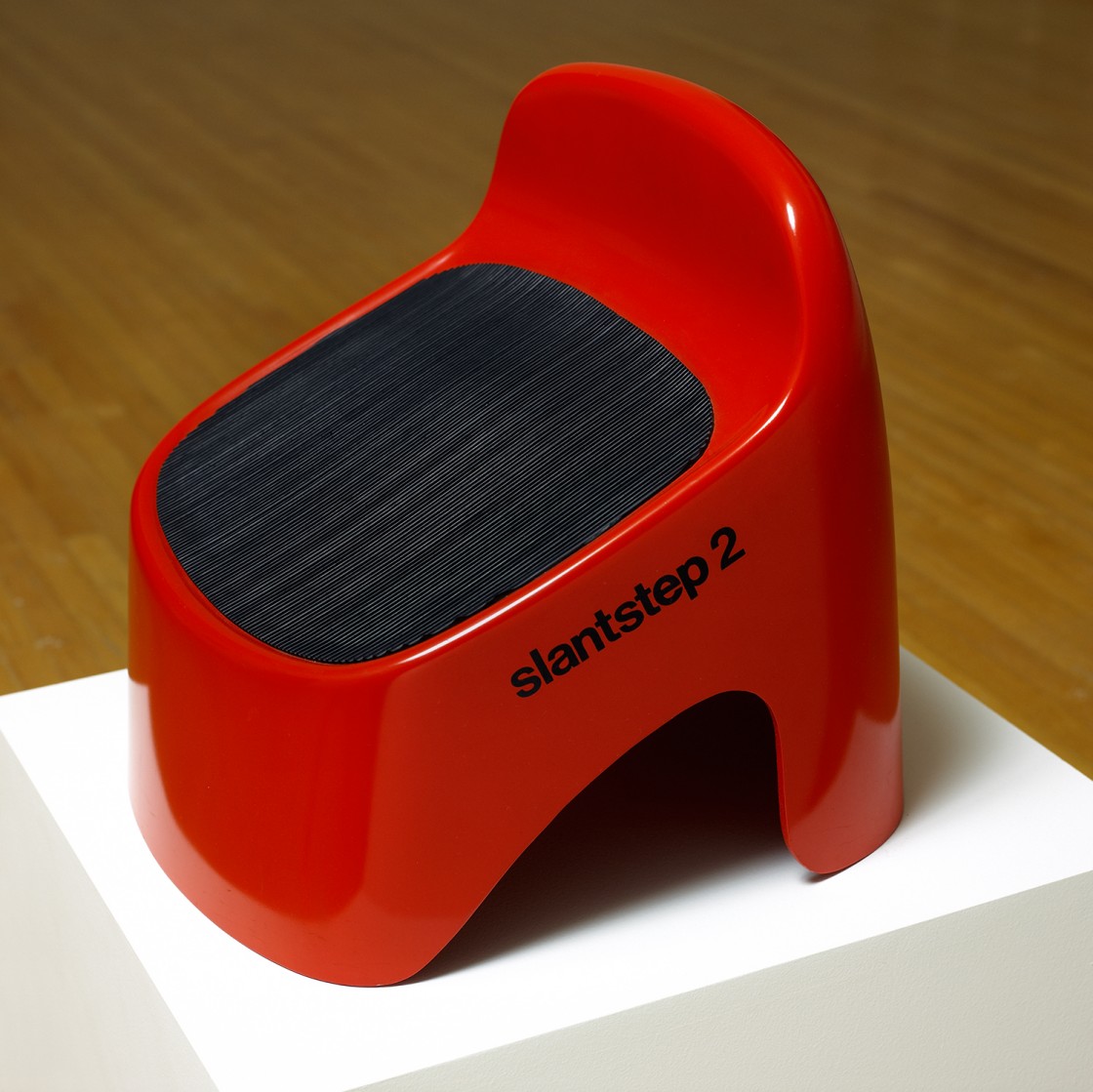 Artist Stephen Kaltenbach (B.A., M.A., art, '66, '67) makes Slant Step 2 in fiberglass and rubber. About a dozen are made, one of which is in the Museum of Modern Art collection.
1970 – Slant Step show at The Art Company gallery, Sacramento.
Frank Owen (B.A., M.A., art, '66, '68) takes the step to New York. Owen has the step for 40 years using it as a teaching tool in positions at several universities. 
1983 – Slant Step Revisited exhibition at the UC Davis Richard L. Nelson Gallery.
2006-2012 – Slant Step-inspired art shows at the Nelson Gallery, finalizing with Flatlanders on the Slant.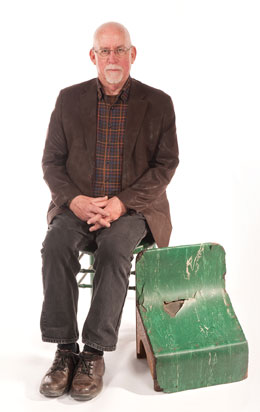 2012 – Frank Owen and Art Schade (M.A., art, 1970) donate the step to UC Davis.
2016 – Slant Step in Out Our Way at Manetti Shrem Museum of Art.
2018 – Slant Step art in Midwest by West Exhibition, Museum of Contemporary Art, Chicago.
The exhibition will include early works by Wiley, the late UC Davis art professor Robert Arneson and others, along with new pieces from around the country. One of the new works is by Angela Willetts (M.F.A., art, '16), who created a mirror-covered slant step and performed with it in several locations including the Mill Valley thrift store where Wiley discovered it. Her step and a video of her performance will be part of the show.
"Artists have always projected themselves onto the object in some manner and I took it literally," Willetts said. "It is this weird hybrid — part me and part slant step."
Rare book brought back to life
The books and exhibition were sparked several years ago when artist Ron Peetz asked Verge director Liv Moe (B.A., art, '05) to consider republishing the book for its 50th anniversary. Peetz has a long history with the step; X-rays he made of the step are in the original book and the Verge exhibition. 
While artists, art scholars and art lovers from the 1960s and 1970s are familiar with the Slant Step, the books and exhibition expose the Slant Step story to a wider and younger public. Vintage copies of the book, which is in book collections of major museums around the world, sell for $1,500 and up. The reprint and companion volume can be ordered from Verge for $35. The last Slant Step related exhibition in the region was in 2012.
"Those who were part of it (earlier) are super excited and many younger artists are as well," said Francesca Wilmott, editor of the new volume and exhibition curator. "The Slant Step is ongoing — there is an intergenerational dialogue."
A stand-in for a movement of artists
Early UC Davis art faculty like Wiley, Arneson, Wayne Thiebaud, Roy De Forest and Manuel Neri catapulted UC Davis into art history books and museums. Like many artists outside of the New York-centric art scene, they reveled in their outsider status and UC Davis had a freewheeling young art department in a fairly isolated area. Like the Slant Step, they didn't fit in and didn't try to.
"They looked to the ambiguity of the Slant Step and saw it as a way to represent their intent; the step is open to interpretation," said Wilmott, former associate curator at the Jan Shrem and Maria Manetti Shrem Museum of Art at UC Davis and an art history doctoral student at the Courtauld Institute of Art in London. "It's also humorous, and the early faculty had a great sense of humor and took themselves and the art world lightly."
In her essay in the new book, Wilmott writes that the step "brought together an informal family of artists bound not by geography, artistic style or age, but instead by their affinity with its outcast character."
Life beyond UC Davis and return home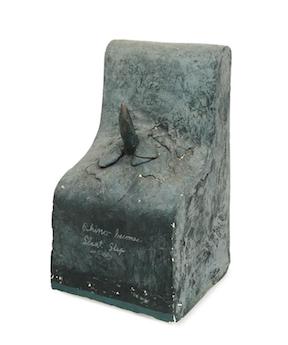 The first Slant Step show was held in San Francisco in 1966 and shows of step-inspired art popped up over the ensuing decades (see timeline). But the step itself seemed to have gone missing. The original step changed hands and locations many times, but for nearly 40 years it was in the possession of Frank Owen (B.A., M.A., art, '66, '68). Owen used it as a teaching tool in Sacramento, New York, North Carolina, Virginia and Vermont, where other artists from around the country saw it and were inspired by it. Owen, to whom the original Slant Step Book was dedicated, and Art Schade (M.A., art, '70) donated it to UC Davis in 2012.
The 2019 exhibition will include new works by Corin Hewitt, a professor at Virginia Commonwealth University who learned about the Slant Step from Owen; New York artist Gordon Hall, who learned about it from Hewitt; and others.
"There's an afterlife that hasn't been explored," Wilmott said. "Artists nationally have never been invited to be part of this narrative. It's exciting to see how it has a life of its own."
— Jeffrey Day, content strategist in the College of Letters and Science
Excerpt of "A Phenomenal Slant" by Angela Willetts
Primary Category
Tags