In Memoriam: Marilyn Olmstead
Professor Emerita Marilyn Olmstead Dies at 76
Marilyn Olmstead, a leader in X-ray crystallography and a stellar teacher who shared her passion for chemistry with thousands of students, died September 30. She was 76. 
"Olmstead was a world-class crystallographer and an outstanding teacher beloved by her students. She will be greatly missed," said Jared Shaw, chair of the UC Davis Department of Chemistry.
Olmstead had a broad range of research interests, drawing from her focus on small molecule X-ray crystallography. She gained wide recognition for her skill in crystal structure determination and was an expert in the crystallographic study of fullerenes — a spherical form of carbon discovered in 1985. With Alan Balch, UC Davis distinguished professor of chemistry, Olmstead pioneered a technique to "co-crystallize" fullerenes. This allowed them to retrieve better structural data than standard crystallization methods. The work was central to the doctoral theses of dozens of students co-advised by Balch and Olmstead.
Olmstead said that "X-ray crystallography is like listening to an orchestra play." From a young age, she was fascinated with symmetry, chirality and repetitive motifs. She would stop and peer at snowflakes, pinecones, insects, flowers and mosaics to search for hidden symmetries. She devoted her life to trying to understand Nature's rules for the assembly of molecules and atoms. 
Olmstead grew up in Burbank, California, where she was a self-described tomboy. She developed interests in cowboys, cartoons, rocks, insects, stamps, birds and, most importantly, microscopes. She built and rebuilt radios and antennas, which dominated her neighborhood skyline. At the age of 12, she obtained a general operator's license in ham radio, becoming the youngest female ham operator in the United States.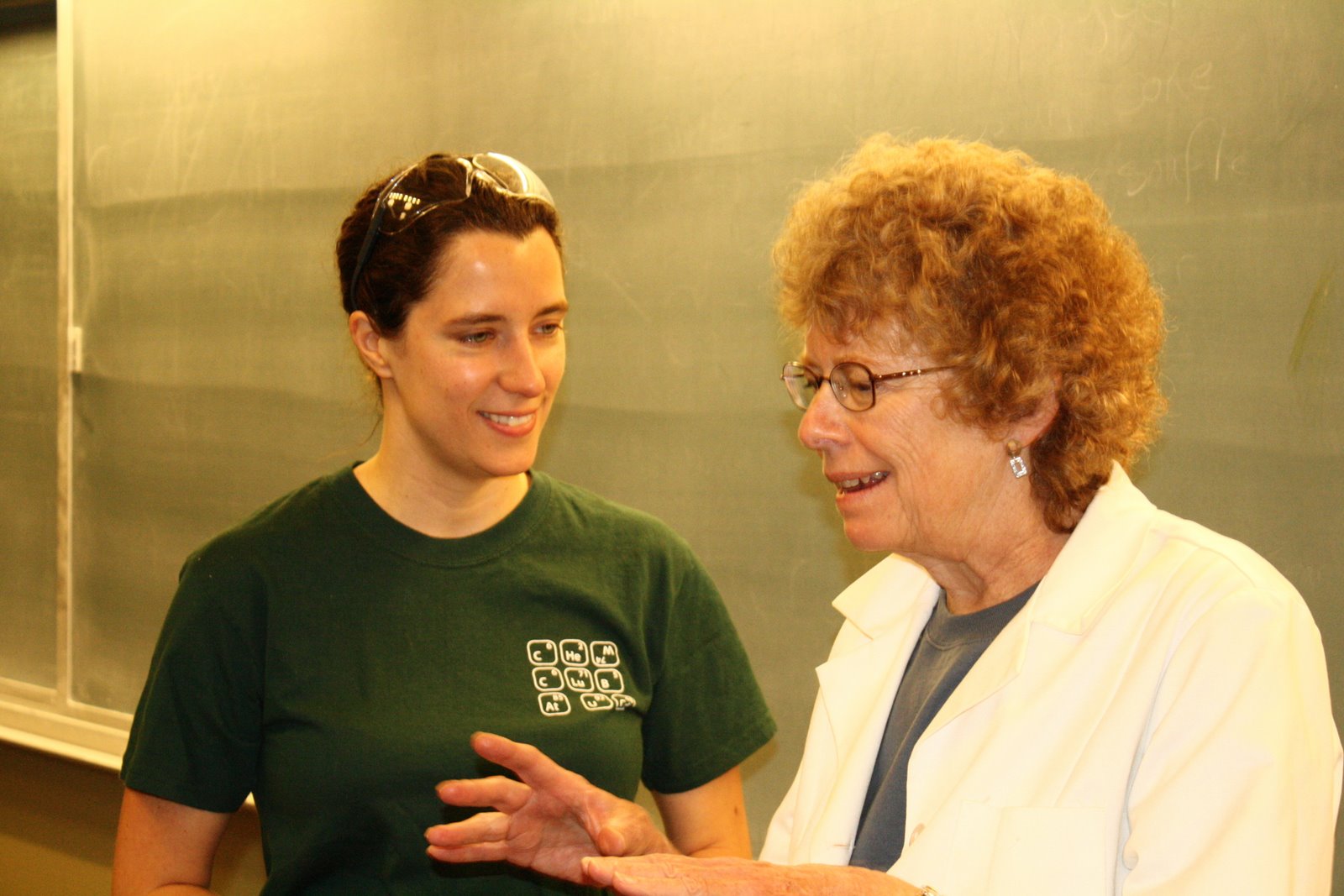 Olmstead earned a bachelor's degree in chemistry at Reed College, and was awarded a Woodrow Wilson Fellowship to support her graduate studies at the University of Wisconsin–Madison. She received her Ph.D. in chemistry in 1969. At Madison, she met her husband, Alan Olmstead, now distinguished professor of economics at UC Davis, and had her first child, Janis.
Overcoming obstacles
Despite her exceptional skill and brilliant mind, as a woman scientist in a work environment with antiquated views and gender bias, her path to a professorship in the Department of Chemistry was lined with hurdles, said Balch, a longtime friend. From high school through graduate school, she was typically the only woman in her science and math classes, and she was often told women could not do that kind of work. Her first choice for a major professor at Wisconsin turned her down, proclaiming that he did not accept female students.
Olmstead joined the UC Davis Department of Chemistry in 1969 as a lecturer. Over the next 34 years, she held the titles of postdoctoral fellow, staff research associate, and specialist. Under her leadership the UC Davis crystallography lab would become one of the most productive crystallographic labs in the world. By 2000, Olmstead was the most published and cited member of the department. Finally, in 2003 when Olmstead was 60 years old, she was appointed to the faculty as full professor.
In addition to the renown she earned through her research and scholarship, Olmstead was an extraordinary mentor and teacher to the students she advised or co-advised. She will also be remembered fondly for her support of junior faculty and staff, her passionate leadership of the undergraduate Chemistry Club, her delight at the promise of an unanswered question, and the kindness, fun, sunshine and insight with which she approached her colleagues and friends.
Olmstead also had many passions outside her professional activities. For forty years, she played tennis almost daily and won several local tournaments. She loved hiking, fishing, skiing, snowshoeing and bike riding. She was killed while riding her bicycle on a rural road in Yolo County.
Olmstead is survived by her husband of 53 years, Alan; daughter Janis and grandchildren Dylan and Emma; son Nate, daughter-in-law Erin and grandchildren Avery and Evan; and her sister Marcia Trombold. Olmstead was preceded in death by her son Eric.
In lieu of flowers, the family invites well-wishers to contribute online to the Marilyn M. Olmstead Graduate Student Research Fund for Excellence in Inorganic Chemistry, or via UC Davis Gift Administration, 202 Cousteau Place, Suite 185, Davis, California 95618.
Primary Category
Tags