In Memoriam: Ed Costantini
Professor emeritus studied political motivations, helped create UC Center Sacramento
Political scientist Edmond Costantini traced his keen interest in politics and current events to a decade he spent as a youth delivering newspapers in Manhattan in New York, where his customers included future President Dwight D. Eisenhower and activist Eugene Debs.
Eisenhower, then president of Columbia University, once engaged Costantini in conversation from his driveway in the late 1940s, the former World War II general still dressed in his night shirt.
But what was more life-shaping were the wide array of leftover daily papers — up to a dozen different publications — that Costantini took home and pored over after he finished his deliveries, he wrote in a 2018 letter to a Davis Enterprise columnist. Costantini said that the knowledge he gained from reading papers helped him stand out in school, leading to political internships, campaign work, his graduate studies and his career in political science.
20th century politics expert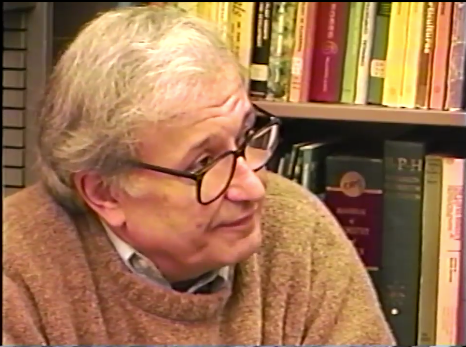 Costantini, who died Jan. 10 at age 89 in Davis, California, would later become a sought-after news source himself for his expertise on California elections and politics. During his 1964–94 career at UC Davis, he studied an array of topics, many of which remain relevant today. His research, often involving survey or election data analysis, looked at the motivations and personality characteristics of political activists, intra-party conflict, public opinion on environmental issues, public opinion on affirmative action, environmental policy making, libel law, juror prejudice, women and politics, partisan voting, election law and California politics.
He also engaged in the political process — advising campaigns, serving as education secretary to Gov. Edmund "Pat" Brown in 1966, sitting on the executive board of the California Democratic Party and attending national party conventions as a California delegate, including the turbulent 1968 Democratic Party Convention in Chicago.
Former department chair
Colleagues described him as a devoted university citizen. His service included seven years as chair of the Department of Political Science; membership in numerous Academic Senate committees (including chairing those dealing with academic planning and review, admissions and enrollment, and academic freedom), as well as the campus Media Board, which oversees the student-run KDVS radio station and The California Aggie newspaper; and helping to establish the UC Center Sacramento in 2004.
"One of Ed's distinguishing characteristics was his great love of and fierce loyalty towards the University of California, almost to the point that he would brook no criticism of it or of the people who tried to lead it," said Geoffrey Wandesforde-Smith, a professor emeritus of political science who worked with Costantini for more than 50 years. "He believed deeply in both the university's commitment to academic excellence and its capacity for economic and social transformation. And bristled when he thought those values were put in jeopardy."
UC Center's founding director, Gary Dymski, now a professor of applied economics at the University of Leeds in England, said Costantini was a guiding compass in the early days of the center, which offers a student internship program, hosts public-policy talks and connects faculty experts with state decision-makers. "Simply put, he was one of the greats — [known for his] generosity of spirit, spontaneous humor, political horse-sense, and high principles embedded in his scholarship," Dymski said.
Helped launch Retiree Center
After retiring, Costantini worked with colleagues and campus leadership to establish the UC Davis Retiree Center to help retired staff and faculty stay connected.
"I think that Ed personified the best qualities of what made UC Davis unique," said John Vohs, senior lecturer emeritus of communication. "He was not only a respected scholar; he was also a popular teacher as well as a faculty leader in shaping the campus culture. He contributed to that sense of community."
Colleagues and alumni remember Ed Costantini
"His was a life well-lived, balancing as he did political engagement and scholarship with affable good-will and friendship." — Larry Wade, UC Davis professor emeritus of political science
"He had a huge impact on my life, both through his encouragement in the classroom and his recommendation for my executive fellowship in Sacramento." — Brian Micek (B.A., political science '99), a public affairs consultant
"In the things he wrote about himself, Ed was too modest to mention his years as the craftiest pitcher in the UC Davis grad-staff slow-pitch softball league. Nor did he allude to his 'massive' winnings in the penny-ante poker games he enticed colleagues into playing. 'Remind me,' he would disingenuously ask of a new graduate student, 'do two pairs beat three of a kind?'" — Jock O'Connell, an international trade advisor who was a UC Davis political science doctoral student from 1971 to 1975
Davis Enterprise columnist Bob Dunning (B.A., political science, '68; J.D., '73) said Costantini was one reason he chose to major in political science.
"The thing about Ed was that he was both brilliant and approachable, with a quick sense of humor and an appreciation for life's many ironies," Dunning said. "He loved the classroom, but he also cherished those one-on-one discussions that office hours provided. Mostly, I remember his kindness and his patience with those of us who were simply trying to find our way in a college environment."
'A marvelous life'
In a video interview he recorded in 2017 for the UC Davis Emeriti Association with his political science colleague Professor Emeritus Larry Berman, Costantini said he learned much from his students. "I think it was a marvelous life in all respects — best job in the world."
Costantini joined the UC Davis faculty in 1964 as he was completing his doctoral studies in political science at UC Berkeley. He previously earned a master's degree from the University of Connecticut and an undergraduate degree from New York University, where he was Phi Beta Kappa.
His wife of 61 years, Agnes "Aggie" Costantini, died in 2018. He is survived by a daughter and grandson, who live in the San Francisco Bay Area.
— Kathleen Holder, content strategist in the UC Davis College of Letters and Science
Primary Category
Secondary Categories
Tags