Mapping Out Standing Rock
As a professor in the UC Davis Native American Studies Department, Liza Grandia was looking for a way to help her students and the public better understand unfolding events about the Dakota Access Pipeline controversy. Since April 2016, thousands of Native Americans and their allies have traveled to Standing Rock Reservation to protest a pipeline that crosses the Missouri River north of the reservation's only water source.
"I was dismayed to find so little reporting in the mainstream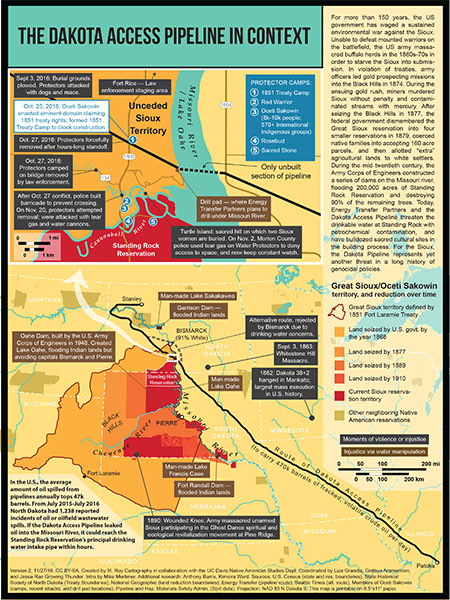 press about the largest and most diverse gathering of tribes in history," said Grandia. "In talking with my graduate students, we decided we should organize a teach-in, held November 16. We were expecting about 15 people at the teach-in, but 160 came." At the event, a working group formed to research and design a map to provide deeper historical context to the protests.
The map shows the pipeline route in relation to the reservation, the camps and sites of conflict with police and the National Guard. It also shows the historical reduction of the Great Sioux reservation since the 1851 Fort Laramie treaty, as well as sites of cultural and historical interest like the sacred Black Hills, the Mankato hangings, the Wounded Knee Massacre and the Whitestone Massacre.
The pipeline would run from the Bakken oils fields in North Dakota to southern Illinois, passing near Standing Rock's only source of fresh water. Last week the U.S. Army Corps of Engineers and the North Dakota governor announced plans to evict thousands of protestors (better known as "water protectors") camped at Standing Rock and block food and supplies from entering, but then softened these warnings. On the day of the announced eviction, the U.S. Army Corps of Engineers instead announced Sunday that it would not approve permits for construction of the pipeline and would explore alternate routes for the pipeline crossing.
Grandia's Introduction to Native American Studies course with 120 students has been closely following the unfolding drama at Standing Rock. Other students are raising donations and supplies, with plans to travel to Standing Rock once they complete their fall quarter exams. For more information, see the UC Davis Solidarity with Standing Rock Facebook page.
— Jeffrey Day, content strategist in the UC Davis College of Letters and Science
SaveSave
Primary Category
Tags