Double Major in History and Political Science Wins College's Outstanding Senior Award
Julie Cravotto, an aspiring policymaker with dreams of resolving California's housing crisis, is the recipient of the 2019 Herbert A. Young Award for outstanding senior in the UC Davis College of Letters and Science.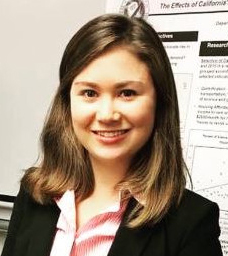 Cravotto, a 22-year-old honors student, juggled a daunting array of research, internship and volunteer activities while pursuing a double major in history and political science. She will graduate June 15. 
Among other accomplishments, Cravotto interned twice at the state Capitol (the first for a senator and the second in the office of then-Gov. Jerry Brown), participated in a Fulbright program in Northern Ireland, registered voters in two counties, volunteered at the ASUCD Pantry, conducted research for the UC Office of the President on housing affordability, and wrote a 70-page honors thesis on the history of sanctuary cities.
The Herbert A. Young award, named after the college's founding dean, is given to a graduating senior based on academic accomplishments and extracurricular activities.
Self-discovery at UC Davis
Cravotto, who grew up in San Francisco and Berkeley, said she has loved history since grade school, but explored a variety of subjects and activities in college as a journey of self-discovery.
"In some ways I was trying to find out who I was through these activities — and to really evaluate my values system, and what I eventually want to do after college," she said. "I guess it's been a big mystery game and trying to find all the little clues to who I was as a person."
Focus on affordable housing
Attending elementary and high schools in San Francisco, Cravotto said she became aware of the "extreme wealth and poverty gap" in the city. "When I went away to college and would come home, I've noticed that this issue has gotten worse and worse."
Cravotto said she hopes to pursue a career that combines teaching and activism — perhaps someday as a state lawmaker. "I love learning. I love having the opportunity to do research on things that I really care about. But there are these problems that we face as a society that need to be addressed."
Key among those issues is housing.
"[State policymakers] agree that housing is an issue … but there are so many decisions about what to do. I want to be a part of that conversation, because —although I do think the state is taking the right steps toward the housing crisis — they're not doing enough," said Cravotto.
From commencement to the Capitol
Her immediate post-graduation plans include a summer Nancy Pelosi Fellowship with the San Francisco Democratic Party, followed in October with a yearlong fellowship in the state Assembly through the Capital Fellows Program.
Cravotto is the fourth UC graduate in her family, and the second Aggie. Her parents attended UC Berkeley, and her sister, Josie, graduated in 2014 with degrees in English and political science.
"It's almost a strategic move to come here if you're interested in policy or social science because there are so many unique opportunities," Cravotto said. "You get the advantage of going to a public university, but at the same time, you have this … network just across the causeway. It's that proximity, where you can study political science [on campus] and then in the afternoon, you can go apply those concepts in an actual office."
Advice for students
For Aggies just starting their UC Davis education, Cravotto recommended trying a variety of courses and activities. "Don't limit yourself by trying to categorize who you are. I think that's one of the biggest mistakes you can make as an 18- or 19-year-old. I think you should be open to experimentation because you may find that there is something that you're completely passionate about or in love with that doesn't fit within those bounds. I don't think that you need to follow a set course because there really is no set course. … And I think that once we open ourselves up to that idea, the college experience becomes a lot more liberating."
— Kathleen Holder, content strategist in the UC Davis College of Letters and Science
Primary Category
Tags