How to Make Chemistry a Gateway — Not a Gatekeeper — to STEM
As a college freshman, Mya Ajanel's dreams of a veterinary degree were nearly derailed by chemistry. "I barely passed the first quarter, so I definitely had fear of just finishing the general chemistry series," she said. "I remember crying and thinking I'm not going to be a vet, it's too hard."
But Ajanel's dread — and her self-confidence — changed for the better, thanks to a UC Davis class created to address the barriers and opportunity gaps faced by students historically excluded from STEM. Taught alongside with general chemistry, the course bolsters both academic and social-emotional learning to help provide students with a sense of belonging and a supportive learning environment, both of which promote equity. 
"There are a lot of programs that try to help minority students by offering academic support, but that's not enough," said Jessica Ortiz, a doctoral student in chemistry who taught the first class. "You have to support students in a way that they believe in themselves. I'm an underrepresented student, and if I didn't have role models, those people to push me, I wouldn't be here today," she said.
Results from a study of student outcomes found grades went up — 61% of students in the class received a C+ or higher in general chemistry, versus 47% for a comparison group. Additionally, among students who obtained C+ or higher grades, there was no significant difference in grades between the general population and students from the support class. This suggests the class helped remove opportunity gaps and promote equity among students. The results, published in the Journal of Chemistry Education, also found a positive influence on underrepresented student retention in STEM.  
Ajanel's chemistry grade went from a C+ to an A+ thanks to the course, and she's now applying to vet schools. "It gave me that self-esteem and that boost I needed to continue, and seeing Jessica, a Latina, was the representation that I needed," she said. 
Making STEM more welcoming
Because many majors require at least one chemistry class, undergraduate chemistry can be a gatekeeper or "weed-out" course for students from all backgrounds. And groups historically excluded from STEM — such as first-generation, low-income and minority students — face more risk factors for academic success.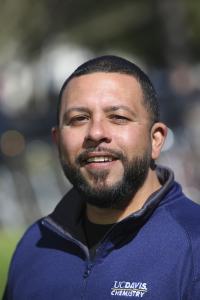 That's why Bryan Enderle and Jesús Velázquez, both faculty in the Department of Chemistry, developed the "co-class" — to facilitate a teaching environment that could meet the diverse needs of students.  
"As a professor that has all the labels, I know, firsthand, everything they're going through," said Velázquez, an assistant professor of chemistry who grew up in Puerto Rico. "Given the experiences I had as a student, I thought that if I had the opportunity to teach students at this level, I wanted to support their experience regardless of the circumstances and backgrounds they came from," he said.
The co-classes are intentionally small, limited to 20 students and taught in multiple sections to accommodate everyone. The sections were offered to students in the UC Davis Educational Opportunity Program, which helps students from historically disadvantaged communities prepare for college.
Academic support includes reviewing the course material, providing practice exams and practice exam reviews. The classes also cover mental health, anxiety, imposter syndrome, fostering a growth mindset, and understanding identity, ethnicity and what that means as a scientist. The teaching style of each section adapts to group dynamics and student feedback.
Launched during the first wave of COVID-19, the instructors also navigated academic disparities induced by remote learning and the loss of classroom community during isolation. Students reported that discussions about their emotions and struggles were one of the class's strengths.
"There's so much work that went on behind the scenes that can never be derived by a research paper," said Lea Nglankong (B.S., biopsychology, '22), who taught the class as an undergraduate teaching assistant. "It doesn't portray the 11 p.m. phone calls from students who wanted to drop out, a student who attended my class from a laundromat, a student struggling to communicate in English." Nglankong plans to earn her teaching credential following graduation, and hopes to work at a low-income school in her hometown of Sacramento.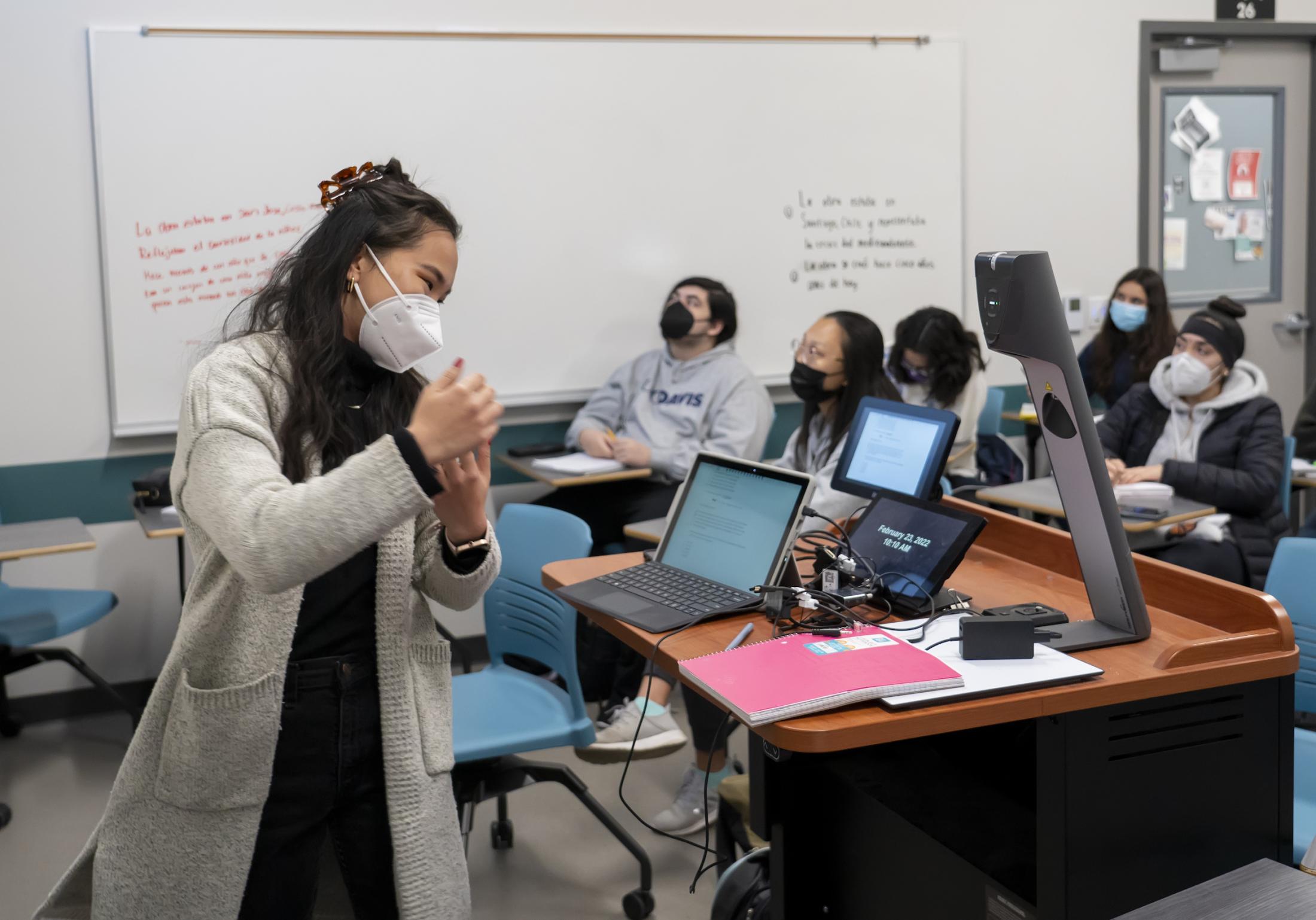 Closing the equity gaps
The general chemistry co-class is just one of many ways the Department of Chemistry is developing new initiatives to eliminate equity gaps and increase diversity in STEM. Professor Annaliese Franz has offered a summer prep class in organic chemistry. The department also received approval this year to split general chemistry in tracks for majors and non-majors, which will help provide a more equitable teaching environment. The department also offers a peer mentoring program to help first-year undergraduate and first-year transfer students majoring in chemistry successfully transition into college life.
"In my opinion, this is only the beginning," Velázquez said. "I've always envisioned building something bigger to respond to the many challenges students endure."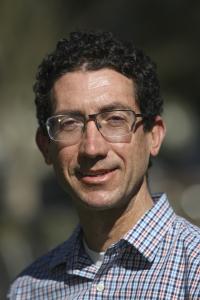 Enderle first piloted the class in 2016 in partnership with Susan Keen, senior lecturer in the UC Davis College of Biological Sciences, and with one-time funding from the University of California's Local Control Funding Formula (LCFF+) budget.
Enderle and Velázquez launched their project with a grant from the office of Vice Provost and Dean of Undergraduate Education Carolyn Thomas, called the Post-Matriculation Student Academic Success Enhancement Grant. Additional funding was provided by Provost and Executive Vice Chancellor Mary Croughan through the Closing Student Opportunity Gaps program. Velázquez also provided financial support through a National Science Foundation CAREER grant and a Cottrell Scholar award.
The instructors hope to find new grant support to continue the class (CHE 98) in fall 2022.
Their efforts could benefit thousands of students — more than 25,000 people at UC Davis take chemistry classes every year.
"We've had a really tangible impact on improving students' lives, and that's what gives me hope and makes me excited about this program," said chemistry graduate student and instructor Hannah Brinkman.
— Becky Oskin, content strategist in the College of Letters and Science
Photography by Bill Clough/Captivating Photos.
Primary Category
Secondary Categories
Tags