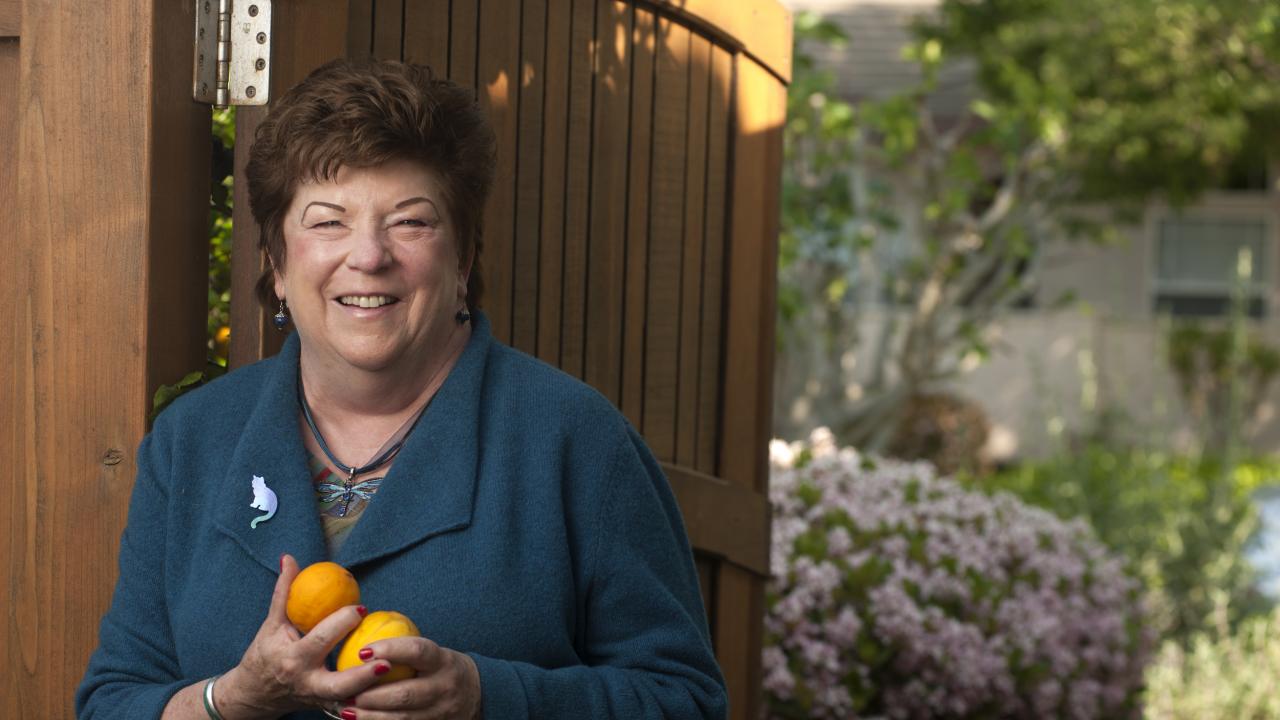 As California state superintendent of public instruction, Delaine Eastin cut class size and administrative costs, increased student access to technology and helped 3,000 schools plant their own gardens. Eastin, superintendent from 1995 to 2003 and the first and only woman to hold that post, is the 2015 recipient of the UC Davis Medal, the highest accolade that the campus may bestow upon an individual.
Eastin received her bachelor's degree in political science from UC Davis.
The medal was presented by Chancellor Linda P.B. Katehi at the College of Letters and Science commencement on June 13 at the UC Davis Pavilion.
"Through a career dedicated to education and public service, Ms. Eastin has epitomized the grandest ambitions of the UC Davis community," said Katehi. "With her groundbreaking efforts to raise standards, increase access to technology and make gardens part of our classrooms, Ms. Eastin has profoundly broadened the meaning of public education in our state in ways that will benefit our students for years to come. It is truly an honor to claim her as a fellow Aggie."
Among Eastin's accomplishments as superintendent:
Convinced the governor and legislature to invest $2.5 billion to cut class size.
Launched the "Challenge Initiative" to raise standards and accountability with 56 school districts and 500,000 students taking part.
Cut administrative waste by streamlining contracting procedures and standardizing accounting procedures.
Established the California Education Technology Task Force to increase student access to technology.
Worked with Alice Waters' Chez Panisse Foundation to start the Garden in Every School Initiative that started gardens at about 3,000 schools.
Ralph Hexter, UC Davis provost and executive vice chancellor, nominated Eastin for the medal.
"Ms. Eastin has a highly distinguished record of public service that reflects UC Davis' core values," Hexter said. "Her selection reaffirms our university's commitment to public education and public service and powerfully communicates how a UC Davis education can be a springboard to making a positive difference in society. It also further raises her profile as a role model for young women on our campus and beyond. Ms. Eastin continues to support and maintain strong ties to UC Davis and its extended community, as well as the University of California overall."
First in family to attend college
Eastin, who lives in Davis, came from a working-class family. She was the first in her family to attend college — an achievement she is passing along to others by establishing a UC Davis scholarship for a woman who is first in her family to attend college. It will be awarded for the first time this year.
"Everyone who knows me knows that UC Davis changed my life. Attending UC Davis meant everything to me," she said. "It was a wonderful place and I made some of the finest friends of my life there."
The late Joyce Kallgren, the only woman on the political science faculty when Eastin attended UC Davis, encouraged her to go to graduate school.  
Eastin earned a master's degree in political science from UC Santa Barbara.
She has remained involved with the university, serving on the boards of UC Center Sacramento, the alumni association and Center for Nutrition in Schools. In 2002 she received the Distinguished Achievement Award from the Cal Aggie Alumni Association.
After earning her master's degree, Eastin taught political science and women's studies on the college level, then was corporate manager for Pacific Telesis Group. She started in public service when she was elected to the Union City Council. In 1986 she won the first of four terms in the state Assembly, where she chaired the education committee, and was elected superintendent in 1994.
After completing her second term as superintendent she was executive director of the National Institute for School Leadership from 2003 to 2005, and distinguished visiting professor and director of the Center for Civic Engagement and Women's Leadership at Mills College from 2004 to 2008.
Making food matter
Starting gardens in schools came naturally to her.
"I'm a foodie and my parents had a love of food," she said. "We always had a garden."  She now has a dozen fruit trees in her Davis garden, too.
Along with working with the Chez Panisse Foundation, she has served on the boards of the National Gardening Association, Real School Gardens, Davis Farm to School Connection, Yolo Farm to Fork and Edible School Yard Foundation.
"Delaine Eastin is one of our most distinguished alumni, and her service in the state Assembly and as state superintendent highlight her deep and inspiring commitment to education," said George R. Mangun, dean of social sciences at UC Davis. "A tireless advocate for education, she is also a key figure on campus as one of our most trusted friends and supporters."
The UC Davis Medal
The medal, awarded for the very highest levels of distinction, personal achievement and contributions to the ideals of higher education on which UC Davis is founded, has been presented to 14 people since it was created in 2002. Among the recipients are President Bill Clinton, Robert and Margrit Mondavi, artist Wayne Thiebaud, and UC Davis Chancellor Emeritus Larry Vanderhoef, who instituted the award.
— Jeffrey Day, content strategist in the UC Davis College of Letters and Science
 
Category
Tags