Film Fest Focuses on South Asian Diversity
UC Davis will host its first South Asian Film Festival on Saturday, Jan. 20, 2018, screening four films with a broad view of South Asians around the world—one of them featuring alumnus and comedian Hasan Minhaj.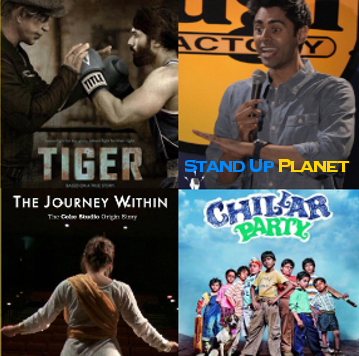 Minhaj, a correspondent for The Daily Show who grew up in Davis and earned his bachelor's degree in political science at UC Davis in 2008, stars in Stand Up Planet. In the documentary, he travels to Mumbai, India, and Johannesburg, South Africa, to find the funniest comics tackling gritty issues of gender, poverty, and race, and then brings one from each country to Hollywood to perform.
Stand Up Planet, a U.S. production directed by David Munro, will start at 1 p.m. at the International House, 10 College Park. Admission is free for students, with a $10 suggested donation for other viewers.
It is the second in the lineup of films; two other movies will also screen at the International House, while the closing film will show at the Varsity Theater in downtown Davis.
Other films are:
10 a.m., Chillar Party, a family film by Nitesh Tiwari and Vikas Bahl (India, 2011, 145 minutes). In Hindi with English subtitles, Chillar Party is a drama about a gang of innocent but feisty kids who take on the big bad world of politics when one of their friend's life is endangered. Admission at the I-House is free.
3 p.m., The Journey Within, directed by Mian Adnan Ahmad (Pakistan, 2015, 78 minutes), a documentary about Pakistani musicians who go on a post-9/11 quest for self-identity and the origins of Coke Studio, a Pakistani music television show that became an international franchise. The award-winning film, in Urdu, Punjabi, Pashto, Dari and English with English subtitles, will be followed with a Q&A, via Skype, with the director. Admission at the I-House is free for UC Davis students, with a $10 suggested donation for other viewers.
6 p.m., Tiger, directed by Alister Grierson (USA, 2017, 90 minutes), a biopic based on the true story of Canadian Sikh boxer Pardeep "Tiger" Nagra, who takes his case to court after he is barred from competing in the sport of boxing because he refuses to shave his beard. The film, co-starring Mickey Rourke, is being shown in partnership with Yorba Linda-based Sikhlens, the world's premier Sikh film festival, the  Punjabi American Heritage Society and the Punjabi American Cultural Association. Admission at the Varsity Theater is $10.
The UC Davis South Asian Film Festival is sponsored by the South Asia without Borders initiative within the UC Davis Middle East/South Asia Studies Program (ME/SA) with support from the UC Davis Office of Global Affairs and the College of Letters and Sciences. Organizers said they sought to represent South Asian cinema far beyond Bollywood, with films that will resonate with college students, families and regional Punjabi, Pakistani, Indian, Afghan, Sri Lankan, Nepali, Bangla and other South Asian communities in the Sacramento Valley.
"Through the film festival we hope to focus attention at UC Davis and in the community on the challenges, potential and creativity of South Asians in the region and in the diaspora," said Smriti Srinivas, director of ME/SA and professor of anthropology. "We want to make the film festival an annual event since South Asia has become such a focus of public interest and research on campus in recent years with so many events, performances, speakers and the Reimagining Indian Ocean Worlds initiative."
"Rather than thinking through a particular theme, we wanted to speak to the diversity of the South Asian experience" said Anuj Vaidya, a performance studies doctoral student who is coordinating the event with Srinivas and Nicole Ranganath, a historian and an assistant adjunct professor who curates UC Davis' new Pioneering Punjabis Digital Archive.
In addition to his graduate studies, Vaidya has been co-director since 2008 of 3rd i's San Francisco International South Asian Film Festival. Started 15 years, ago, the five-day event is the oldest South Asian Film Festival in the United States.
"3rd i's programs have sought to bring different communities under the same roof, not only to celebrate quality cinema, but also to make space for dialogue across difference," he said. "The UC Davis festival promises to expand the conversation by reaching out to new audiences, and offering new ways of imagining South Asia."
— Kathleen Holder, content strategist in the UC Davis College of Letters and Science
Primary Category
Tags