Faculty Couple Attend Dutch Royal Reception
When Queen Máxima of the Netherlands visited San Francisco this week to celebrate her country's economic ties with California, a UC Davis couple was on hand to celebrate their own Dutch connections and to represent the campus.
Husband and wife psychology professors George "Ron" Mangun, who is American, and Tamara Swaab, who is Dutch, were invited guests at a Sept. 6 royal reception at San Francisco City Hall.
Their California-Netherlands collaborations extend beyond their marriage. Mangun and Swaab are also partners in Dutch consulting firm Xtra-Advice and have been supporting the U.S. release of a Dutch-developed app distributed by Games for Health. The digital diary helps those who survive critical illnesses recover more quickly and cope with the long-term physical, cognitive and psychiatric impairments that commonly occur after hospitalization in intensive care units.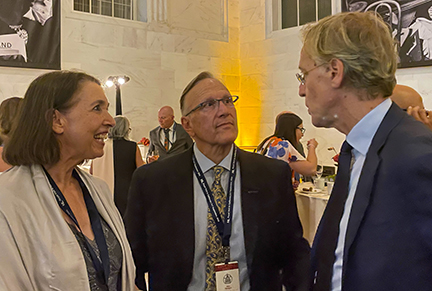 In addition to the couple's academic appointments in the Department of Psychology, Mangun and Swaab are also faculty at the UC Davis Center for Mind and Brain. Mangun, who directs the center and is also a professor of neurology at the UC Davis School of Medicine, studies attention. Swaab's research focuses on how our brains comprehend language.
About 600 people attended the reception, hosted by San Francisco Mayor and Aggie alumna London Breed (B.A., political science, '97).
Earlier in the day, the queen toured the city's Castro district and visited UC San Francisco, highlighting efforts by the Netherlands and California to conduct groundbreaking research in health and life sciences and to battle climate change.
— Kathleen Holder, content strategist in the UC Davis College of Letters and Science
Primary Category
Secondary Categories
Tags