Education Equality Advocate, Filmmaker Awarded Top College Awards
An aspiring policymaker intent on addressing inequities in education and a documentary filmmaker are the recipients of the UC Davis College of Letters and Science's top prizes for graduating seniors.
Shoshana Levy, who graduated in December 2020 with a bachelor's degree in political science, was selected to receive the Herbert A. Young Award for outstanding senior based on academic accomplishments and extracurricular activities.
Susana Barrón, a cinema and digital media major, will receive the Leon H. Mayhew Memorial Award when she graduates in June. The award is presented by the College each year to an undergraduate majoring in music, art or literature for academic achievement and service to the university.
A passion for education equity
Levy, who grew up in Sacramento, is already working to shape California's future as an intern with NextGen Policy, a nonprofit organization focused on environmental, racial, social and economic inequities.
She started UC Davis in fall 2017 as an English major, with plans of becoming a teacher. But she changed her major and her career goals after coaching color guard teams at local high schools and taking UC Davis courses in political science.
"I learned that I was just really passionate about policy and improving access to education, which I firmly believe would really help improve societal equity at large. And ever since then, I have been on a pathway in getting into those policy spaces," Levy said.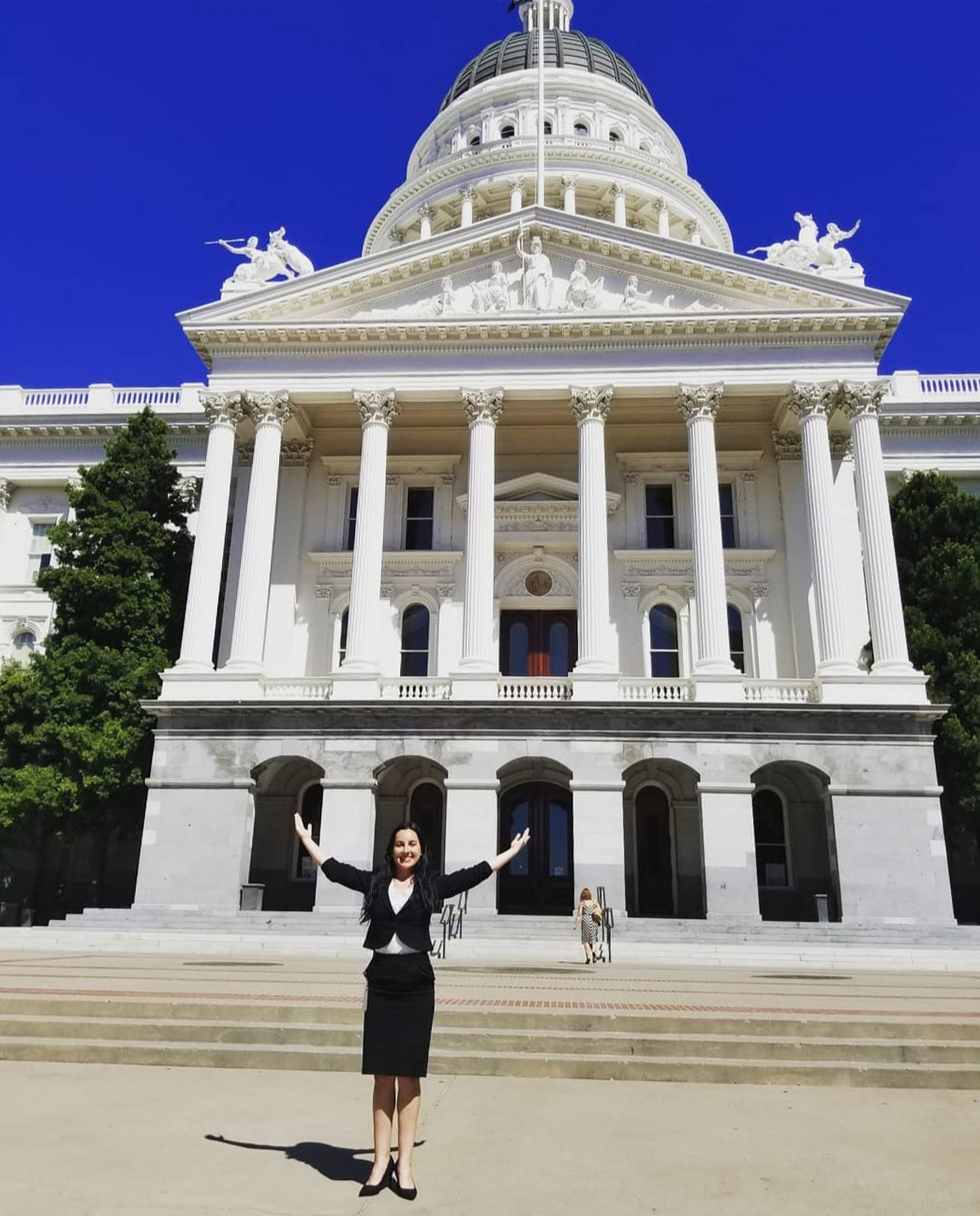 In addition to her studies and maintaining a 4.0 grade point average, she took on a number of jobs and internships, including working as a legislative intern for a state senator, campaign field organizer for a congressional candidate, an intern for the National Whistleblower Center during studies at the UC Center in Washington, D.C., and a research assistant for a political science professor.
Levy's honors thesis, which she completed last year, analyzed the effectiveness of a law California passed in 2013 to change how public schools receive state funding, giving them more control and flexibility.
The idea behind the Local Control Funding Formula, Levy said, was to "close persistent gaps in learning between historically, more disadvantaged student groups and the more advantaged student groups."
Comparing 14 years of data — seven years under the old school finance system and seven following the enactment of the new formula — she found learning outcomes increased for Black, Latino and low-income students as well as for white and affluent students. She also found a reduction in average class size and an increase in how long teachers stay at schools that predominately serve disadvantaged students. "So even though the [learning] gaps did not narrow yet, I think the data suggests that they soon will."
Levy said UC Davis' welcoming environment also fostered her interest in education policy. "I'm just very grateful for my experience at UC Davis, and just how uplifting the university community was, especially in its commitment to diversity in the student body," she said. "That's really motivated my desire to increase college readiness at the K-12 level, so that [students] can have really positive experiences in college that can set them on the right pathway."
Telling unheard stories with film
Barrón, who is graduating this spring with a degree in cinema and digital media and a minor in theatre and dance, embraced filmmaking as a way to tell stories that are too often untold. She found one of those stories right on campus in the form of the artwork The Voice of Lupe. In her documentary La Voz de Lupe (The Voice of Lupe), Barrón traces the often painful 40-year journey that led to the creation of the sculpture. The movie will be premiered at the Philadelphia Latino Film Festival May 30 – June 1.
"It wasn't until almost a year into my time on campus that I happened to stumble upon this art piece during a jog," she said. "I was immediately intrigued and was surprised to find that there wasn't a plaque giving more information about the piece. It took me a while to find out the story behind it since none of my friends or professors knew of it."
The sculpture installed at the Walter A. Buehler Alumni Center in 2015 grew out of student protests dating back to the 1970s. The name "Lupe" comes from a sexist and racist song given to Alpha Gamma Rho fraternity pledges at UC Davis in 1975. When word about the song leaked out, about 300 students staged a protest against the fraternity demanding action from the administration. The fraternity apologized.
The issue came up again in 1992 when the center opened with one of the conference rooms named for Alpha Gamma Rho. Due to the fraternity's history, some groups refused to meet in the room.
More than 20 years later, the sculpture was installed as part of the AGR Room Resolution Agreement, a memorandum of understanding with the university that also included establishing the Lupe Social Justice Scholarship.
The artwork honors and celebrates the role of Latina women in history and society, while also addressing ongoing issues of race, gender and class on campus and in society at large, according to a statement from Susan Shelton, a UC Davis alumna and the artist who created the piece.
"It's my hope that by highlighting issues dealing with violence against women in this film, that others will feel encouraged to find their own voice in the face of adversity," Barrón said.
Growing up in Santa Ana, California, Barrón watched the struggles of her parents who migrated to the U.S. under difficult circumstances and were unable to attend school for more than a few years.
Barrón herself dropped out of high school.
"From an early age, I liked to read and had a curious and creative mind, but I just felt like I didn't belong," she said. "The comments some of my teachers made didn't help either. One teacher said most of us weren't ever going to make it to college. I remember just looking down with shame when he said that."
After dropping out, she retreated to the local public library where she immersed herself in books. She later earned a GED and enrolled at Pasadena City College. She and other prospective students were brought to campus for a tour by the UC Davis Transfer and Retention Center.
"That gesture made me feel like the university was invested in uplifting students from low socioeconomic backgrounds," Barrón said.
At UC Davis, she found mentors. The first was Jesse Drew, professor of cinema and digital media, who "encouraged me to imagine my education beyond a bachelor's degree." She said others who were especially helpful were Jon Rossini, professor of theatre and dance, and Kris Fallon, associate professor of cinema and digital media.
During her time at UC Davis, Barrón received the UC Davis Provost's Undergraduate Fellowship Grant and a McNair Scholars Program Research Internship, has presented at the undergraduate research conferences at UC Davis and UCLA, and had her films shown at the UC Davis Film Festival and Pasadena Film Festival.
This fall she will enter Stanford University's Master of Fine Arts documentary film and video program.
"I have a fighting spirit, and I eventually found the strength to make my way back to school," she said. "Several factors helped me find my way back, but it's largely been the fact that my parents have survived so many injustices. Both my parents are driving in from Orange County to attend my graduation. To this day, they continue to be my greatest source of inspiration."
— Kathleen Holder and Jeffrey Day, content strategists in the UC Davis College of Letters and Science
Primary Category
Tags